Pig is an upcoming drama by the production company NEON, starring Academy Award Winner Nicolas Cage.
The story revolves around a truffle hunter who lives alone in the Oregonian wilderness. He must return to his past in Portland in search of his beloved foraging pig after she is kidnapped.
RELATED: THE TOMORROW WAR REVIEW: CHRIS PRATT GUARDS THE FUTURE IN AN ENTERTAINING BLOCKBUSTER SPECTACLE
When the trailer was released many people compared Pig with John Wick, because they star men who lose a beloved pet because of a raid. While John Wick goes on a brutal killing spree, Nicolas Cage's Robin Feld is trying to find the kidnapper of his pig in order to save it.
Is Pig Like John Wick?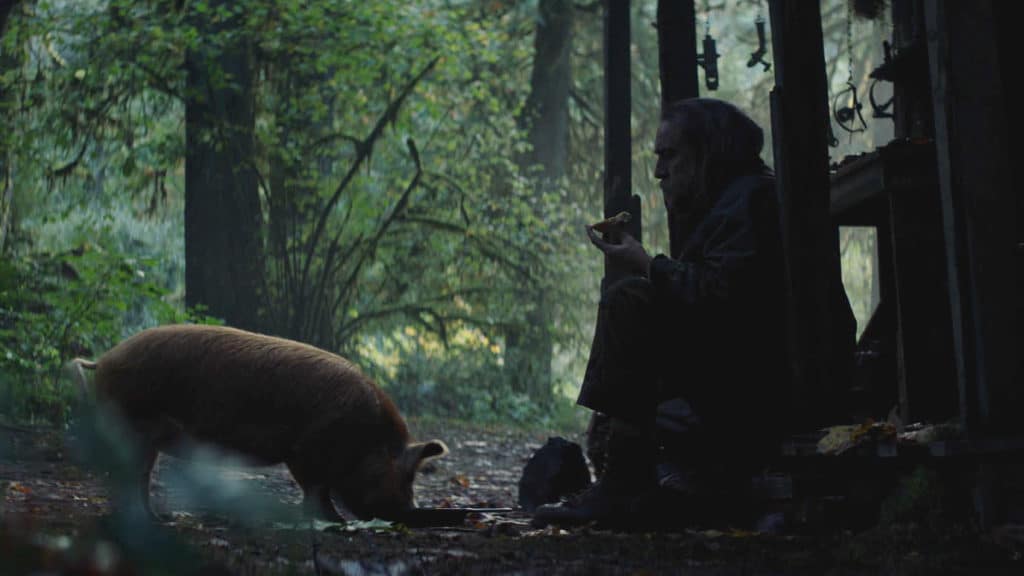 The trailer made it look like there will be an aggressive breakout a lá John Wick leading to a revenge story. Luckily there wasn't. Pig is a really quiet and calm movie and this is its strength.
Nicolas Cage has a very unique filmography, he has starred in dramas (Adaption), superhero films (Ghost Rider) or in more unique genre films like Mandy. Pig joins the first category. Cage delivers an subdue yet moving and deeply riveting performance. He doesn't speak a lot, but is able to convey a lot through gestics and mimics. It's also worth noting that the great, but underappreciated Alex Wolff delivered an amazing supporting performance. He plays Cage's outworld contact, who comes by his house once a week to get the truffles, that Robin (Cage) and his Pig collected and is able to put so much emotion just in the look of his eyes.
The film is a riveting character study, which slowly opens up the world and brings us to places you wouldn't expect the movie to go, making it an intriguing watch till the end. It never slows down or has any length through it's short runtime and writer and director Michael Sarnoski knows exactly what he is doing.
Pig is not the film for fans of Nicolas Cage's more crazy movies a lá Mandy, but rather for fans of character studies. Cage has rarely been better and Wolff delivered one of my favourite supporting performances so far. A promising feature film debut by writer and director Michael Sarnoski.
3.5/5
Pig hits theatres July 16, 2021. It is written and directed by Michael Sarnoski and stars: Nicolas Cage, Alex Wolff and Adam Arkin.
What do you guys think? Are you planning to watch it? Which is your favorite film starring Nicolas Cage? Let's discuss everything in the comments down below and on our Twitter.
KEEP READING: FEAR STREET PART 2: 1978 REVIEW – A BRUTAL SLASHER THAT BARELY JUSTIFIES ITS EXISTENCE