The second entry in Netflix's Fear Street trilogy, Fear Street Part 2: 1978, slashes its way into our hearts on July 9th.
The film takes us back to Shadyside, but this time it's 1978. School's out for summer, and the activities at Camp Nightwing are about to begin. Unfortunately, yet another Shadysider is possessed with the urge to kill – turning the fun in the sun into a gruesome fight for survival.
RELATED: FEAR STREET PART 1: 1994 REVIEW: A BLOODY ENTERTAINING NOSTALGIA TRIP
The horror event of the summer kicked off last week with Fear Street Part 1: 1994 and was liked by most. I, for one, thoroughly enjoyed this throwback to the golden era of slasher films. However, I also stated my fear that the trilogy could suffer through its release order – and this fear sadly became reality.
Fear Street: Once More With Feeling?
Fear Street Part 2: 1978 suffers through the fact that audiences, who closely followed the first entry, know exactly what will happen. A character puts on a certain jacket and you directly know the characters fate. A few characters are just younger versions of already in the first film established characters, therefore you also know that they will likely be fine. The film just feels a lot less compelling than its predecessor, because you just already seem to know this film, through the teases and stated information from Part 1.
While Part 1 didn't have the most original or interesting characters, the actors chemistry and performances still made you care for them. Well, you don't have that in Part 2. The talented Stranger Things star Sadie Sink (who got a leading role instead of her Stranger Things co-star Maya Hawke, who sadly only got more of a cameo appearance in the first one) tries her best, but that just isn't enough, as the film follows different groups of teenagers during their stay in Camp Nightwing, leading to less screen time for every actor.
Part 2 focuses more on the mystery and origin of the Shadyside Witch, that turns out to be a lot less compelling that the first part teased. One group almost stays the entire film in a pit, talking and researching about the witch and ends up discovering things that audiences already knew. That isn't a promising sign, with the third part Fear Street Part 3: 1666 expected to focus on the origins of the witch.
As director Leigh Janiak also stated in interviews Part 2 is a lot bloodier than the first one, which I would sign, therefore there aren't as many kills, as a lot of them are only hearable, but don't get actually shown. Through its setting in a camp you definitely get a lot of Friday the 13th vibes, which isn't a bad thing, but it also reminds you that there is a movie that did it better.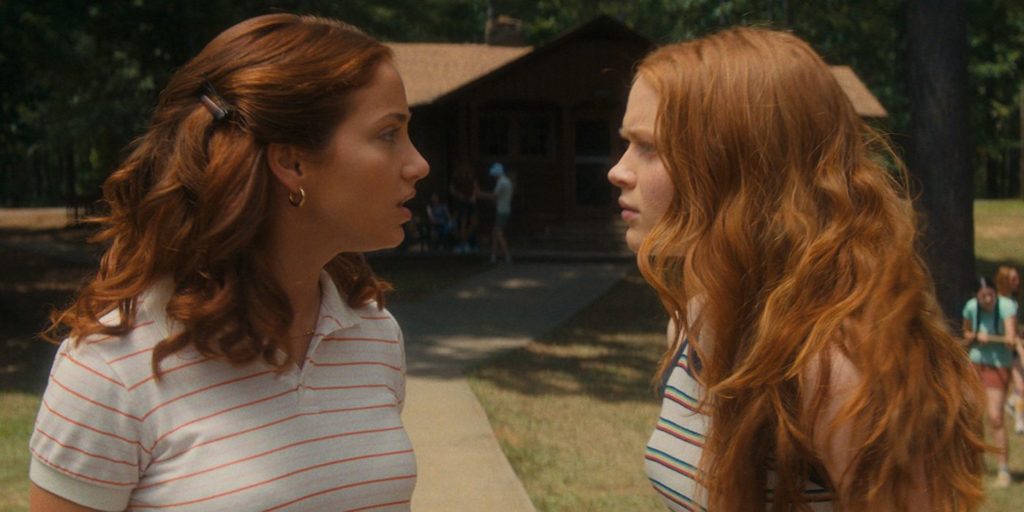 Fear Street Part 2: 1978 is an enjoyable horror slasher, but doesn't reach the highs of its predecessor. Sadie Sink tries her best, but the film just ends up being a lot less compelling and added less to the overarching story that I hoped it would.
3/5
Fear Street Part 2: 1978 hits Netflix July 9, 2021. It is based on the beloved book series with the same name by R.L. Stine and is directed by Leigh Janiak. The cast includes: Sadie Sink, Emily Rudd, McCabe Slye, Ted Sutherland, Ryan Simpkins, Chiara Aurelia and Gillian Jacobs.
What do you guys think? Are you excited for this one? Have you seen the first one? Let's discuss everything in the comments down below and on our Twitter.
KEEP READING: BATGIRL: BRAND NEW CHARACTER DETAILS INCLUDING DESCRIPTION OF FILM'S VILLAIN