There are very few shows that define a generation. Masters of the Universe was one of those rare shows during its original run in the 1980s. In 1987, the feature film adaptation starring Dolph Lundgren gave new life to these beloved characters.
Now it's been over thirty years since the debut of He-Man. The internet erupted (especially the children of the 70s and 80s) when Kevin Smith, in partnership with Netflix and Mattel, announced that Masters of the Universe would return in a brand new TV series that would serve as a direct continuation to the original. There is a twist, however.
Smith revealed that this series would focus on Teela (Sarah Michelle Gellar) as the main protagonist, tying her story as an add-on to the title. Masters of The Universe: Revelation is Teela's journey after she finds out the truth about Prince Adam and her own power.
Masters of the Universe: Revelation Official Trailer
One of the most notable elements about the sequel series is how the colors make the world just pop out of the screen. The locations are incredibly beautiful and the revamped look for the characters adds a much-needed freshness to their costumes. The story moves rather quickly for these first five episodes.
The first episode sets the tone for the rest of the season. The first few minutes are spent reintroducing the characters to the viewers. Teela becomes man-at-arms in a ceremony that is very uplifting, revealing how well lives turned out for those living in Eternia.
RELATED: GUNPOWDER MILKSHAKE: SLURP UP KAREN GILLAN'S NEW ACTION THRILLER ASAP
This peace is (expectedly) disturbed when Skeletor, played by the one and only Mark Hamill, attacks Castle Grayskull. In Masters of the Universe: Revelation, Skeletor isn't hellbent on taking Castle Grayskull for himself. Instead, he wants to destroy the orb that created Eternia and all the universe. The battle quickly becomes team He-Man vs. team Skeletor as we see our heroes whoop some serious butt.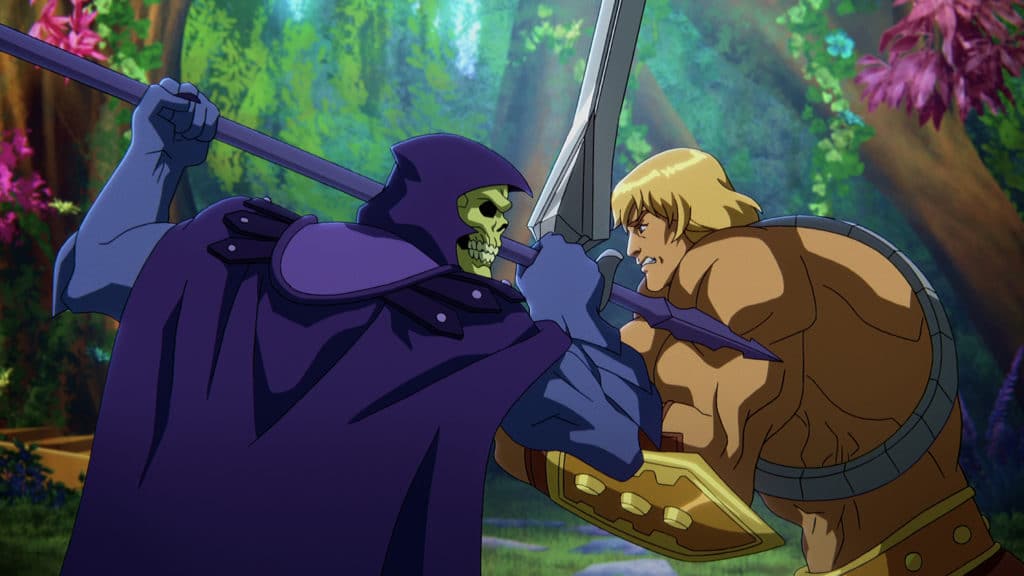 Masters of the Universe: Revelation is much more than a sequel. It's a revitalization of a classic, updated to stand out in a world that is thirty years older. A world before the internet and iPhones, which some of you might use to watch this very show. A combination of the new world and the old world. One thing is for certain. This series will not only bring the old-faithful crowd back, but it will also create a new wave of champions. It presents a world much like Pretoria, in which old and new champions can coexist in harmony and will thrive for many years to come.
Masters of the Universe: Revelation premieres on Netflix on July 23, 2021. What did you think of the series? What was your favorite moment? Leave us a comment down below and don't forget to follow all of our social media pages for more exclusive content.
KEEP READING: ANIME STAR WARS: VISIONS WILL FEATURES WHAT BECAME OF THE JEDI, A ROCK OPERA, AND MORE IN EXCITING SNEAK PEEK