Both Power Rangers and Ninja Turtles fans have a reason to be excited! Hasbro recently revealed that they are launching a new set of figures based on the Mighty Morphin Power Rangers/Teenage Mutant Ninja Turtles crossover comic.
The two figures feature Donatello as the Black Ranger and Leonardo as the Blue Ranger. The figures will be sold in a two-pack along with swappable hands, weapons, blast effect pieces, and swappable heads.
According to Comicbook.com, the date release is set for November, but pre-orders are now available on Entertainment Earth retailing for $52.99.
New Power Rangers/Teenage Mutant Ninja Turtles Figures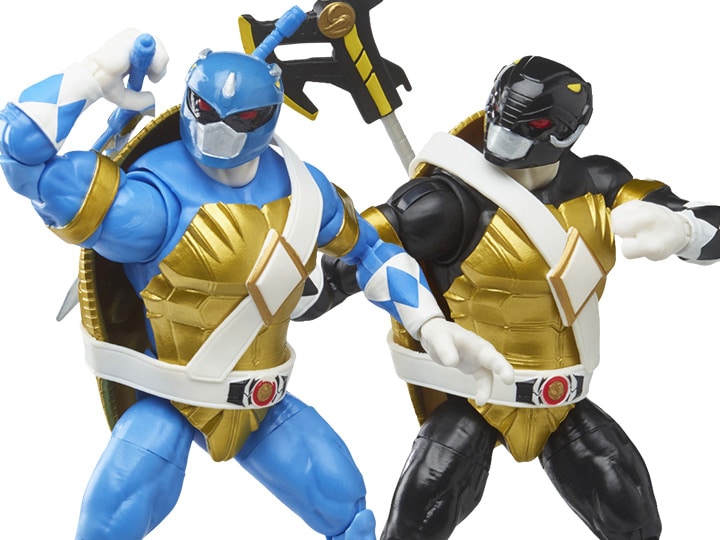 As part of the Lightning Collection, our favorite heroes get a new look with the Ninja Turtles pulling off the Ranger form. The colorful new features actually makes them look twice as awesome. One of the most dynamic changes to their design is their belts, which are typically a brown leather color, but for this new set they have a white belt that also includes the Morpher on the waist. And most importantly is the diamond shaped symbol on their chest.
The MMPR/TMNT comic book crossover was released back in 2019 by Boom Studios and IDW. It was also written by Ryan Parrott and illustrated by Simone di Meo who did work on previous Power Rangers comics such as "Necessary Evil" and "Beyond the Grid." In issue 4 of the MMPR and TMNT team up, the rangers could not access their Morphers while protecting Angel Grove. When the Turtles appeared and took over the Power Rangers' powers, they became Turtle Rangers.
RELATED: POWER RANGERS POWER MONTH: WHAT WE KNOW SO FAR
As for the other TMNT members, in a recent report there was a concept art of Michelangelo as the Yellow Ranger and Rafael the Red Ranger which is similar to Donatello and Leonardo's design. April O'Neil was also featured in the concept art in the Pink Ranger form. Since we have two Turtle Rangers revealed for the Lightning Collection we can hope to see the other characters get their figures soon.
The MMPR/TMNT two-pack figures are available for pre-orders on Entertainment Earth. So what do you all think of the turtles rangers figures? Let us know in the comments and follow The Illuminerdi's social media page.
KEEP READING: KING SHARK: GETTING TO KNOW THE SUICIDE SQUAD'S NEW FAN FAVORITE IN COMICS AND BEYOND
Source: Comic Book