It's getting hot, so it must be Summer. It's ok though. Dreamcatcher is here to cool you off with the chills of their title track "BEcause" from their new mini-album "Summer Holiday". Hitting the ground running, Dreamcatcher has once again proven to be powerhouses of variety and talent.
The six track album begins with "Intro" which is exactly as the title says, an introduction to the next evolution of sound Dreamcatcher is set to bring. This time setting up the cool summer chill vibe. With the footsteps reminiscent of walking along a beach boardwalk, the final melody brings a loose rendition of the title track.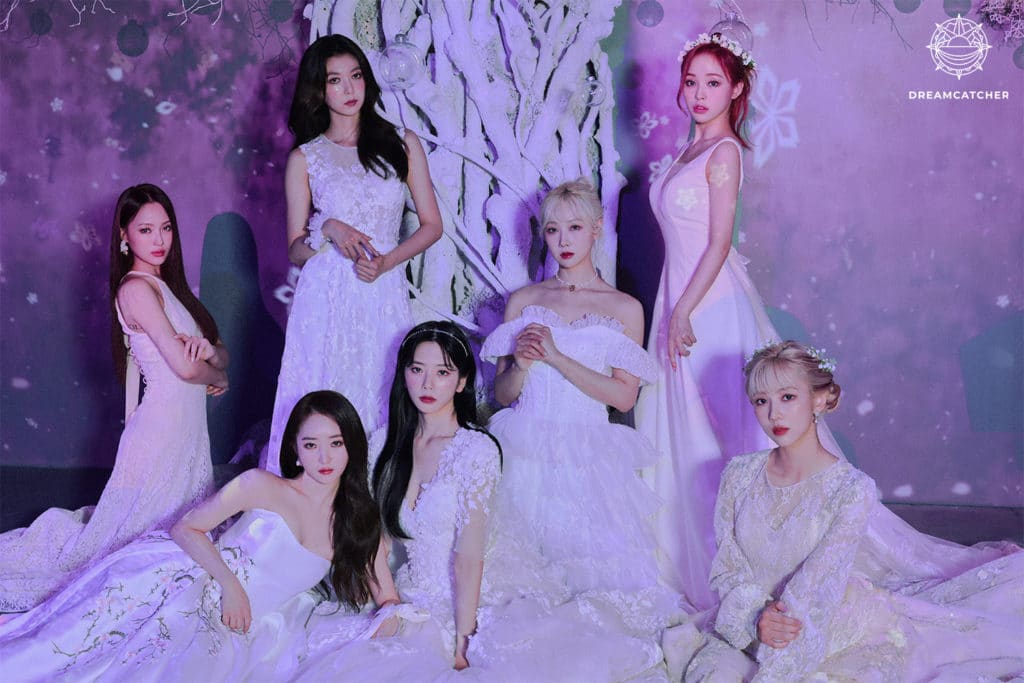 "BEcause" brings the sound fans have come to love. Chilling sounds of darkness and rock. Oddly enough the song is about an unhealthy love obsession. "It's okay, even if you reject me. Another voice of mine will call you instead," hints at the dual personality of someone who doesn't want their love to be ignored. As if they will change themselves to try and please the one they love. Multiple personalities or doppelganger hints were thrown around during Dreamcatcher's first reality show on YouTube, which you can find here.
References to the Jordan Peele movie "Us" are used throughout the music video, such as hand gestures and representation of the tethering and scissors. Even rabbits were used within promotional photos. The recurring theme of "Us" being the duality of human nature, the line of dialogue "I've been disguising myself. You don't know me well yet. People may think I'm good. But they don't know who I truly am" lends wholly to this concept. Of course, no Dreamcatcher title song can be without their signature rock sound which is most evident within the chorus hitting hardest within the instrumental breakdown. Chills, indeed.
"Airplane" recalls the weather of summer twilight. That perfect moment between being dark outside right before the sun starts to peak over the crest of the atmosphere. Getting you ready for a fun day out. Accompanied with one of the more funkier drum beats and synthesizer melodies, Airplane takes you back to the late 90's vibe of a road trip taken during a teen, summer movie.
"Whistle" fast-forward to the early 2000s with this tune. A catchy guitar rift and a whistle melody that you can find yourself singing on any given day, Whistle returns the vibe to a melancholy angst of a summer love that will end soon. "Can you stay with me in my arms? Blow the whistle again. Would you stay with me? Whistle, whistle in my heart." This song has some amazing post-chorus vocals that take you on a roller coaster just the same way a fleeting romance can.
"Alldaylong" is a totally different vibe. City-pop being a loose, electro funk sound having come from Japan in the 1970s and 1980s, this pleasant jam was written by the groups leader Jiu after another member, Yoohyeon, had comforted Jiu during a hard time. "When I close my eyes, hugging you warmly. I think it'll comfort my world" This song has the feel of a night out on the town, with that warm but cool breeze in the air.
"A Heart of Sunflower" closes out the album. The image of a song being sung around a camp fire at the end of summer comes to mind. The lyrics hitting hard about the reality of the lost love from Whistle. Another epic ballad to ease you into acceptance…maybe. The dueling vocals bring the song to a climax that closes the summer adventures.
Dreamcatcher – Summer Holiday – Final Thoughts
Summer Holiday diverges listeners in a different direction. Circumventing expectations when it comes to the usual rock and power sounds from Dreamcatcher. And that is a good thing. The more diversity means that Dreamcatcher has a lot more to offer fans for years to come.
The theme of summer love and obsession are kept all throughout the album. With title track BEcause setting up the horror vibe. Which, as I listen on repeat, I can hear the multiple personalities of the love struck obsessor change their tone and personality with each song. "It's okay, even if you reject me. Another voice of mine will call you instead" from BEcause echoing this sentiment in each song that follows. BEcause is also probably the most rock heavy song, from their Korean albums, since Break the Wall from Lose Myself. Although No More from their recent Japanese album Eclipse is their hardest song ever released so far.
Overall, Summer Holiday is a welcome change in pace and really does sound like that album to remind you of summer days. Something you can listen to on a nice car ride down to the beach. I can only imagine what a Fall Season with Dreamcatcher would be like. I for one am looking forward to where we go to after this brief holiday.
Summer Holiday is out now.