Chloé Zhao's Eternals is nigh upon us.
The next Marvel Studios film after Shang-Chi, Eternals is "a sprawling saga about a group of immortal aliens keeping watch over humanity" – basically everything Shang-Chi is not.
RELATED: Eternals: Marvel Releases The Jaw-Dropping Final Trailer And Poster For Their Superhero Epic
In a massive new exclusive with Entertainment Weekly, Zhao, Marvel Studios president Kevin Feige, and producer Nate Moore broke down their new film, which comes in the wake of Zhao's historic Oscar sweep with her 2020 film Nomadland.
IS ETERNALS IMPORTANT TO THE MCU?
Although Eternals is mostly standalone, Moore promises that it remains in the "the fabric of the MCU," similar to how the Guardians of the Galaxy movies seemed separate from the Avengers' world until their major collision in Avengers: Infinity War. The magazine confirmed that "Eternals picks up after the events of Avengers: Endgame" and will explain that the Eternals were too preoccupied with the Deviants to help against Thanos or any other human events. Nevertheless, Feige and Moore remain adamant that this film will have "major ripple effects" on the future of the MCU.
After knockout films like The Rider and Nomadland, Zhao is becoming increasingly well-known for a kind of analog DIY aesthetic and work ethic. The Eternals cast shared stories of how she chased horses with her camera, encouraged people to sit on the floor with her, and even climbed on the dangerous sets herself to get better angles. With Eternals, she was able to collaborate with the visual effects and action teams to blend her tangible earthiness with a new "lofty sci-fi weirdness". Famously, Zhao even took Marvel out of their own studios in order to film in the real world, on location whenever possible.
These elements combine together to create a "sense of joy and awe" within the "cosmic, millennia-spanning epic" of the film. What makes Eternals especially remarkable within the MCU is that, instead of throwing ordinary people into extraordinary situations, it is one of the few Marvel Studios films that brings the extraordinary down to Earth.
As Entertainment Weekly describes it:
"Inspired by one of the trippiest (and more obscure) corners of Marvel comics, the film starts at the very beginning of civilization and stretches more than 7,000 years, weaving a tale about ageless gods who stand guard over history — and maybe pick up a few human traits along the way."
"MARVEL'S MOST AMBITIOUS FILM YET"
The Marvel producers themselves are nervous. Moore confesses that, "I think we bit off as much as we could chew on this one because we did want to make a film that felt urgent and present and had [a fast] pace, but also took time to reflect back over the centuries." Even Feige has to admit the film could not and would not have been made without Zhao's direction.
"The truth is, we would not have even attempted this if it weren't for Chloé…who is equal parts cinematic visionary and genre nerd. She can outtalk any of us when it comes to manga and Star Wars and Marvel comics…And this movie, I think, represents all of the immense multitudes of Chloé."
Even the multi-talented comedian Kumail Nanjiani, one of the stars of the film, had to step in with praise for the director.
"She's just one of the greatest filmmakers ever, and she's at the height of her powers right now…I just felt very safe. I was like, Oh, she's not going to let me suck at this."
The Eternals are niche in the comics, even for well-read fans. Created by Jack Kirby in 1976, shortly after he made the Darkseid/Fourth World mythology at DC, they represent something like the final evolution of the greatest mythological entities within a pantheon of mythological characters. A pop culture historian could trace a direct path from Kirby's work with the Asgardians in Thor to his development of the New Gods at DC to his creation of the Eternals at Marvel.
Although her visual style is much more naturalistic than Kirby's famous bright colors, manic squiggles, and thick inks, Zhao used Kirby's original writing and art style to inspire the visuals of the movie and huge scale. In a really exciting innovation, Zhao refers to the planet Earth as a major character in the film, documenting the changes to the landscape and civilization over a 7,000-year timeframe.
"I thought, I can go as big and as epic as our meaning in the cosmos, but I can also go intimate and explore all of the internal struggles we have as human beings. Because these characters have lived among us for so long, [they have] the same struggles like identity, purpose, faith, personal freedom versus greater good — all the duality and flaws that make us human."
Eternals is shaping up to be an extremely exciting new achievement for Marvel Studios, and possibly even a strong awards contender. Have you seen the trailer yet? Between Shang-Chi, Eternals, and Spider-Man: No Way Home, what are you most excited for this fall? Let us know on our social media!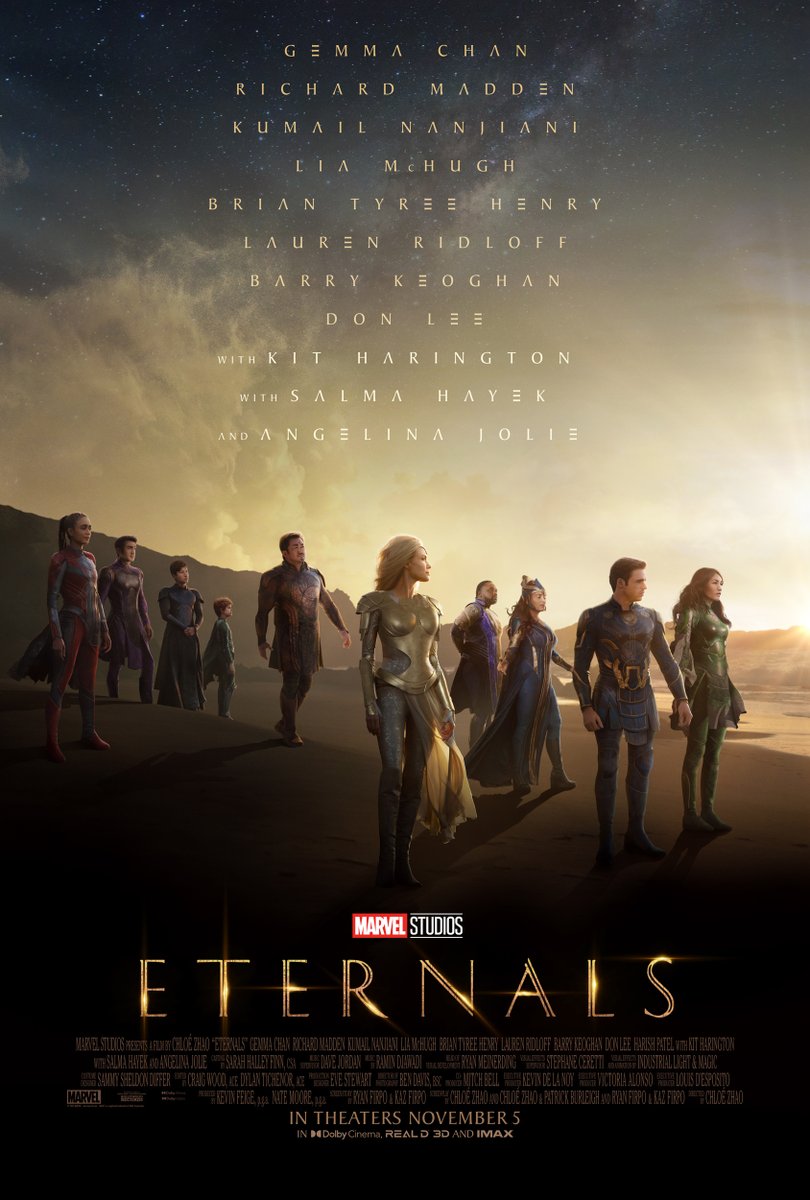 Chloé Zhao's Eternals will release exclusively in theaters on November 5. Featuring the most diverse cast of any major comic book movie, the film stars Gemma Chan, Richard Madden, Kumail Nanjiani, Lia McHugh, Brian Tyree Henry, Lauren Ridloff, Barry Keoghan, Don Lee, Salma Hayek, and Angelina Jolie.
KEEP READING: Eternals: Sersi and Black Knight's Romance Takes Place in MCU's Present Day
Source: Entertainment Weekly