The reason behind why Keith Lee has been wrestling mostly dark matches the last few weeks has been revealed.
Lee hasn't been on TV since Aug. 2 when he wrestled Karrion Kross on RAW. Since then we haven't seen him.  We now know the reason is because he has been wrestling dark matches on RAW and SmackDown.
RELATED: BIANCA BELAIR TALKS NXT REVAMPING AND WWE'S ABILITY TO ADAPT
Keith Lee has wrestled Austin Theory in a SmackDown dark match on August 6, Chico Adams in an August 9 RAW dark match, Niles Plonk in an August 13 SmackDown dark match and this past Monday for a RAW dark match against Casey BlackRose.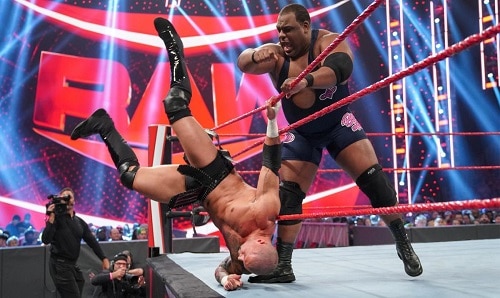 Forced To Wrestle Squash Dark Matches
These matches have been designed to be very short and are basically squash matches. According to Wrestling Inc. these matches are a way for WWE to refine Keith Lee and decide what works for him and how to use him in the future.
RELATED: ILLUMINERDI WRESTLING ORDER: AEW RAMPAGE, HEELS & EXCITING ROAD STORIES
This is not a completely clear statement as far as why WWE doesn't know how to use him and is trying to figure out what works best for him. I can only think of three possible reasons.
WTF Is WWE Doing And Why?
The first is that WWE literally has no idea what they are doing and don't know where to put him or how to use him. This is a very real possibility with how WWE has been operating as of late, but I don't think that's the case this time.
RELATED: BECKY LYNCH SET TO BE IN ATTENDANCE FOR THE SUMMERSLAM SPECTACULAR
The second option is that Keith Lee can't wrestle or has difficulty wrestling longer than squash matches. Lee recently came out via his YouTube explaining his five month absence from WWE was COVID related. He contracted COVID and it caused inflammation of his heart. When it was first discovered he was restricted from doing anything besides a light walk. It took the five months for his inflammation to go down and to get medically cleared to make his return to the ring in July.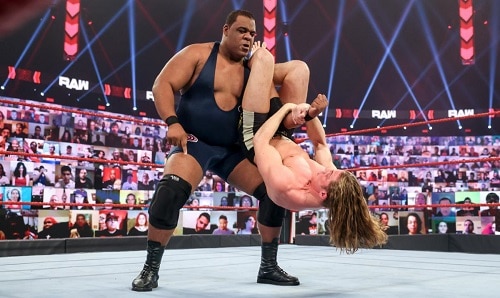 WWE may not be completely comfortable with Keith Lee wrestling full matches or maybe his cardio isn't at the point to wrestle for such an extended period of time. Months and months with no cardio at all and then to expect the body to go back to running, lifting and jumping all around a wrestling ring would probably be a big adjustment.
RELATED: CODY RHODES COMMENTS ON BIG NAMES GOING TO AEW AND BRAY WYATT'S RELEASE
The third possible reason is because he missed five months and all those storylines which were planned for him were cancelled or given to someone else. WWE may not have anything for him at the moment especially when SummerSlam is coming up this weekend.  Perhaps after SummerSlam happens this weekend WWE can start using him again on TV. Those two matches he had with Kross seemed a little out of nowhere like something thrown together at the last minute, but that may have been more about the fallout of Kross losing his main roster debut match.
Why do you think WWE has been using Keith Lee only in dark matches? Do you want Keith Lee to continue his feud with Kross or should he start a new feud with someone else? You'll never know how limitless you can be unless you leave a comment below or over on Twitter.
KEEP READING: CM PUNK SHARES A MYSTERIOUS POST WHICH MAY HINT AT A RETURN TO WRESTLING
Sources: Wrestling Inc., Lee's YouTube Video