Vacation Friends is an upcoming R-rated comedy about the power of friendship vs. the power of social barriers.
During a vacation in Mexico, straight-laced, down-to-earth couple Marcus and Emily meet unruly hedonists Ron and Kyla. After a series of disastrous events, the four become much closer "friends" than Marcus and Emily would prefer, creating a brilliant "odd couple of couples."
RELATED: MULTIPLE THEATER CHAINS LIST J.K. SIMMONS AS PART OF VENOM 2'S CAST
With a cast of John Cena, Lil Rel Howery, Yvonne Orji, and Meredith Hagner, Vacation Friends is an absurdly funny film with a deep heart. I was lucky enough to attend the off-the-rails virtual press conference and barely made it out alive with more than a couple of wild tales to tell.
Vacation Friends Leans Into The Power of Friendship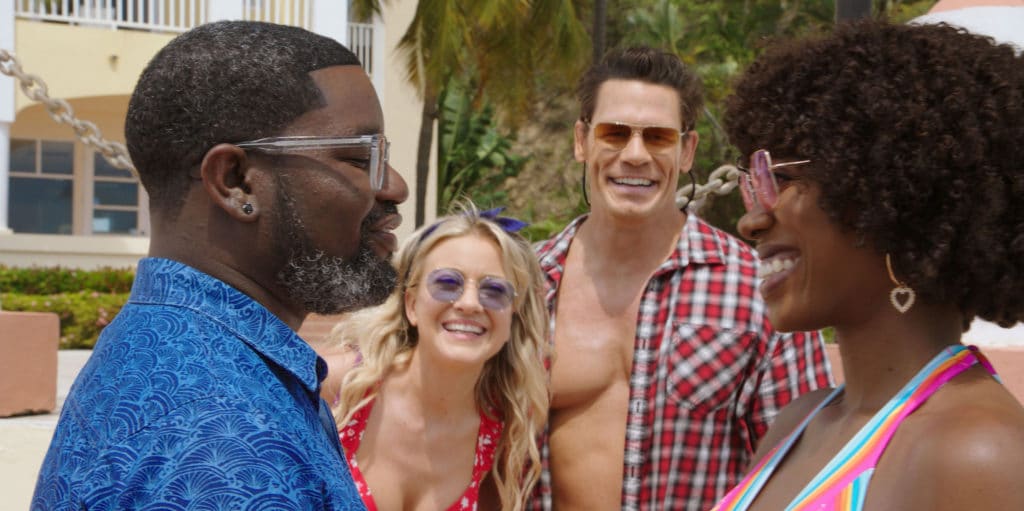 Professional host Grae Drake kickstarted the Vacation Friends conference with a casual icebreaker ("What are the best drugs you've ever done on vacation?" Cena admitted to "a strong cup of coffee" and Orji added "malaria prevention pills"), before segueing into the real-life connections between the characters and their cast members.
RELATED: EXCLUSIVE INTERVIEW: SWEET GIRL DIRECTOR ON HOW VILLAINS LIKE ANTON AND HEATH LEDGER'S JOKER INSPIRED THE FILM'S BIG BAD
Dressed in a fullsuit, Cena answered that he bases his characters either on extensions of himself or the total opposites, but always with some connection to who he is.
"If you see Ron and you see me, Ron's probably not going to wear a waistcoat and a half-windsor, but I think the characteristic that I find in Ron is the ability to be present, the ability to be in the now, the ability to enjoy the the journey of life. I think he's very emotionally connected to who he is."
Howery was impressed that his character Marcus owned his own construction company, but "he hasn't really let his hair down, for real…he's a stiff guy". Howery enjoyed playing such an easily irritable character, and exploring how the move loosens him up.
"He's paying attention to everything because he has to [as a company boss]…What you're going to see throughout the movie is him loosening up, and that's what makes Marcus really dope…Marcus is just very focused, he's in love with his fiancee, but he just, you know, he's a stiff guy. And this vacation changed everything."
Orji admitted that her character Emily was less reserved than her fiancé Marcus, but she still has a problem of her own as a people-pleaser.
"She's trying to please him, trying to please her father, her mom, and have everything go off without any problems. As we know in the movie, lots of problems ensue."
Rounding out the conference roster were Andrew Bachelor and Robert Wisdom. Bachelor plays Emily's brother Gabe, who harbors animosity towards Marcus. Bachelor said he and Gabe are both competitive, and he respected Gabe loving his family and trying to protect his sister. Wisdom was Emily's father (who also doesn't like Marcus), and he joked that "in reality, I'm just like that guy. I'm a stuffed shirt, very full of myself. I don't like too many people."
[Click on Page 2 for More Vacation Friends coverage.]