Deonna Purrazzo retains her IMPACT Wrestling Knockouts Championship by defeating Melina at NWA EmPowerrr.
Purrazzo entered the ring facing very tough competition as she took on Melina. However, to add to the pressure she had to defend her IMPACT Wrestling Knockouts Championship.
RELATED: BECKY LYNCH REVEALS INSPIRATION FOR NEW HEEL PERSONA
The match started with Melina taking over early on and dictating the pace. Melina was able to get a few near falls and was able to land a double knee to Purrazzo in the corner. However, Purrazzo was able to weather the storm and slowly started to take control of the match.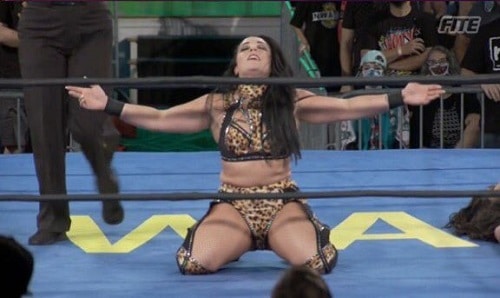 As the match continued Melina started to slow down and Deonna Purrazzo started to gain more and more control.  Melina was unable to key land maneuvers or capitalize at key moments.  Purrazzo was able to counter the Play of the Day from Melina into an armbar and grab Melina's other arm and then a leg.  Purrazzo turned her into a pretzel of pain and Melina had no choice but to tap out.
What Deonna Purrazzo's Win Means Wrestling In General
The secret pressure on all the women who performed on the NWA EmPowerrr event was what the event symbolized. This event was an all-women PPV which was organized by Mickie James and NWA which we first wrote about in June.
This is just another step forward for women wrestlers to show they can tear the house down just as well as men, if not better. For way too long wrestling fans saw women's matches as an excuse to take a bathroom break and fans missed out on some world class matches because of it.
RELATED: CASSIE LEE AND JESSIE MCKAY TALK ABOUT THEIR RELEASE AND WAITING ON VISAS
In the last few years women's wrestling has made a lot of giant leaps forward. This is largely because of WWE even though they have backed off that a bit. However, they are still willing to take chances on giving women more TV time and the opportunity to main event PPVs. This gave the casual fans an opportunity to see just how good these women are even though hardcore fans have known this for 20 years. The wars between wrestlers like Lita and Trish Stratus or Stratus and James will be forever burned in my brain.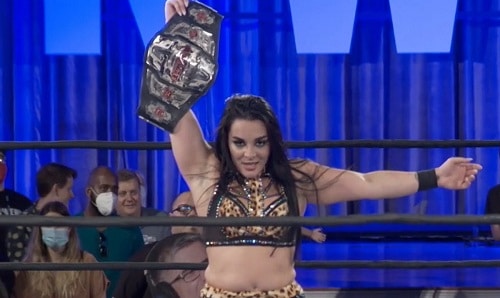 However, this was a big test to see if an all-women wrestling PPV could be a success and would draw fans to pay money for it. The PPV had some big names from AEW, IMPACT, NWA and AAA besides Purrazzo and Melina with names like Kylie Rae, Marti Belle, Chelsea Green and Kiera Hogan.
I hope this kind of event continues and WWE starts doing this kind of events again, not just the one-and-done Evolution they did in 2018. They should make it a yearly event because I'd watch it and I'm sure I'm not the only one. Every major wrestling promotion should use this as an example and do an all-women PPV or event.
What do you think of the Deonna Purrazzo vs Melina match?  Did the right person come out on top?  Did you get a chance to watch NWA EmPowerrr?  Would you watch an all women WWE or AEW event?  Leave a comment below and tell us what you thought of this special event.
KEEP READING: WWE IS REPORTEDLY NOT LOOKING TO SIGN INDIE TALENT
Source: WrestleZone