Hello Ranger Nation, Power Month may be over but the ranger hype is far from done. Hasbro has many big things in store for fans but for now – including Lightning Collection's Ninjetti Rangers.
For those of you who have been keeping up with the lightning collection, you'd be pleased to know that the Pink and White Ninjetti Ranger figures may be made available very soon.
RELATED: POWER RANGERS DINO FURY TO FINALLY PREMIERE ON UK TV VIA POP
Recently, a keen fan tweeted a photo of the ninjetti rangers on a banner picture for Amazon U.K. that shows the white and pink ninjetti ranger figures alongside the Blue and Black Ninjetti Ranger figures.
Lightning Collection Adds To The Family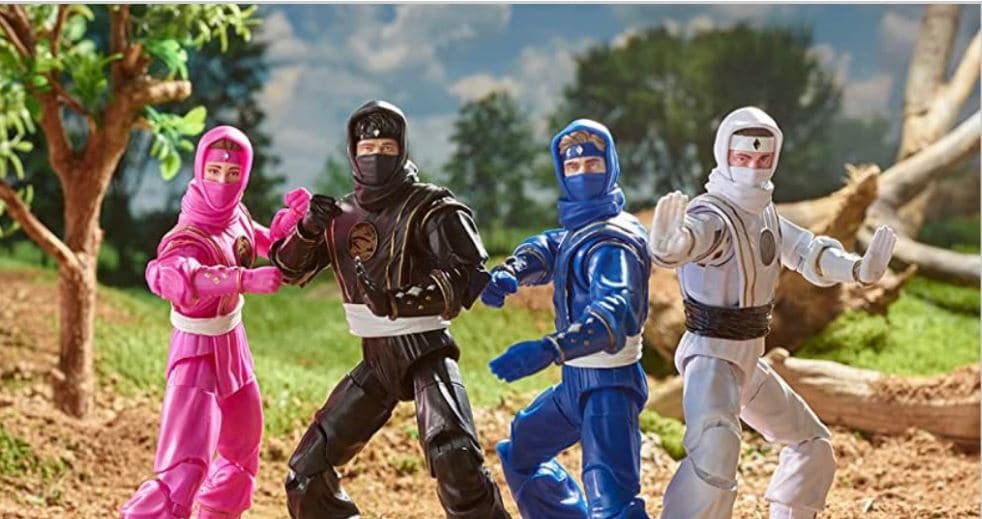 Now it's only a matter of time before we see these hit the shelves. So far there has been no official word as to when the Pink and White Ninjetti figures will be available in stores, however, if I had to guess, I'd say they'll arrive sometime between October and December. I think this would be an ideal Christmas gift for ranger fans, especially for the older ones, seeing how the ninjetti rangers belong to the golden age of Power Rangers.
Now is a great time to be a Power Rangers fan. Power Rangers is an intellectual property that has been around for generations. The quality of Power Rangers as a show or movie is debatable at times, but the value of Power Rangers as a brand in its entirety can not be denied. Power Rangers show no sign of slowing down anytime soon under Hasbro's leadership.
With Season 28 (Dino Fury) on Nickelodeon and the 29th season on its way, multiple movies and series being developed by Jonathan Entwhistle as well as Lightning Collection merchandise and media, the vitality of the Ranger Nation continue to grow exponentially.
Would you be getting your hands on the Lightning Collection ninjetti figures? Let us know in the comments. If you like what you've read and can't wait for more, feel free to subscribe. Thank you for reading, may the power protect you.
KEEP READING: POISON IVY READY TO HELP BATWOMAN'S 3RD SEASON GROW
Source: Danielle Roe via PwrRnr