Blue Beetle, an upcoming live-action DC HBO Max film revealed concept art and further details about the upcoming project at the DC Fandome 2021 panel. 
Blue Beetle stars Xolo Mariduena of Cobra Kai in the title role, and is directed by Angel Manuel Soto of Charm City Kings. In the panel, the director and star talked about how excited they are to bring a culturally rich, inclusive story to the DC Extended Universe.
Blue Beetle is the alter ego of Jamie Reyes, a teenager who bonds to a magical scarab which gives him a super suit that allows space travel and enhanced combat abilities. Jamie Reyes is the third character to hold the "Blue Beetle" mantle, and the second in the DC Universe. 
BLUE BEETLE CONCEPT ART REVEALED AT DC FANDOME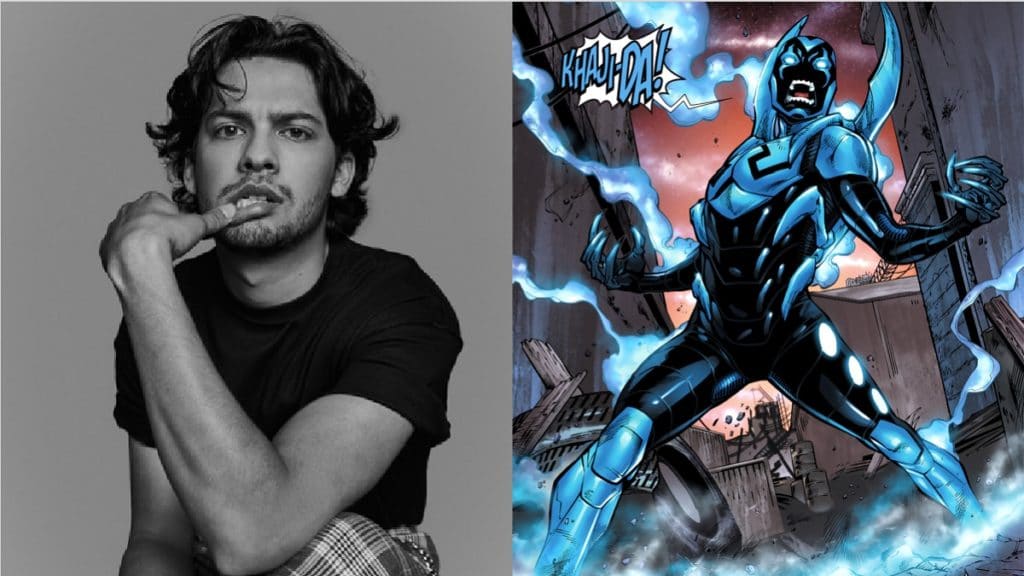 Charlton Comics originally created a character named Dan Garret, who was the first to hold the mantle. Ted Kord later took the mantle and joined the DC Universe in the 1980's mega-crossover "Crisis On Infinite Earths". Jamie Reyes took the mantle after Ted Kord, and was the first with superpowers, with the earlier heroes relying on tech-based powers to fight crime.
Jamie Reyes was mentored by Ted Kord in some stories, and the two may have a connection in the DC Extended Universe if this newly revealed concept art is anything to go off of. Blue Beetle is shown, suited up against the city's skyline. Kord industries can be seen quite prominently in the background, confirming the existence of the Kord family in the upcoming movie. 
RELATED:
No one has been cast other than Xolo Mariduena, and no other characters have been confirmed for the project. Mariduena's casting was a huge success for DC fans, who had long fancast him in the role before his attachment to Blue Beetle was made official.
BLUE BEETLE JOINS A WAVE OF EXCLUSIVE DC CONTENT ON HBOMAX
Blue Beetle joins a slew of HBOMax DC exclusive live-action projects, such as James Gunn's Peacemaker, Matt Reeves' GCPD series, a Green Lantern TV series and the upcoming Batgirl series starring Leslie Grace, just to name a few. Other projects such as Justice League Dark and Zatanna are in various stages of early development at this time.
Xolo Mariduena won over the hearts of Karate Kid fans through his performance as Miguel Diaz in the Netflix Original series, Cobra Kai. Cobra Kai is currently preparing for it's fourth season to release on December 31, 2021. Ralph Macchio, William Zapka, Tanner Buchanan, and Jacob Bertrand co-star alongside Mariduena in the hit spinoff series.
Mariduena spoke very highly of the supersuit that will be featured in Blue Beetle, a suit which he has yet to see in person. The rising star even went so far as to challenge any fellow heroes who believe they have a better suit to a rap battle, bizarrely. The young actor's charm, honesty and passion for the project were palpable throughout the panel.
BLUE BEETLE: STAR XOLO MARIDUENA IS IN LOVE WITH THE SUPERSUIT
Blue Beetle does not currently have a release date, and has yet to begin filming. Production is slated to begin early next year. 
RELATED: EPIC FIRST TEASER FOR THE FLASH REVEALED AT EXCITING DC FANDOME EVENT
Jamie Reyes was a high-schooler from El Paso Texas before he discovered the alien Scarab which would turn him into Blue Beetle. The scarab bonded to his body, giving him powers of metamorphosis, flight and more. Blue Beetle would go on to become a brave vigilante, eventually joining the iconic super team, the Teen Titans. Since the Titans do not exist in the DC Extended Universe, it seems quite likely that this part of his backstory will be dropped for the feature film. 
Blue Beetle is directed by Angel Manuel Soto and stars Xolo Mariduena in the title role. What did you think of the DC Fandome panel for the upcoming film? Let us know your thoughts in the comments below, or on our social media! 
KEEP READING: BLACK ADAM: GET YOUR BRUTAL FIRST LIVE-ACTION LOOK AT THE MAN IN BLACK IN NEW TRAILER FROM DC FANDOME