Night Raiders is a film with something to say and, for the most part, says it well.
I've been a fan of the "fight the system in a post-apocalypse" genre ever since seeing The Hunger Games back in 2012. That film's success lead to many an attempted franchise about citizens rising up against their oppressive regimes for a better tomorrow, all while developing screen-time-eating love triangles between teenagers.
RELATED: ARMY OF THIEVES MOVIE REVIEW: HUMOROUS HEIST FILM DELIVERS SOLID FUN
Night Raiders is another "fight the system" movie, only this time there are no sexy teenagers, angsty stares, or love triangles to distract us from the main event of people rising up against their totalitarian system – and I found that quite refreshing. Night Raiders offers a different spin on a familiar genre that allows it to stand out from the crowded pack.
How Night Raiders Holds Up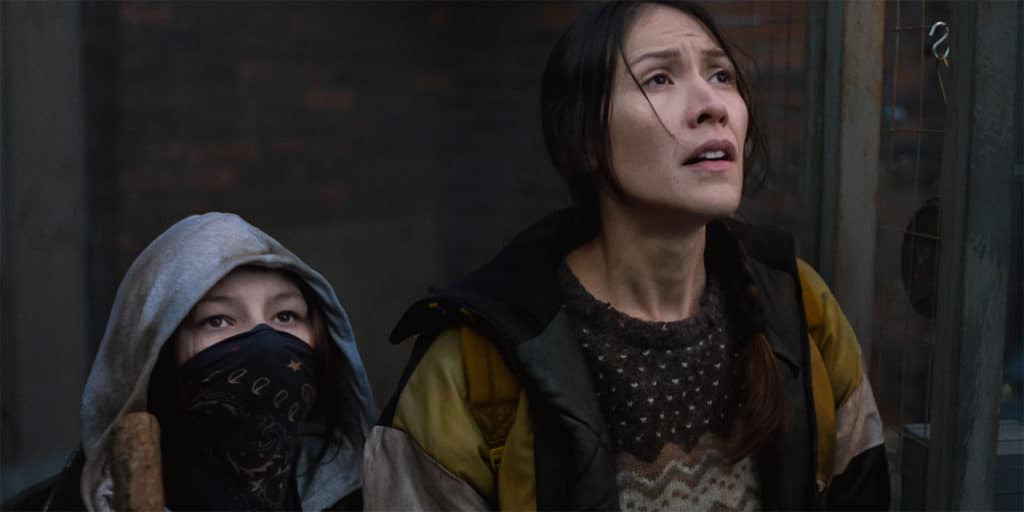 In the future, a second civil war took place and left much of the world ravaged. A totalitarian government rose up in the war's aftermath and its members began forcing children into re-education camps to fight for their malicious regime.
Cree mother Niska (Elle Maija Tailfeathers) has protected her 11-year-old daughter Waseese (Brooklyn Letexier-Hart) from the government as long as she can, but when her daughter is taken, Niska must turn to a camp of Cree who have secretly been keeping children safe. If Niska agrees to transport the children to a safe zone, the Cree tribe will help her rescue Waseese and the other kids from the facility.
Night Raiders does a good job selling its hopeless world. The film is covered in rain nearly constantly, all the locations and actors look appropriately dirty and disheveled, and the scenes at the re-education camp are unsettling. The message paralleling the displacement of Native Americans from their land is well-integrated and the climax is satisfying.
In a genre often dominated with teen-centric entries, it's nice to see one where the adults are the heroes driving the story forward without a romantic misunderstanding in sight. Hopefully we get more like it.
Night Raiders is a tense, dramatic, and unique for the post-apocalyptic genre that cuts out all the fat normally present for a lean, entertaining experience. See it, and then leave a comment or tweet for The Illuminerdi letting us know your thoughts.
3.5 out of 5 stars (above average)
KEEP READING: SNAKEHEAD DIRECTOR EVAN JACKSON LEONG ON WORKING WITH THE FAST AND FURIOUS' SUNG KANG ON HIS NEW FILM