Disney+ Day is heading into Springfield for " The Simpsons in Plusaversary!" This new short, "The Simpsons" will host a party and most of the characters are on the list, except for Homer.
Plusaversary is Springfield's event of the year with friends from across the service and music fit for a Disney princess of course. This short will premiere on Friday, November 12th exclusively on the streaming service. Disney+ Day will come to life in 10 days with new releases, cool fan experiences, and exclusive offers! It will be celebrated globally and more will be added from The Walt Disney Company on Friday, November 12th.
This new short is the third of "The Simpsons" series. The previously released Star Wars and Marvel-themed shorts like "Maggie Simpson in ' The Force Awakens from Its Nap'" and "The Good, The Bart, and The Loki" are currently available now on Disney+. All of these can be found in "The Simpsons" collection on the streaming service.
RELATED: DISNEY+ DAY: THE WALT DISNEY COMPANY ANNOUNCES NEW "HOLIDAY" ON NOVEMBER 12 TO THANK SUBSCRIBERS WITH NEW CONTENT, FAN EXPERIENCES, AND MORE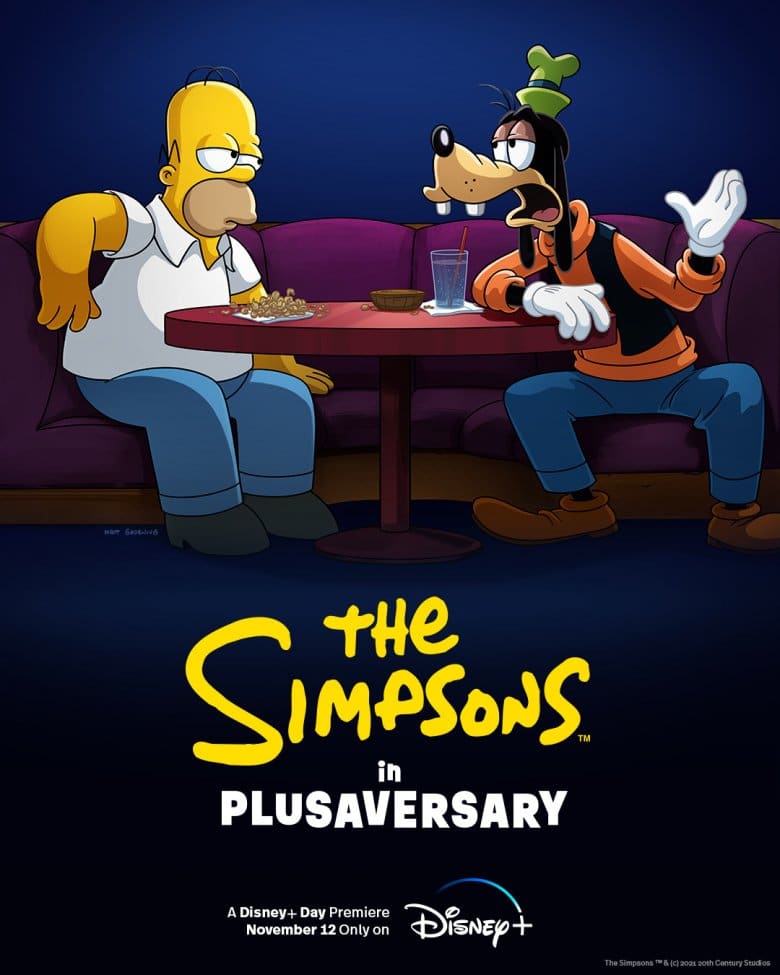 This Disney + short will draw in fans with some special characters to join from Disney movies. This photo shows Homer and Goofy looking like they are having a serious conversation. This new short should bring fans together to watch all these characters share a moment on a special day.
"The Simpsons" is one of the most popular shows in the world and it still runs to this day. This short will show how it can tie into anything even when the Disney characters get involved. Who do you think will show for this new short? Maybe, it could be your favorite Disney character? Let us know on Twitter! Make sure to check this out when it comes to Disney+ on Friday, November 12th!
READ MORE: WATCH DISNEY UNVEIL REALISTIC NEW LIGHTSABERS IN EXCITING ANNOUNCEMENT VIDEO FOR DISNEY WORLD IN 2022