Squid Game took the entire world by surprise, and now it's coming back for more.
The best way I can explain it is this: the show started as a tropical depression, and in less than 24 hours it turned into a category five hurricane. It left many viewers discombobulated, confused, angry, sad, and euphoric all at the same time. I do have to admit that I saw the end coming during episode two ( *SPOILER ALERT* ). That old man did not fool me once. I noticed it during episode one, but when he "stumbled" upon one of the main characters in the street, I knew he was full of it.
However, everything else in between felt fresh. It was a good palate cleanser, and the way season 1 ended left many viewers wondering if Gi-Hun was going after the Frontman and the operation as a whole. After all, Gi-Hun looked determined to participate in the game one more time. The goal, however, is now vastly different from the first time he joined the game.
Back To The Squid Game
Squid Game creator Hwang Dong-hyuk spoke to Associated Press at a screening and Q&A in Los Angeles. When asked about a sequel, here is what he said:
"There's been so much pressure, so much demand and so much love for a second season. So, I almost feel like you leave us no choice! But I will say there will indeed be a second season. It's in my head right now. I'm in the planning process currently."
Gi-hun returns with vengeance on his mind.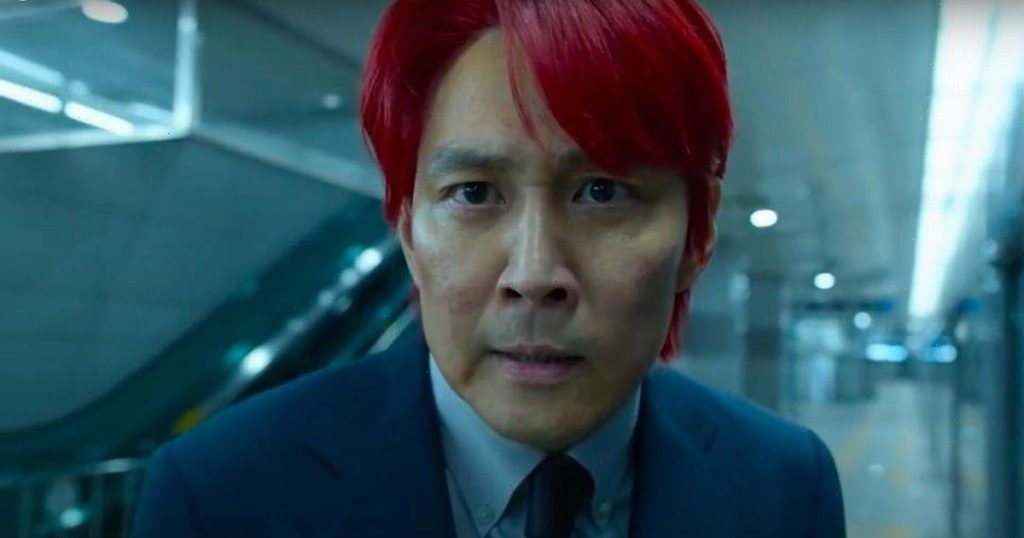 Although there is no official announcement as of yet, I'm sure Hwang and Netflix have already spoken about it. The only official confirmation we have about season two is that Lee Jung-jae, aka Seon Gi-hun, will return as the main character of the show.
"I do think it's too early to say when and how that's going to happen. So I will promise you this, Gi-hun will come back. He will do something for the world," Hwang said.
What Is Squid Game?
For those living under a rock here is a quick summary:
"Hoping to win easy money, a broke and desperate Gi-hun agrees to take part in an enigmatic game. Not long into the first round, unforeseen horrors unfold"
Squid Game quickly became a household name for Netflix. The streaming giant reportedly paid $21.4 million for the series. The projected return on investment is $891 million. It's safe to say that Netflix hit the lottery with that one. The series has accumulated more than 3 billion minutes watched and stayed on top of Netflix's top 10 list for weeks thanks to the 111 million households that watched it since its debut on September 17th.
Possibilities For Season 2
With the confirmation of season two, there will be tons of speculation about what will happen in season two. So, with that said, let's explore some options.
Possibility #1: As we saw at the end of season one, Gi-hun comes across the tux man playing the envelope game with this poor guy that has absolutely no idea what he is in for. After yet again another smooth escape from the tux man, Gi-hun takes the invitation from the man and decides to call the number. Gi-hun registers himself one more time, speaks to the frontman, and gives him a warning. He is coming to take them down.
Since Gi-hun announced to the frontman that he is returning to the Squid Game, I doubt that he will infiltrate the operation. He doesn't know where the island is located (he doesn't even know that they're on an island), and he would have no idea how to infiltrate himself unless he pretends to be asleep like Sae-byeok.
Possibility #2: Gi-hun goes back in as a player, having to keep all of the knowledge to himself. I would assume that letting the other players know that you played the Squid Game before would place a huge target on your back. He quietly plays the game as he tries to find people he trusts to create a coalition.
Possibility #3: Gi-hun infiltrates as a soldier and tries to take the operation down from the inside. Perhaps he could have the help of a familiar face. We never saw the cop actually die on screen, much like we didn't see the old man die on screen. Besides, he was shot in the shoulder.
Let me know your predictions for season two of Squid Game! What do you think will happen? Will there be familiar faces there? Will one of the soldiers be a previous player that perhaps did not die in season one like we were made to believe? The show could literally go anywhere from here. Don't forget to follow our social media pages to stay up to date with the upcoming season of Squid Game! 
Here is my reaction to the infamous "Red Light, Green Light" episode.
KEEP READING: ONE PIECE: EXCITING NEW CASTING UPDATE FOR THE HIGHLY ANTICIPATED LIVE-ACTION ADAPTATION
Source: AP