With the premiere of Disney+'s Hawkeye only a week away, the titular stars Jeremy Renner and Hailee Steinfeld are hot on the promotion tour. The show is the first standalone project surrounding the expert archer, who first showed up all the way back in 2011's Thor before going on to be a critical part of the Avengers. However, this show will not revolve around the character of Clint Barton alone, but will also serve to introduce his protégé Kate Bishop, played by the perfectly-cast Hailee Steinfeld.
Hailee Steinfeld and Jeremy Renner On Hawkeye's Dynamic Duo

In a recent press conference hosted by Brandon Davis of Comicbook.com, both stars opened up about the dynamic between their two characters, and how it is explored in the series.
Jeremy Renner explains:
"You set up characters that are polar opposites in a lot of ways, but who always have a lot of congruent values and belief systems and skillsets and things like that. Its a wonderfully complicated relationship or friendship, or partnership…you could put all kinds of different labels on it. And I think you could put these two characters in various different scenarios and its always going to be a winning scenario. It really is great. It has that buddy cop thing, it has a mentor thing, and it has beautifully intimate shared experiences that they have. Its really touching and funny and its a really dynamic relationship."
Hailee Steinfeld went on further to describe their partnership and how it plays out over the course of the show:
"It was very fun sort of figuring it out as we were going. The evolution of this dynamic and this relationship, and I think ultimately there's a really true friendship there and an understanding. Kate sees Clint as someone who, despite his past, wants to do good and wants to help people, and that's all she wants to do in life. She's inspired by him and motivated by him and wants to be on his level, and is very over-eager, and he puts up with a lot, but she really delivers at the end of the day."
For many fans, the Hawkeye series has been a long time coming. Not only does it shine a light on Clint Barton's character, but it also introduces us to a big hero from the comics in Kate Bishop, who later went on to be one of the founding members of the Young Avengers.
RELATED: MARVEL'S NEW HAWKEYE SERIES WAS ORIGINALLY DEVELOPED AS A SOLO FILM FOR JEREMY RENNER
The show is looking to be heavily based on the 22 volume Hawkeye series by Matt Fraction and David Aja, which is heralded as one of the best comics that Marvel has ever published. The upcoming show features many of the same villains who have been confirmed to pop up in this show.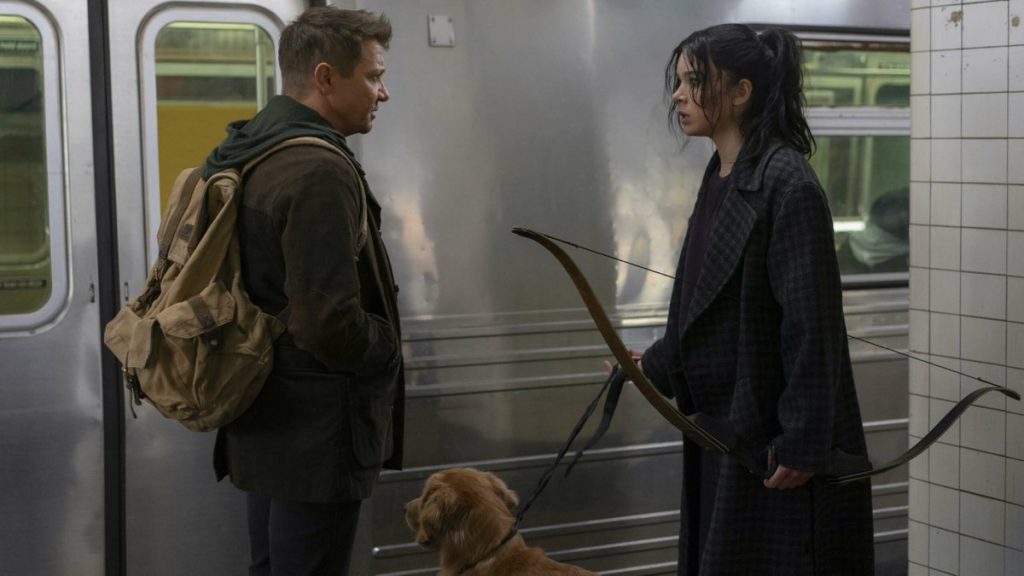 Hawkeye is also confirmed to include Florence Pugh's Yelena Bolova, who debuted in this year's Black Widow movie, as well as introducing Alaqua Cox's Echo (before spinning her off into her own show). And if all that wasn't enough, rumors are abounding that the show will also feature the return of none other than Vincent D'onofrio's Wilson Fisk, AKA the Kingpin, reprising the role of his character from the Netflix series Daredevil. With all that stuffed into our purple-hued stockings this year, we're excited to see how it affects our titular archers.
RELATED: BLADE: WESLEY SNIPES GIVES HIS PUBLIC SEAL OF APPROVAL TO MAHERSHALA ALI AS THE NEW MARVEL VAMPIRE HUNTER
The dynamic between the Clint Barton and Kate Bishop has been the greatest part of the promotional material thus far, and we are excited to see where it goes from here.
Hawkeye premieres exclusively on Disney+, with the first two episodes streaming November 24, 2021. Are you excited for Hawkeye? Let us know in the comments below or over on our social media!
KEEP READING: MARVEL CONFIRMS X-MEN '97 ANIMATED SERIES REVIVAL FOR DISNEY PLUS