When Disney announced a HUGE amount of projects at Disney Investor Day 2020, Turning Red was one of the 2 announced for Pixar (the other being Lightyear).
The story centers around a 13-year-old girl named Mei. When Mei has strong emotions, she turns into a big, fluffy, red panda.
RELATED: JONAH HILL TO PLAY JERRY GARCIA IN GRATEFUL DEAD MOVIE DIRECTED BY MARTIN SCORSESE
The first trailer and poster, released in July, basically showed a heavily edited version of a scene at school where she turns into a panda. It didn't explain much, but it provided enough interest for the average moviegoer's curiosity to be piqued. With this newest trailer and poster, however, we get a better look at who Mei really is.
New Turning Red Trailer Debuts On The Internet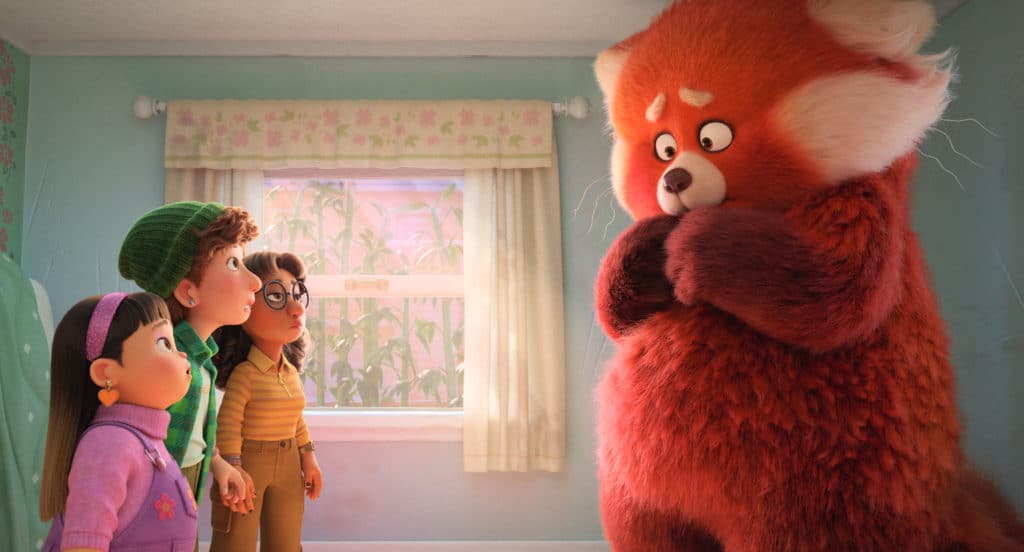 Headlining the cast is Rosalie Chiang as Meiling Lee (or Mei), with Sandrah Oh as Mei's mother. Maitreyi Ramakrishnan also appears as Mei's friend, Priya (third from left in above picture).
The trailer opens with an introduction of who Meiling is: a 13-year-old girl in a boy band with straight As in her tests. Suddenly, she has a dream about red pandas and – POOF – she wakes up as one herself. She then tries to control her emotions, but eventually reveals herself to her friends.
See the new trailer below:
Turning Red looks to be a LOT of fun, and it'll be interesting to see how Pete Docter manages this newest feature from Pixar. With the score by Ludwig Goransson (Black Panther, The Mandalorian), it'll be a blast. Multiple cast members and employees of Disney have reacted to this newest trailer on social media, commenting that the film "looks great", and that they "can't wait for audiences to see this film in theaters"!
The poster elaborates on many of the themes shown in the trailer, as shown below. The animation style is unique, and exciting.
See the new poster below:
What do you think of this newest trailer for Turning Red? Does it satisfy your expectations, or do you want more? For all breaking news and updates in the world of Pixar, follow @The_Illuminerdi on Twitter, and don't miss Turning Red when it debuts exclusively in theaters on March 11, 2022.
KEEP READING: HARRY POTTER STARS TO RETURN IN SPECIAL 20TH ANNIVERSARY CALLED "RETURN TO HOGWARTS"