Tick, Tick… Boom! is a stellar directorial debut by Lin-Manuel Miranda and does gift audiences with Andrew Garfield's most brilliant performance yet. Read more in our review below:
Lin-Manuel Miranda is one of the most successful people currently working in Hollywood. I'm talking about his musical Hamilton, his work on Disney's Moana or their upcoming Film Encanto, which is currently gaining massive acclaim. But this year alone, we got the great film adaption of his musical In the Heights and he also voice the lead character in Sony's animated adventure Vivo.
RELATED: NOVEMBER 2021: NEW MOVIES YOU DON'T WANT TO MISS
His directorial debut Tick, Tick… Boom! premiered to huge acclaim at the AFI Film Fest earlier this month and it is now available to watch on Netflix. And it's nothing short of a must watch.
Andrew Garfield Shines In Tick, Tick… Boom!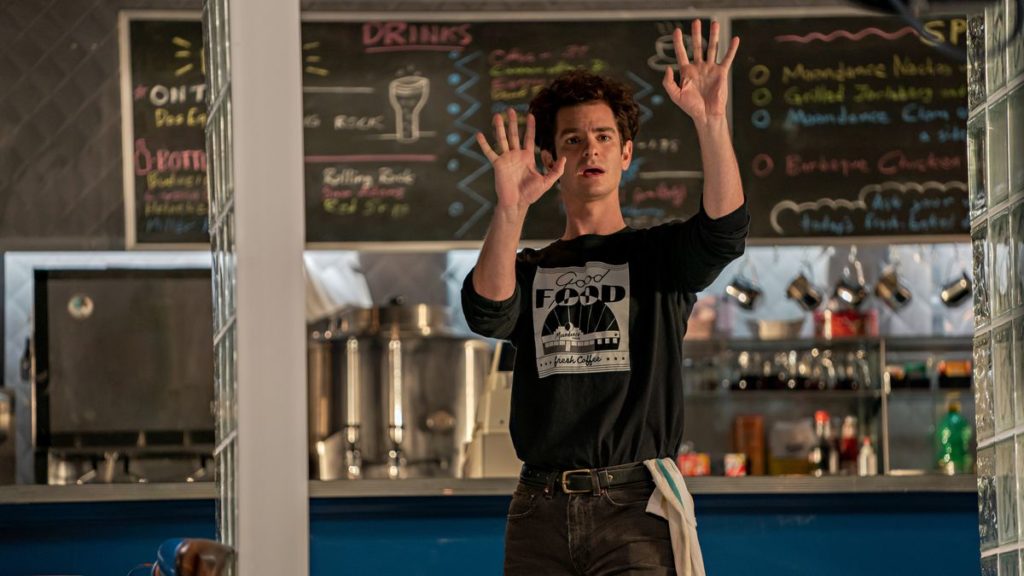 Netflix describes the film as follows:
tick, tick…BOOM! follows Jon (Academy Award nominee and Tony Award winner Andrew Garfield), a young theater composer who's waiting tables at a New York City diner in 1990 while writing what he hopes will be the next great American musical.

Days before he's due to showcase his work in a make-or-break performance, Jon is feeling the pressure from everywhere: from his girlfriend Susan, who dreams of an artistic life beyond New York City; from his friend Michael, who has moved on from his dream to a life of financial security; amidst an artistic community being ravaged by the AIDS epidemic. With the clock ticking, Jon is at a crossroads and faces the question everyone must reckon with: What are we meant to do with the time we have?
Andrew Garfield trained in singing and playing the piano for over a year before the film eventually started shooting, and he confirmed multiple times that Miranda's directorial debut is a passion project for him. And it shows. The brilliant actor delivers his best performance so far. He put so much heart and soul into the character that he fully disappeared. One of this years very best performances that will for sure crack up the Awards race this season.
He is buoyed by a stacked supporting cast including the likes of: Robin De Jesús, Alexandra Shipp and Vanessa Hudgens. De Jesus plays Larson's roommate and best friend Michael and delivers a scene stealing, yet very emotional performance. The two actors share some of the films very best scenes together.
Obviously a huge part of a musical are the musical numbers; which feel very personal and small compared to other genre entries this year. That's not a negative point as there also are bigger choreographed moments, but ultimately this film does often feel more like a drama, with additional singing, which did work pretty well.
The film is obviously a love letter to theatre. The cast includes many Tony nominated or winning actors and I've been told that there are a ton of cameos of famous industry people. I for one, really don't know almost nothing about the Broadway and all it's facets, therefore I wasn't aware of those cameos and Larson's story in general. Fans will probably get even more out of this film, but ultimately it's for everyone, as the story at it's core is really universal, which is why it does work so well.
tick, tick… Boom! is a dazzling directorial debut with a more than stellar performance by Andrew Garfield and great supporting turns. A universally relatable and emotionally touching film, that ends up being a must watch.
4.5/5
tick, tick… Boom! is available on Netflix. It is written by Stephen Levenson and is directed by Lin-Manuel Miranda. It stars: Andrew Garfield, Alexandra Shipp, Robin de Jesús, Joshua Henry, Mj Rodriguez, Bradley Whitford, Tariq Trotter aka Black Thought of The Roots, Judith Light and Vanessa Hudgens.
What do you guys think? Are you planning to watch it? Have you seen it already, if so how did you like it? Let's discuss everything in the comments down below and on our Twitter.
KEEP READING: DOES STAR WARS: EPISODE II – ATTACK OF THE CLONES HOLD UP IN 2021?