There are plenty of November 2021 movies that are coming to theaters, streaming platforms, and video on demand that we should not miss, belonging to a wide plethora of genres. That includes action flicks, romance, dramas, comedies, adventure, fantasy, sci-fi, horror, thrillers, and even a few black-and-white films. This will be another exciting month because a whole bunch of tentpole movies and awards targeted films are getting released.
In November, streaming services are stacked with an exciting line-up of films. On Netflix, Passing; Red Notice; The Princess Switch 3: Romancing the Star; Tick, Tick… Boom!; and Bruised are releasing. On Amazon Prime, The Electrical Life of Louis Wain; on Apple TV+, Finch; on Disney+, Home Sweet Home Alone; on HBO Max, 8-Bit Christmas are releasing. The intriguing VOD releases of this month are Violet; The Beta Test; Zeros and Ones, in which the last two are having a simultaneous theatrical and on-demand release.
At this point, many theaters across various countries have reopened and new movies are getting released wherever theaters are available. Looks like the movie-going audience is increasing every month and there is a sign at last for theaters to return to full form soon.
The release of major movies has increased in the last half of the year. The recent tentpole movie, Sony's Venom: Let There Be Carnage set a new box-office opening record during the pandemic surpassing the July record of Black Widow which previously surpassed the June record of Fast 9 which previously surpassed the May record of A Quiet Place Part II which surpassed the March record of Godzilla vs. Kong, this has further emboldened studios.
Films that are releasing exclusively in theaters are- Spencer, Belfast, Ghostbusters: Afterlife, C'mon C'mon, Encanto, House of Gucci, Resident Evil: Welcome to Racoon City, The Humans. Sony's Ghostbusters: Afterlife and Disney Animations' Encanto are two tentpole films that are releasing in theatres.
In Warner Bros' HBO Max release strategy of their 2021 film slate, fifteen films have already been released. This month one film is arriving from that slate, King Richard a biopic. Just like WB, Paramount is releasing Clifford the Big Red Dog, a comedy, in theatres and on their streaming service Paramount+ on the same day.
One of the highly anticipated blockbusters of the year is Marvel's Eternals a fantasy sci-fi action-adventure superhero film. The film will have a 45-day exclusive theatrical release. Being an MCU film, Eternals will likely be dominating the box office this month.
Check out the synopses and release dates for each of these movies below.
NOVEMBER 2021 MOVIES TO WATCH OUT FOR
Eternals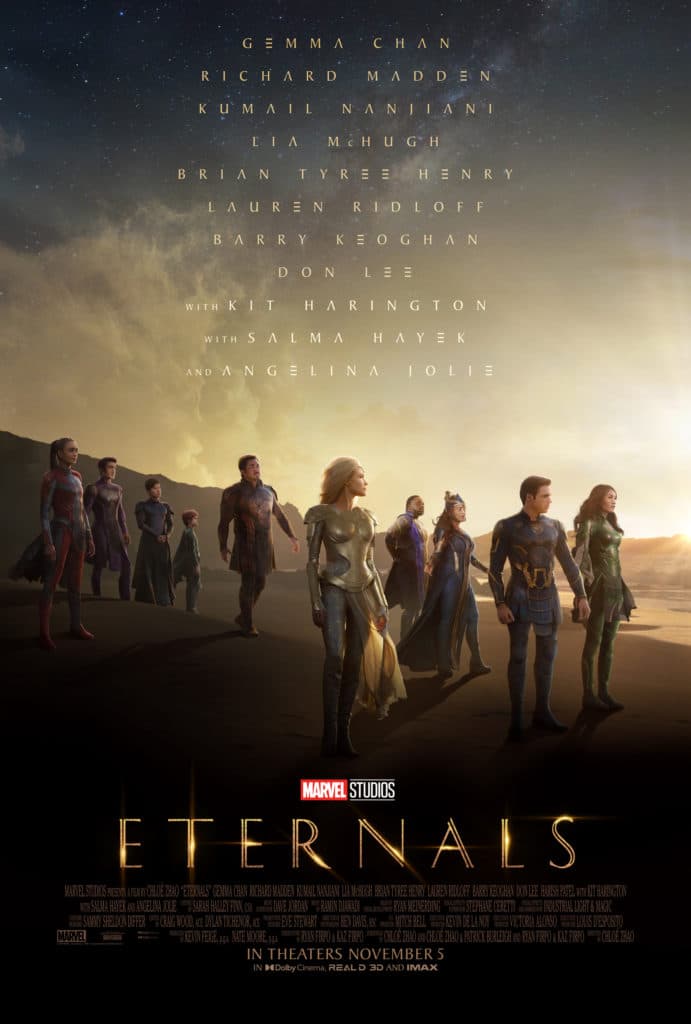 Eternals is Marvel Studios' latest comic book film, it is the 26th installment in Marvel Cinematic Universe. The fantasy sci-fi action-adventure superhero movie is directed by Chloe Zhao (Nomadland, The Rider, Songs My Brothers Taught Me) who wrote the screenplay with Patrick Burleigh, Ryan Firpo, and Kaz Firpo. Produced by Kevin Feige, Nate Moore, and Mitchell Bell. This is the third film in phase four of the MCU.
The film introduces an ensemble of new superheroes to the MCU based on the Marvel Comics team first introduced in 1976 by Jack Kirby. This is also the second MCU film with an Asian director and it has one of the most diverse casts. Zhao is an academy award winner so that makes this the first time an Oscar-winning director has directed a Marvel film. It also introduces the first deaf superhero and the first LGBTQ relationship in the franchise.
Eternals stars Gemma Chan as Sersi, Richard Madden as Ikaris, Kumail Nanjiani as Kingo, Lia McHugh as Sprite, Angelina Jolie as Thena, Salma Hayek as Ajak, Brian Tyree Henry as Phastos, Lauren Ridloff as Makkari, Barry Keoghan as Druig, and Don Lee as Gilgamesh.
Also, starring is Kit Harington as Dane Whitman, Harish Patel, Haaz Sleiman, and Bill Skarsgård as the voice of the Deviant general Kro. The Celestials Nezarr the Calculator and Arishem the Judge also appear in the film. Gemma Chan previously portrayed Minn-Erva in Captain Marvel (2019) but she is portraying a different role in this film.
Synopsis: After the return of half the population in Avengers: Endgame (2019) ignites "the emergence", the Eternals—an immortal alien race created by the Celestials who have secretly lived on Earth for over 7,000 years—reunite to protect humanity from their evil counterparts, the Deviants.
Disney previously announced that the film would have an exclusive theatrical release for a minimum of 45 days. Eternals had its world premiere on October 18, 2021, and was screened at the Rome Film Festival on October 24. The film will be released theatrically in many European countries on November 3, and then worldwide on November 5.
The origin film so far holds a 63% RT score based on 98 reviews with much praise for its grand scope, cinematography, representation, and performances. Like any MCU flick, this is a must-watch for all audiences.
Read our review for Eternals below!
RELATED: ETERNALS SPOILER-FREE REVIEW: AN AMBITIOUS VISUAL FEAST
Eternals release date: November 5, 2021
Finch
Finch (previously titled BIOS) is an Apple TV+ original post-apocalyptic science fiction drama directed by Miguel Sapochnik from a screenplay written by Craig Luck and Ivor Powell. The film stars Tom Hanks, Caleb Landry Jones, Samira Wiley, Laura Harrier, Lora Martinez-Cunningham, Alexis Raben, and Skeet Ulrich.
In "Finch", a man, a robot and a dog form an unlikely family in a powerful and moving adventure of one man's quest to ensure that his beloved canine companion will be cared for after he's gone. Finch (Hanks), a robotics engineer and one of the few survivors of a cataclysmic solar event that has left the world a wasteland. But Finch, who has been living in an underground bunker for a decade, has built a world of his own that he shares with his dog, Goodyear.
He creates a robot (Jones) to watch over Goodyear when he no longer can. As the trio embarks on a perilous journey into a desolate American West, Finch strives to show his creation, who names himself Jeff, the joy and wonder of what it means to be alive. Their road trip is paved with both challenges and humor, as it's as difficult for Finch to goad Jeff and Goodyear to get along as it is for him to manage the dangers of the new world.
This Amblin Entertainment film was announced as BIOS in October 2017. The film was initially scheduled to be released in theaters by Universal Pictures on October 2, 2020, but was delayed several times due to the pandemic. It was retitled Finch, sold to Apple TV+, and now scheduled to be released on the streamer. Finch certainly has a cool premise. It currently holds a 74% RT score based on 42 reviews with praise for Hanks. This charming, visually stunning, apocalyptic film is a must-watch for sci-fi genre fans and Tom Hanks fans.
Read our review for Finch below!
Finch Apple TV+ release date: November 5, 2021
RELATED: FINCH MOVIE REVIEW: TOM HANKS BONDS WITH A ROBOT AND DOG IN HEARTFELT POST-APOCALYPTIC ROAD TRIP
Spencer
Spencer is Neon studio's biographical psychological drama film directed by Pablo Larraín and written by Steven Knight. The film stars Kristen Stewart as Diana, Princess of Wales (née Spencer), and follows Diana's decision to end her marriage to Prince Charles, played by Jack Farthing, and leave the British royal family. Timothy Spall, Sean Harris, Jack Nielen, Freddie Spry, Stella Gonet, Richard Sammel, Thomas Douglas, Olga Hellsing, Amy Manson, Elizabeth Berrington, and Sally Hawkins also star.
Synopsis: Covers a critical weekend in December 1991. The marriage of Princess Diana and Prince Charles has long since grown cold. Though rumors of affairs and a divorce abound, peace is ordained for the Christmas festivities at the Queen's Sandringham Estate. There's eating and drinking, shooting and hunting. Diana knows the game. But this year, things will be profoundly different. Diana decided that she needed to veer from a path that put her in line to one day be queen. Spencer is an imagining of what might have happened during those few fateful days.
Spencer had its world premiere in competition at the 78th Venice International Film Festival on 3 September 2021. It is scheduled for a theatrical release in the UK by STXfilms and the US by Neon. The film has received critical acclaim, with particular praise for Stewart's performance. Stewart might get in the Oscar race too. The R-rated biopic currently holds an 84% RT score based on 163 reviews.
Spencer release date: November 5, 2021
The Electrical Life of Louis Wain
The Electrical Life of Louis Wain is Amazon's original biographical drama directed by Will Sharpe, from a story by Simon Stephenson, and screenplay by Stephenson and Sharpe. It stars Benedict Cumberbatch, Claire Foy, Andrea Riseborough, Aimee Lou Wood, Sophia Di Martino, Jamie Demetriou, Hayley Squires, Stacy Martin, Taika Waititi, and Toby Jones.
Synopsis: The extraordinary true story of eccentric British artist Louis Wain (Cumberbatch), whose playful, sometimes even psychedelic pictures, that seemed to reflect his declining sanity, helped to transform the public's perception of cats forever. After his father's death, Louis Wain tries to look after his five sisters and his mother as a freelance artist. He is fortunate that Sir William Ingram, editor of the Illustrated London News, offers him a job as an illustrator.
His life takes another positive turn when Emily Richardson, the new governess of his sisters, steps into it. She becomes the love of his life, and soon they take in a stray kitten they call Peter. It is unusual in the Victorian era to keep a cat as a pet, and the cat pictures that Louis paints from then on are just as unusual. Spanning from the late 1800s through to the 1930s, we follow the incredible adventures of this inspiring, unsung hero, as he seeks to unlock the "electrical" mysteries of the world and, in so doing, to better understand his own life and the profound love he shared with his wife Emily Richardson (Foy).
The film premiered at the 48th Telluride Film Festival on 2 September 2021, and then the film had a limited release on 22 October and now will be released on Prime Video. It currently holds a 72% RT score based on 103 reviews with praise for its script and lead stars.
Read our review for Finch below!
RELATED: THE ELECTRICAL LIFE OF LOUIS WAIN: CUMBERBATCH SHINES IN QUIRKY AND COLORFUL, YET FORMULAIC BIOPIC
The Electrical Life of Louis Wain Amazon Prime release date: November 5, 2021
The Beta Test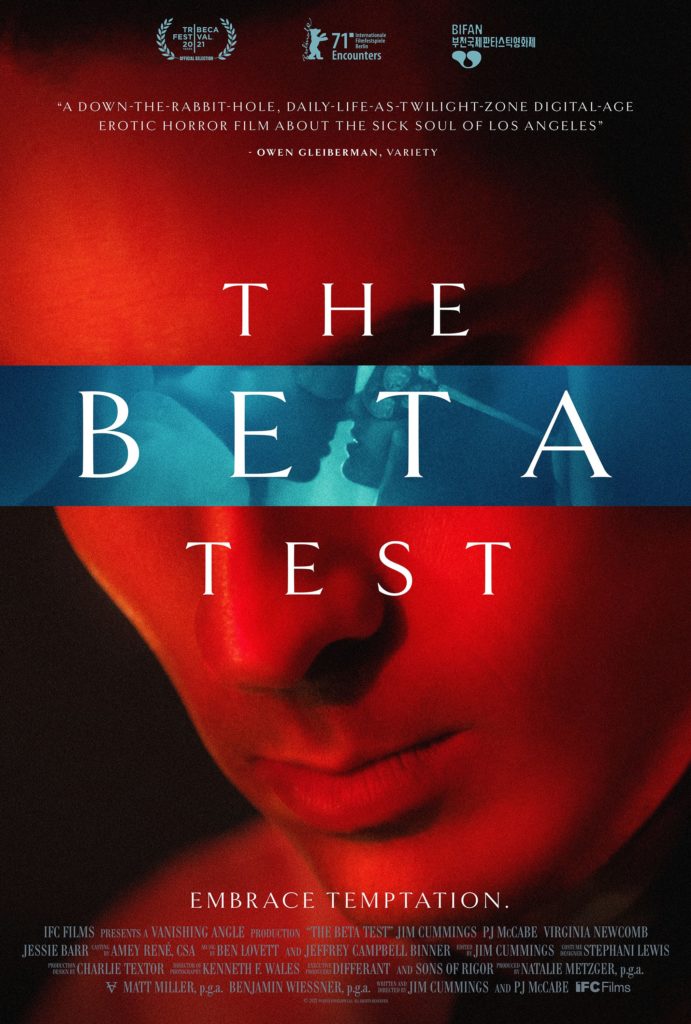 The Beta Test is IFC Films' mystery horror thriller comedy directed, written by and starring Jim Cummings and PJ McCabe. Virginia Newcomb, Kevin Changaris, Olivia Grace Applegate, and Jessie Barr also star.
The story follows an engaged Hollywood agent who receives a mysterious letter for an anonymous sexual encounter and becomes ensnared in a sinister world of lying, murder, infidelity, and digital data. His life turns upside-down after taking part in the secret sex cult.
The film premiered at the Berlin International Film Festival on March 1, 2021. The thriller is now scheduled to have a limited theatrical release as well as an on-demand release simultaneously. It currently holds a 94% RT score based on 65 reviews.
The Beta Test (VOD & theatrical) release date: November 5, 2021.
Violet
Violet is Relativity Media's drama written, directed, and produced by Justine Bateman in her directorial debut. It stars Olivia Munn, Luke Bracey, and Justin Theroux.
Synopsis: What would you do if you weren't afraid? After realizing she's spent years allowing fear to drive every decision she makes, Violet (Munn) must learn to silence her relentlessly negative inner thoughts (voiced by Theroux) in order to regain control over her life.
It had its world premiere at South by Southwest on March 18, 2021. It had its international premiere at the 2021 Toronto International Film Festival on September 9. It was released in a limited release on October 29. The R-rated drama currently holds an 81% RT score based on 59 reviews. Now it is set for a video-on-demand release.
Violet VOD release date: November 9, 2021
Passing
Passing is Netflix's original black-and-white drama written, produced, and directed by actress Rebecca Hall in her feature directorial debut. The film is based on the 1929 novel of the same name by Nella Larsen. The title refers to African-Americans who had skin color light enough to be perceived as white, the practice of which is referred to as passing.
The film stars Tessa Thompson, Ruth Negga, André Holland, Bill Camp, Gbenga Akinnagbe, Antoinette Crowe-Legacy, and Alexander Skarsgård.
Synopsis: Set in 1920's New York City, mixed-race childhood friends reunite in middle-class adulthood and become increasingly involved with one another's lives and insecurities. While Irene (Thompson) identifies as African-American and is married to a black doctor, Clare (Negga) "passes" as white and has married a prejudiced, wealthy white man.
It had its world premiere at the 2021 Sundance Film Festival on January 30. It was released in a limited release on October 27, and now it will be released on Netflix. The film holds an 89% RT score based on 150 reviews with praise for the director and cast. This is a must-watch film.
Passing Netflix release date: November 10, 2021.
Clifford the Big Red Dog
Clifford the Big Red Dog is Paramount Pictures' family comedy film directed by Walt Becker based on the children's book series of the same name by Norman Bridwell.
It stars Jack Whitehall, Darby Camp, Tony Hale, Sienna Guillory, Russell Wong, and John Cleese, with David Alan Grier providing the vocal effects for the title character.
Synopsis: When middle-schooler Emily Elizabeth (Camp) meets a magical animal rescuer (Cleese) who gifts her a little, red puppy, she never anticipated waking up to find a giant ten-foot hound in her small New York City apartment. While her single mom (Guillory) is away for a business, Emily and her fun but impulsive uncle Casey (Whitehall) set out on an adventure that will keep you on the edge-of-your-seat as our heroes take a bite out of the Big Apple. Based on the beloved Scholastic book character, Clifford will teach the world how to love big!
The film was screened unannounced on August 26, during the 2021 CinemaCon event in Los Angeles. Now the film will simultaneously be released theatrically and digitally on Paramount+ in the US.
Clifford the Big Red Dog (Paramount+ and theatrical) release date: November 10, 2021.
Red Notice
Red Notice is Netflix's original action-comedy crime thriller written and directed by Rawson Marshall Thurber. The film stars three of Hollywood's biggest popular A-list stars of current times- Dwayne Johnson, Ryan Reynolds, and Gal Gadot. Ritu Arya, Chris Diamantopoulos, Ivan Mbakop, and Vincenzo Amato also star. This marks the third collaboration between Thurber and Johnson after Central Intelligence (2016) and Skyscraper (2018).
Synopsis: An Interpol-issued Red Notice is a global alert to hunt and capture the world's most wanted. In the world of international crime, an Interpol agent attempts to hunt down and capture the world's most wanted art thief. But when a daring heist brings together the FBI's top profiler (Johnson) and two rival criminals (Gadot, Reynolds), there's no telling what will happen.
Originally going to be released by Universal Pictures, Netflix acquired the distribution rights. The film is set for a limited release in theaters on November 5, 2021, before debuting on the platform on November 12. The trailers for this film were promisingly entertaining.
RELATED: RED NOTICE: WATCH THE ROCK HUNT DOWN RYAN REYNOLDS AND GAL GADOT IN THRILLING NEW TRAILER NOW!
Both Ryan Reynolds and Dwayne Johnson are known for their action blockbusters and their respective trademark comedy. But the team-up between Johnson and Reynolds in itself is a bonus in terms of fun and comedy and with the addition of another action star like Gadot is like icing on the cake. Reynolds previously starred opposite Johnson in a small role in Johnson's Hobbs & Shaw. A movie filled with international appeal, high octane action, and the trio of big stars alone makes Red Notice a not-be-missed film.
Red Notice Netflix release date: November 12, 2021
Home Sweet Home Alone
Home Sweet Home Alone is Disney+ original Christmas comedy film directed by Dan Mazer with a script by Mikey Day and Streeter Seidell. It is the sixth film in the iconic Home Alone franchise. The project is produced by 20th Century Studios as a Disney+ original film, the first 20th Century Studios film to be produced for the streaming service. The film stars Archie Yates, Ellie Kemper, Rob Delaney, Aisling Bea, Kenan Thompson, Pete Holmes, Ally Maki, and Chris Parnell.
Synopsis: Ten-year-old Max Mercer is a mischievous and resourceful young boy who has been accidentally left at home by himself for the holidays when his family leaves for a vacation to Tokyo and has to take separate flights due to an error in the flight booking. At first, Max revels in getting to do whatever he wants now that he's alone but soon must defend his house from burglars Pam and Jeff Fritzovski, a couple looking to steal a priceless heirloom from his family.
It is up to Max to protect it from the trespassers… and he will do whatever it takes to keep them out. Hilarious hijinks of epic proportions ensued, but despite the absolute chaos, Max comes to realize that there really is no place like home sweet home.
Home Sweet Home Alone Disney+ release date: November 12, 2021
Belfast
Belfast is Focus Features' black-and-white coming-of-age comedy-drama film written and directed by Kenneth Branagh. The film, which Branagh has described as his "most personal film", is a poignant story of love, laughter, and loss in one boy's childhood, amid the music and social tumult of the late 1960s.
The film stars Caitríona Balfe, Judi Dench, Jamie Dornan, Ciarán Hinds, Colin Morgan, Lara McDonnell, Gerard Horan, and newcomer Jude Hill.
Synopsis: A semi-autobiographical film that chronicles the life of a working-class family and their young son's childhood during The Troubles in Belfast, Northern Ireland in the late 1960s.
Belfast had its world premiere at the 48th Telluride Film Festival on 2 September 2021 where it became the festival's most often screened film of the year. At the 2021 Toronto International Film Festival, Belfast won the People's Choice Award. It will hold its LA premiere at the Academy Museum of Motion Pictures on 8 November.
It is scheduled for a limited theatrical release in the US by Focus Features and later it will release internationally by Universal Pictures. This film might get more awards buzz too. It currently holds an 88% RT score based on 50 reviews with praise for its director and cast. This is a must-watch film.
Belfast (limited) release date: November 12, 2021.
The Princess Switch 3: Romancing the Star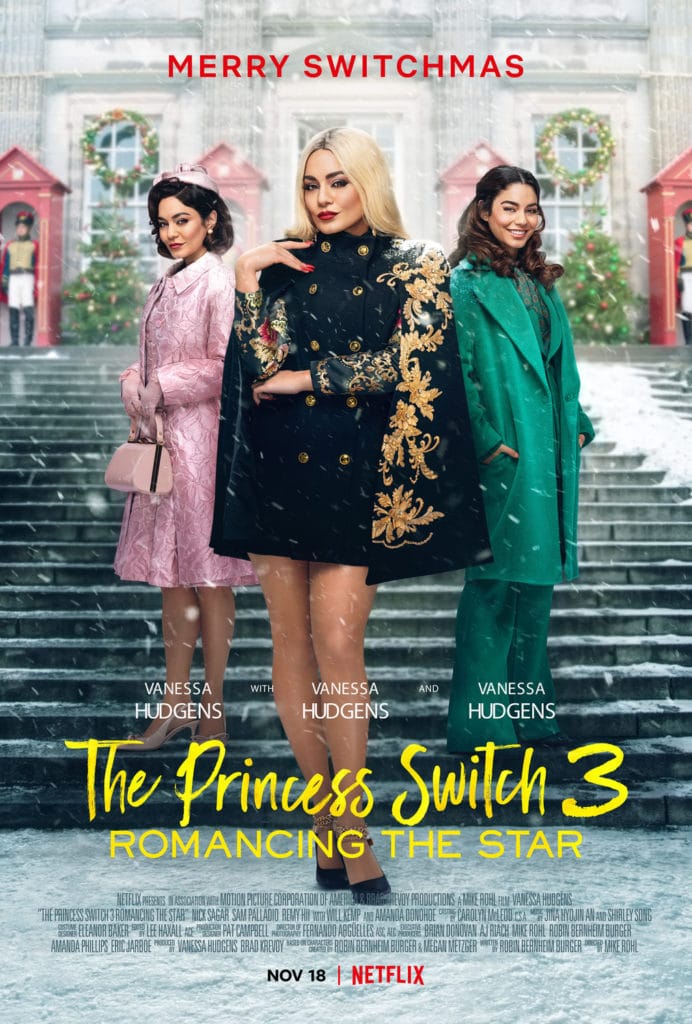 The Princess Switch 3: Romancing the Star is Netflix's original Christmas romantic comedy film directed by Mike Rohl and written by Robin Bernheim Burger, based on the characters created by Burger and Megan Metzger. It is the third film in The Princess Switch franchise all directed by Rohl and all of them had a November release.
Vanessa Hudgens, Sam Palladio, Suanne Braun, Mark Fleischmann, Mia Lloyd, Florence Hall, Ricky Norwood, and Nick Sagar reprise their respective roles. In the case of Hudgens, her three roles. Remy Hii, Will Kemp, Amanda Donohoe are new additions to the cast. The film is produced by Hudgens and Brad Krevoy and is scheduled to release on Netflix.
Synopsis: The story follows Margaret Delacourt (Hudgens), the Duchess of Montenaro, Stacy Juliette De Novo Wyndham (Hudgens), Princess of Belgravia, and Lady Fiona Pembroke (Hudgens), Margaret's cousin. When a priceless Christmas relic is stolen, royal look-alikes Margaret and Stacy turn to audacious doppelgänger Fiona — and her dashing ex — for tracking down a mysterious jewel thief.
The Princess Switch 3: Romancing the Star Netflix release date: November 18, 2021