The Illuminerdi can exclusively reveal that Gosei Sentai Dairanger will be adapted for the Power Rangers Universe limited series coming from BOOM! Studios.
Power Rangers Universe is expected to release in December 2021 and features Nicole Andelfinger as the writer for the series and Simone Ragazzoni serving as the lead artist. Andelfinger is new to Power Rangers, however, she is known for her works on comic-book versions of other established franchises such as Jim Henson's Dark Crystal: Age of Resistance, Regular Show, Rugrats, and Steven Universe.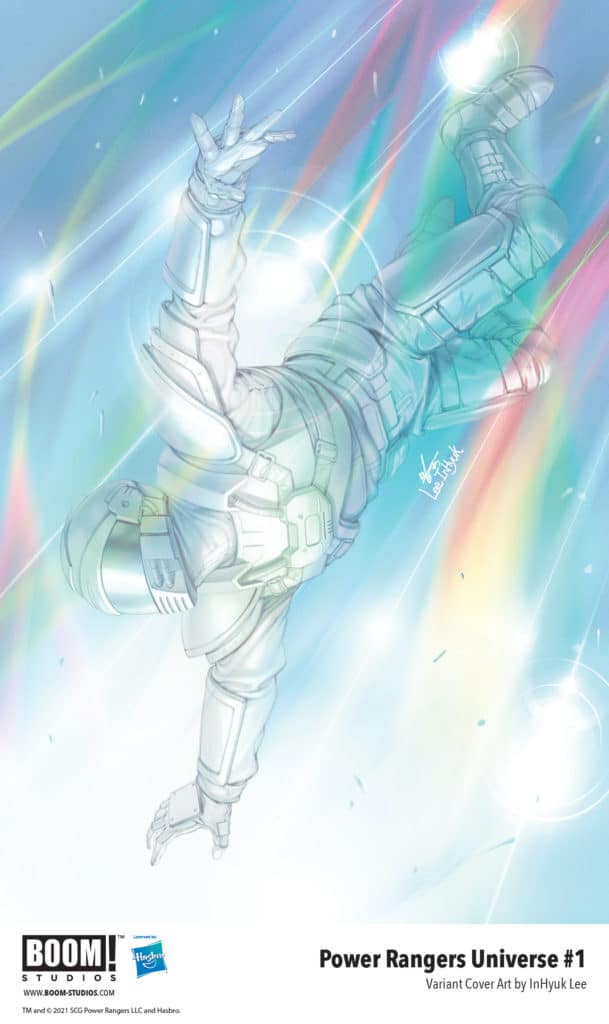 We know that the origins of the Phantom Ranger will be a major focus of the book, however, we now also know that the Dairangers will also serve as a major focus in the book. We can also reveal that the book will include an American exclusive Black Ranger on the team.
The Phantom Ranger will also have a new Ranger form in this series. His new form will be a new white version of the Phantom Ranger suit. This suit will not be the White Ranger suit featured in Dairanger/Mighty Morphin Power Rangers as seen above and in other comic covers that have been revealed.
Could Boom! Studios Using Dairanger Hint At More Pre-Zyuranger Adaptations?
This could set the precedent for more unadapted Power Rangers seasons to be featured in the comics. Especially seasons that aired before Zyuranger (Mighty Morphin Power Rangers) in Japan.
This has already happened with a few pre-Zyu seasons in the BOOM! Studios comics with teams such as the Supersonic Rangers (Fiveman in Super Sentai) and the Prism Rangers (Flashman in Super Sentai) albeit in short one-shot stories.
RELATED: FIRST LOOK: POWER RANGERS LIGHTNING COLLECTION ECLIPTOR & ASTRONEMA 2-PACK!
Maybe now that we are getting to see the Dairangers adapted in Power Rangers Universe this means we will get to see some more of the unadapted seasons finally get explored in full-length storylines.
Who knows maybe BOOM! Studios could even go as far back as the Gorengers and adapt them in a new comic-book story. That would definitely be a cool way to introduce American audiences to the team that started it all in Japan.
Gosei Sentai Dairanger was initially skipped when it came to adapting Mighty Morphin Power Rangers season 2 all the way back in 1994. However, many elements from Dairanger were used such as the footage used for the Megazord fights as well as the White Ranger.
It is unknown to us at this time how those aspects that have already been used in Power Rangers will be featured in Universe, or if they will even be featured at all.
RELATED: POWER RANGERS: THE NEW BLUE RANGER IS… A CAT?
The Dairangers were also seen in Power Rangers Super Megaforce when the Super Megaforce Rangers used never-before-seen Legendary Powers to transform into what they called the Squadron Rangers. It is unknown if they will continue to use the Squadron name. However, the Supersonic and Prism Rangers were also featured in Super Megaforce and kept the names established in that season, so it seems likely that BOOM! Studios will do the same with the Dairangers.
Overall it is pretty exciting to see BOOM! Studios continue to adapt some of the teams that American audiences never got to see. This really seems to open the door for any skipped season to be adapted in the comics.
What are your thoughts on the Dairangers being adapted for the upcoming Power Rangers Universe limited series from BOOM! Studios? Let us know in the comments below! Also, be sure to follow The Illuminerdi on social media to be notified of more Power Rangers news and updates like this in the near future!
KEEP READING: POWER RANGERS: 6 THEMES HASBRO COULD USE FOR THEIR FIRST ORIGINAL RANGER TEAM