Stephen Sondheim is a legendary lyricist and composer in Broadway. West Side Story was the first produced musical he ever worked on writing the lyrics for the show. West Side Story first opened in 1957 and now 64 years later a new adaptation of West Side Story hit theaters for audiences to experience. Sadly, Stephen Sondheim passed away on November 26, 2021 only 2 weeks before the new film hits theaters.
The Illuminerdi had the opportunity to attend the West Side Story Virtual Press Conferences with the filmmakers and the cast. Steven Spielberg talked about how he met the Broadway legend and what it was like to work with him on the new West Side Story film during the press conference.
STEVEN SPIELBERG TALKS WORKING WITH STEPHEN SONDHEIM ON WEST SIDE STORY
"He was involved. Steve was the first person I met when I sought the rights to make our version of West Side Story. He was the first person I sat down and met with at his place in New York City, in person with his dogs. And we had met before because my company made Sweeney Todd. Adapted it with Johnny Depp. And I met Steve at the premiere of that for the first time.

And then we had been honored, we both wound up bumping into each other at the White House when we received the Presidential Medal of Freedom with Steve, and myself, and Barbra Streisand. We were all kind of paired together. And each time I met with Steve, I wanted to say to Steve, I have this desperate desire to do my version of West Side Story, and I just, I couldn't get the words out of my mouth. We talked about everything but that.

And then finally, I just sort of bit the bullet, and I was able to meet with him and the other estates. But Steve was very involved. He was very involved in commenting about Tony's script. And he had ideas, and Tony had an open dialogue with Steve during the process of going from one draft to the next. But where Steve got really, really involved, which was the best place for his involvement was we did all the pre-records with all the vocal artists. And Steve was there for three weeks, five days a week, every day sitting right next to me at the recording studio. And that was such an honor to share that."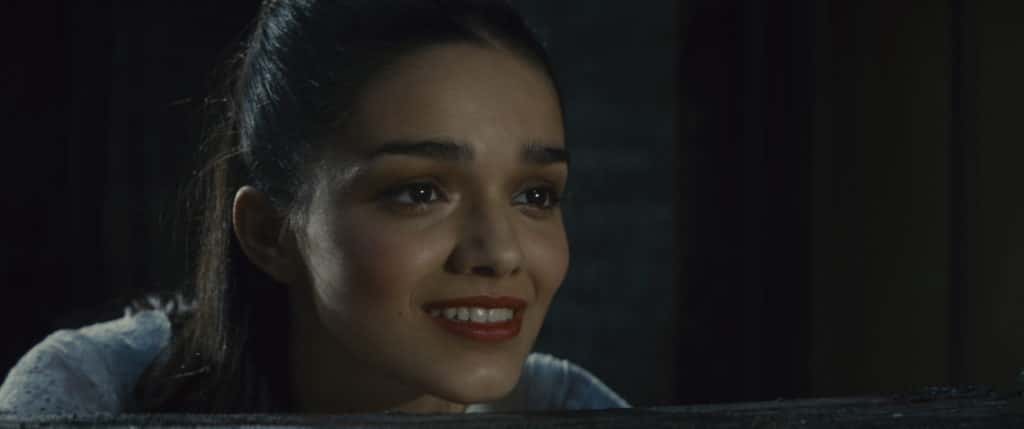 West Side Story is Rachel Zegler's, who stars as Maria, first experience working on a feature film. During the West Side Story cast press conference she explained the importance of Stephen Sondheim to her personally and how he inspired her as an artist.
"I mean, I think I can speak for everyone here today that a lot of us wouldn't be here without the words of Steve Sondheim. We were so lucky to not only be able to sing his lyrics but be able to talk to him about them.

And also hear the, we consider them silly anecdotes because of how iconic they are, but he was always wanting to change them and always wanting to evolve them, and it was really inspiring as an artist to watch someone who had created this insane piece of work and he has things he still wants to change 64 years later. I certainly wouldn't be performing without Stephen Sondheim and may his memory be a blessing."
RELATED: RACHEL ZEGLER TO PLAY LEGENDARY DISNEY PRINCESS SNOW WHITE IN LIVE-ACTION FILM
Stephen Sondheim's work is timeless and has been credited as one of the greatest artists of the 20th century. Countless artists have been inspired by Sondheim as evidenced by both Rachel Zegler and Steven Spielberg. Stephen Sondheim's death is a tragedy, but his legacy will continue to live on with a new generation of audiences continuing to experience his music including his first show, West Side Story.
Are you a fan of Stephen Sondheim's work? Are you excited to see West Side Story? Leave your thoughts in the comments below or on our social media and check back with The Illuminerdi for more West Side Story.
KEEP READING: THE ACOLYTE: LUCASFILM IN ADVANCED NEGOTIATIONS WITH AMANDLA STENBERG TO PLAY MYSTERIOUS LEAD CHARACTER: EXCLUSIVE