Ever since Tom Holland's Spider-Man first appeared in Captain America: Civil War, fans fell in love with his version of the beloved web-slinger. However, that was not always the case as before his appearance on Civil War fans were doubtful and had mixed reactions to his casting. One of the main reasons was that he was dubbed too young, not enough acting experience, and most importantly an unknown. This added to the fans comparing him to Tobey Maguire's and Andrew Garfield's adaptation of Spider-Man.
So it's no surprise that Holland was facing pressure from fans and his Spidey predecessors. But all those doubts came to rest when Holland made his live-action appearance on the big screen. His short appearance in Civil War was well received and loved by fans, that they were wondering what was next for Holland's Spider-Man. All the answers were granted as Holland appeared in two Avengers films (Infinity War and Endgame) and two solo films (Homecoming and Far From Home). Considering the critical acclaim from fans and critics alike, Tom Holland is doing great as Spidey, to say the least.
RELATED: Spider-Man: No Way Home Seriously Almost had Kraven the Hunter if the Multiverse Didn't Work Out
Holland's rise isn't just for his portrayal of the web-slinger, the actor himself cares about and loves his fans and goes to great lengths to support them as well. He has even made his own foundation called The Brothers Trust which helps organizations and charities in helping those in need. Basically, Holland has won the world over by warming hearts and souls. Tangentially, Director Joe Russo had some very high praise for Tom Holland and Spider-Man
During a recent interview with GQ, Joe explained that Tom is of huge importance in the Marvel Cinematic Universe and his role is becoming similar to Robert Downey's Jr.'s Iron Man. Joe explained that "Tom is stepping into the role that Robert Downey once occupied for Marvel, which is the favorite character, and in a lot of ways the soul of the Marvel universe,".
Tom Holland responds to Joe Russo's comments
In an interview with Justin Wilding from ComicBookMovie.com, Tome Holland shares his thoughts about Joe's compliment, "I mean, I wouldn't necessarily say that I'm the face of the universe. I know that fans are really supportive and have responded massively to this franchise,". Holland then added "I'm honored that Joe thinks that, but the beautiful thing about the MCU is whoever is the leader if there ever is a leader again, you're never alone. You have so many people that you can rely on and lean on and people I've now worked with for years and years.".
Holland ends his response by saying, "I don't necessarily feel those pressures, but should I feel those pressures, then yes, I'll call Downey and ask him. I called him the other day for a piece of advice and he was very kind." From Holland's statement, it seems he is honored and awe-inspired by Joe's compliment of him as the soul of the Marvel Cinematic Universe. Holland even humbled himself saying that he does not see himself as the current face of the Marvel Cinematic Universe.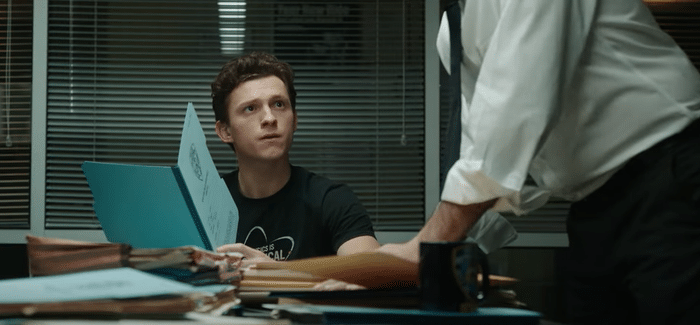 However many fans do see him as the face of the Marvel Cinematic Universe. Mainly because of his character's history with Marvel. Spider-Man is considered the face of Marvel and is the late Stan Lee's favorite superhero he has ever created. Also, Marvel Studios and Sony just announced that they will produce three more solo films starring Holland's Spider-Man set in the Marvel Cinematic Universe. It comes as no surprise that Marvel is slowly making Spider-Man the face of the Marvel Cinematic Universe, if not already. All we can say is to expect more adventures with our friendly neighborhood wall-crawler in the Marvel Cinematic Universe.
SPIDER-MAN: NO WAY HOME OFFICIAL SYNOPSIS
For the first time in the cinematic history of Spider-Man, our friendly neighborhood hero's identity is revealed, bringing his Super Hero responsibilities into conflict with his normal life and putting those he cares about most at risk.
When he enlists Doctor Strange's help to restore his secret, the spell tears a hole in their world, releasing the most powerful villains who've ever fought a Spider-Man in any universe. Now, Peter will have to overcome his greatest challenge yet, which will not only forever alter his own future but the future of the Multiverse.
Spider-Man: No Way Home is set to be released exclusively in theaters on December 17, 2021. The film will star Tom Holland, Zendaya, Benedict Cumberbatch, Jacob Batalon, Marisa Tomei, J.B. Smoove, Benedict Wong, Alfred Molina, and Jamie Foxx. The film is written by Chris McKenna and Erik Sommers, along with cinematography by Mauro Flore and music by Michael Giacchino. No Way Home is produced by Kevin Feige and Amy Pascal and directed by Jon Watts.
Do you think Tom Holland is being modest? Does it have to be Tom Holland's Spider-Man as the face of the MCU or could it be a previous or new Spider-Man?
Source: ComicBookMovie.com
KEEP READING: Could Spider-Man Make a Surprising Cameo in John Watts Fantastic 4?