2022 is just around the corner, putting us one step closer to one of the most anticipated films of the year: Matt Reeve's The Batman.
Both trailers of the film have showcased some incredible cinematography and fight choreography, plus a star-studded cast that has everyone excited for what is sure to be one of the greatest Batman films of all time. A key member of that cast is Zoe Kravitz as Selina Kyle, AKA Catwoman, the cat burglar with an on-again-off-again relationship with Bruce Wayne in the comics.
RELATED: The Batman: Is The Eternals' Barry Keoghan Our New Joker?
From what we've seen so far, this film will be taking a grounded approach to Catwoman (as well as the Batman himself), similar to what Christopher Nolan's The Dark Knight Rises did with Anne Hathaway in the role. In a recent interview with Empire Magazine, Kravitz talked about her preparation for Catwoman and how she and stunt coordinator Rob Alonzo wanted to portray her fighting style.
"We watched cats and lions and how they fight, and talked about what is actually possible when you're my size, and Batman's so much stronger than me. What is my skill? It's being fast and tricky. So we did some really interesting floor work that incorporated different kinds of martial arts and capoeira and a kind of feline, dance-like movement. "[Rob]'s not just trying to do a bunch of impressive backflips that wouldn't be possible for that person to do, and he takes into account where we are in the story and where the characters are emotionally. So it was really fun to work from that place."

– Zoe Kravitz, Empire Magazine
A New Look at Zoe Kravtiz's Catwoman in The Batman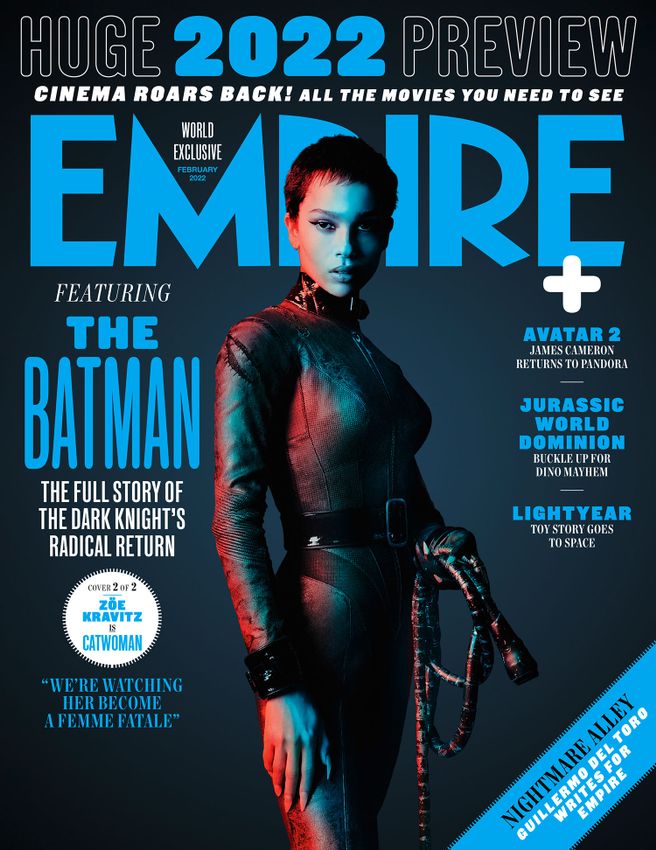 The Empire Magazine cover gives us a new look at Kravitz's Catwoman, who sports fingernails long enough to give Robert Pattinson cat-scratch fever. And while the filmmakers behind the project have told us that Pattinson will be in his second year as Gotham's caped crusader, this film will serve as:
"an origin story for Selina. It's the beginning of her figuring out who she is, beyond just someone trying to survive. I think there's a lot of space to grow and I think we are watching her become what I'm sure will be the femme fatale."
The Batman is directed by Matt Reeves who cowrote it with Peter Craig. The film stars Robert Pattinson (Bruce Wayne/Batman), Zoe Kravitz (Selina Kyle/Catwoman), Paul Dano (Edward Nashton), Colin Farrel (Oswald Cobblepot/Penguin), Andy Serkis (Alfred Pennyworth), and Jeffrey Wright (Jim Gordon). It will be released in theaters on March 4, 2022.
What do you think of Zoe Kravitz's Catwoman? Can you wait to see her in action? Do you think she'll get a spin-off film? Let us know what you think in the comments below and be sure to share all your theories and thoughts about The Batman with us on Twitter.
Source: Empire
KEEP READING: Batman: The Long Halloween Part Two Review: Good Sequel, Disappointing Batman Film