Batman: The Long Halloween Part Two is an improvement over the first installment, but a disappointment overall.
Boasting a sleek visual design, talented voice acting, and an R-rating, The Long Halloween isn't without it's redeeming qualities. Jensen Ackles does a great job as Bruce Wayne, and his casting is inspiring considering he previously played Jason Todd/Red Hood for DC Animation. Unfortunately, this feature film is nowhere near as compelling or intelligent as Under The Red Hood.
BATMAN: THE LONG HALLOWEEN IS A STEP BACKWARDS FOR BATMAN IN DC ANIMATION
Another important aspect of The Long Halloween that must be evaluated is how it compares to the DCAMU Batman. Batman: The Long Halloween Part II is the fourth film in the rebooted DCAMU, sharing continuity with Superman: Man Of Tomorrow and Justice Society: World War II. Jason O'Mara voiced Bruce Wayne in the old universe, and he delivered a stronger performance as Batman in films like Justice League Dark and Son Of Batman.
Batman: The Long Halloween sets up an interesting, dynamic world for future franchise films with Ackles to explore, but it fails to impress on its own. There are numerous villains already established, like Joker, Scarecrow, Calendar Man, Solomon Grundy, Poison Ivy and more, not to mention Harvey Dent/Two-Face. Unfortunately, these classic Gotham baddies are very hit or miss.
BATMAN: THE LONG HALLOWEEN WILL MAKE POISON IVY FANS WANT TO DIE
Katee Sackhoff's Poison Ivy is outdated, clearly penned by a man, and guaranteed to frustrate and disappoint fans of Harley Quinn. Harvey Dent's dynamic with Batman is remarkably well done, and his evolution into Two-Face is compelling. But The Long Halloween feels the need to remind you every ten minutes that Harvey Dent will become Two-Face with needless, poorly written foreshadowing.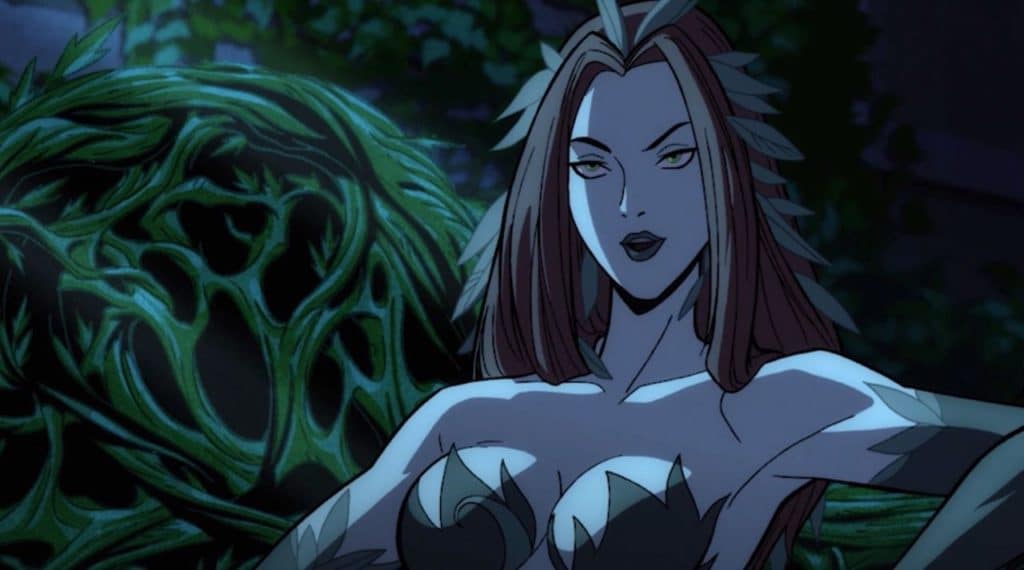 Calendar Man doesn't get a ton of screen time in Batman: The Long Halloween Part II, but David Dastmalchian's calculated, intimidating performance as the Z-list villain is still a highlight of the film. Scarecrow is more of a roadblock than a primary antagonist, but the Crane scenes make great use of the R-rating.
Just why Batman: The Long Halloween Part I is PG-13 and Part II is rated R is a mystery, but it works to service this film. Furthermore, as a fan of more mature and violent Batman stories, it excites me that Batman is going R-rated in his second outing in this new interconnected DC universe. 
RELATED: BLACK ADAM: THE IMPLICATIONS OF PEACEMAKER'S EMILIA HARCOURT APPEARING IN 2022 DCEU MOVIE
The actual plot of Batman: The Long Halloween Part Two follows the mystery of a killer named "Holiday" who has been murdering members of Gotham's underworld every holiday. Batman, despite being in at least his second year of crime-fighting, isn't that great of a detective this time, and he acknowledges it. Isn't he supposed to be the world's greatest detective?
BATMAN: THE LONG HALLOWEEN PART TWO FEATURES A CAPTIVATING GODFATHER
The Falcone crime family is central to the mystery, which I won't spoil in this review. These mobsters are one of the saving graces of the film. Carmine Falcone and his daughter Sofia are layered, powerful and as frightening as Gotham gangsters come.
Through and through, Batman: The Long Halloween is a mixed bag. Some of the material lands, a lot of it doesn't, but a decent groundwork was laid all the same. The final scene is as cheesy as the beginning of Sam Raimi's Spider-Man, and I don't mean that as a compliment, and that left a bad taste in my mouth. At the same time, I would like to see more of Jim Gordon, Catwoman and Batman, and I would watch a sequel.
What the future holds for Batman in the new DCAMU remains to be seen, but we have to hope it's better than this lukewarm movie.
What did you think of Batman: The Long Halloween Part Two? Let us know your thoughts in the comments below or on our social media! 
KEEP READING: MARVEL NETFLIX: 7 CHARACTERS WHO SHOULD JOIN DAREDEVIL & KINGPIN IN THE MCU PROPER