Smiling Friends is an immature "adult" animated series from Adult Swim without substance or tact.
The first season of the short-form TV series will run for eight episodes, beginning January 9, 2022. The 10-15 minute episodes follows the careers of the employees at "Smiling Friends Inc.". The titular company has a hotline for those in need of a smile, and Charlie and Pim are dispatched to bring joy to their callers. Their whacky misadventures on the job make up the majority of this show's meat.
Smiling Friends Is A New Adult Animated Series On Adult Swim
The grimey comedy series stars Zach Hadel and Michael Cusack. These two created the show, where they also serve as head writers. Cusack is also the Youtuber "psychicpebbles", and a friend of Rick & Morty's very own Justin Roiland.
RELATED: WEREWOLF BY NIGHT HALLOWEEN SPECIAL RUMORED TO FOCUS ON JACK RUSSELL AND INCLUDE VAMPIRE BY NIGHT
Unfortunately, Cusack is no Roiland, and Smiling Friends is no Rick & Morty. It's no Big Mouth, not Inside Job, it's not even up to par with Solar Opposites. What separates this series from those wonderful shows is how mean-spirited and dismissive Smiling Friends is. This is not a TV program that is going to age well, and to be frank, I'm shocked it's making it to air in 2022, even on the notoriously provocative Adult Swim.
To give you some idea of what the Smiling Friends find funny, simply look to where it all began. On April Fools Day 2020, an early pilot episode was released by Cartoon Network's sleazy big brother. That episode of Smiling Friends was a 10-15 minute "joke" making fun of suicide and suicidal individuals.
Smiling Friends Thinks Suicide Is A Joke
Of the first three episodes sent to press for review, one attempted commentary on super-celebrities, one tackled the stereotypical nerd, and one was a horror story. Not a single episode has anything important to say or anything outrageously hilarious to offer. Smiling Friends features the type of comedy that leaves you with a confused pit in your stomach.
Smiling Friends episode three at least gets points for visual design. The ever-cheery Pim heads into the woods outside the office for firewood, only to get trapped in a black & white forestes hellscape on Halloween. The show is hand-drawn, but brief live-action segments bookend some episodes. Changing styles yet again, the monster of episode three was brought to life through stop-motion and superimposed.
In spite of the visual panache, episode three is still a failure for how it ends. The gag of the week ends with a long, sick bit on race and racial justice in our country. Smiling Friends want you to believe that the left is comprised of insane, bloodthirsty liberals who would rather burn and kill (what they deem) racial injustice indiscriminately than actually help their country or fellow man. Ha, ha, ha. How original and creative!
Smiling Friends: The Bottom Of The Barrel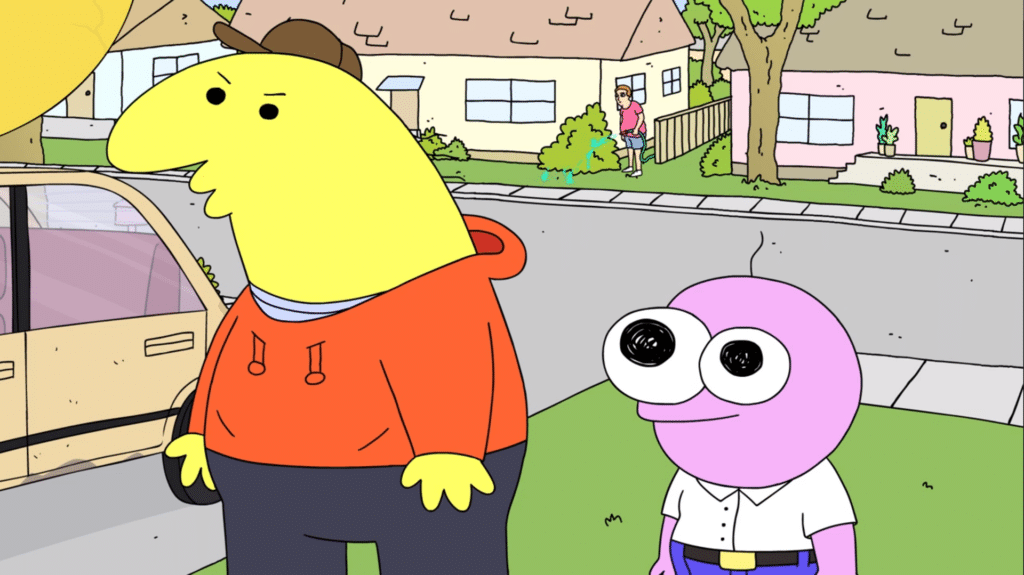 If you want great Adult Swim short-form content, stream China, IL or Ballmastrz; 9009 on HBOMax. If you want engaging, well-written adult animation with something more to say than "liberals bad, suicide funny", I reccomend Bojack Horseman and Big Mouth. These meta, postmodern Netflix Originals outclass Smiling Friends in every way, and as an added bonus, you won't have to worry about getting cancelled for being a fan!
Perhaps that is why Smiling Friends is such a frustrating show in my eyes. It wants to make commentary on how out-of-control cancel culture has become, while at the same time being so patently offensive that it is in dire need of cancellation. You can't have your cake and eat it too, and you certainly won't make me laugh by trying.
The first season of Smiling Friends consists of eight episodes, but there's almost nothing the remaining five episodes could do to save this show from itself.
What do you think about Smiling Friends? Let us know your thoughts in the comments below or on our social media!
KEEP READING: THE KING'S MAN DIRECTOR AND STAR ON RASPUTIN AND THE INSANE FIGHT SCENE THAT INCORPORATES RUSSIAN DANCE