The King's Man is Matthew Vaughn's newest addition to the Kingsman film franchise. The King's Man dives into the origins of the Kingsman intelligence agency and how it came to be during World War I. With this Vaughn incorporated a number of historical figures into the story including the infamous Mad Monk, Rasputin.
Rasputin is played by Rhys Infas who truly steals the show every time he is on screen bringing a menacing insanity to the character as well as an impressive physicality in his performance.
RELATED: THE KING'S MAN: GRITTY KINGSMAN ORIGIN STORY OPENS IN U.S. THEATERS ON DECEMBER 22 AND NEW TRAILER
The Illuminerdi had the opportunity to be a part of The King's Man Virtual Press Conference where Rhys Infas and Matthew Vaughn talked about Rasputin and the impressive action scene centered around the Mad Monk. Infas talked a bit about finding the physical language for Rasputin and the inspiration of merging Russian dance and martial arts for Rasputin's fight style.
RHYS INFAS TALKS ABOUT PLAYING RASPUTIN IN THE KING'S MAN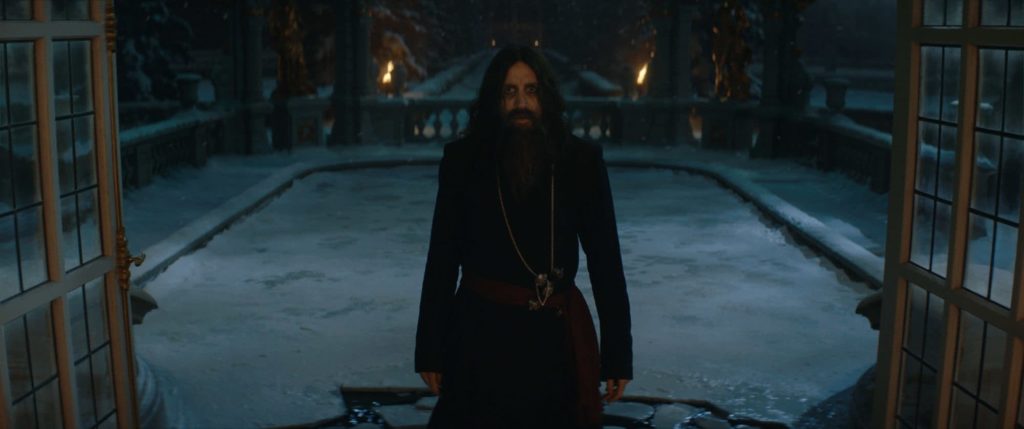 "I was, shall we say, an action virgin prior to this film. So, I usually, I would walk past gyms and suddenly, I found myself in one, readying myself. All of us, we had to get to a level of fitness, not just strength, but just stamina, to basically complete a working day.

It took us about two, three weeks to complete that sequence. So yes, we were working with a trainer, and with this brilliant stunt team, initially trying to find a kind of language, or a physical language, or a vernacular that was specific and unique to Rasputin. And then I remember Matthew, in yet another light bulb genius moment of his, came up with quite possibly one of the craziest ideas I've ever heard.

He kind of came into the stunt room one day and he went, "Russian dancing, martial arts mix 'em up." And, I mean, what a challenge. And, between Matthew and us, and of course the stunt team, we arrived at this language with Rasputin, which is extraordinary. And, for me in terms of how I wanted Rasputin to live within that physical world, is this sense that Rasputin had this looming hypnotic presence, that almost in the sense he had this dervish quality about him.

So, the sense that he would dance his adversaries to death, that everyone Rasputin kills has a drunken smile on their face having been spun around the room, and then killed almost in rapture. So, all these elements came to play, and it was really a huge group effort. And it was really satisfying to see the end result, all of which was based in kind of facts and elements of Rasputin. That we knew to be true."
The physicality that Infas brings to Rasputin and the way that Russian dance was incorporated into his fighting style creates a unique and unforgettable performance. Rasputin's fight scene is without question one of the highlights of The King's Man film largely thanks to Infas. With Russian dance being incorporated into Rasputin's fight style music is an integral part of the sequence.
RELATED: NEW MARV CEO PROMISES 7 KINGSMAN FILMS, A TV SHOW, AND THOUGHTS ON CINEMA'S FUTURE
The scene includes the "1812 Overture", but as The King's Man director Matthew Vaughn explained it included other Tchaikovsky music as well. During The King's Man press conference Vaughn revealed how he chose the music for this particular fight scene.
"It's not just "1812", it's got a little bit of "Swan Lake", and a dabble of "The Nutcracker" is in it, as well. So, it was sort of like a mash-up of Tchaikovsky. It was gonna be that, or Boney M Rasputin. And both were weirdly as good as each other, but one felt right for the period, obviously, and the other was just Gonzo. So, I had to behave and go with the period apt music."
Rasputin is one of the most intriguing people in history with tons of rumors and legends surrounding him. He is the perfect fit for the Kingsman franchise and is an excellent character to bring into The King's Man. Infas Rhys is beyond impressive in the role and elevates every scene he is in especially the truly astounding action sequence.
The King's Man is in theaters now. Are you excited to see The King's Man? Are you excited to see Rasputin and a combination of martial arts and Russian dance? Leave your thoughts in the comments below or on our social media and check back with The Illuminerdi for more.
KEEP READING: KINGSMAN 3, THE 4TH FILM OF THE MIND-BLOWING FRANCHISE, CONFIRMED TO GO INTO PRODUCTION FALL 2022