Spider-Man: No Way Home has become one of the most biggest and important film of the year, with critics and fans calling it the best Spider-Man and Marvel film of all time.
The film was not just a movie, but also a cinematic event and loving homage to Peter Parker's cinematic journey over the years. Fans even called No Way Home a special tribute to all those who love Spider-Man, and the focus on the multiverse added to the excitement and theories leading up to and out of the film.
RELATED: RUMOR: MARVEL STUDIOS EYEING MICHAEL GIACCHINO TO DIRECT DISNEY PLUS PROJECT
Finally our questions were answered when it was announced that past villains from Tobey Maguire and Andrew Garfield's Spidey films would appear, including Willem Dafoe's Green Goblin, Alfred Molina's Doctor Octopus, Thomas Haden Church's Sandman, Rhys Ifans' The Lizard and Jamie Foxx's Electro.
A PEEK BEHIND THE MAGIC CURTAIN OF NO WAY HOME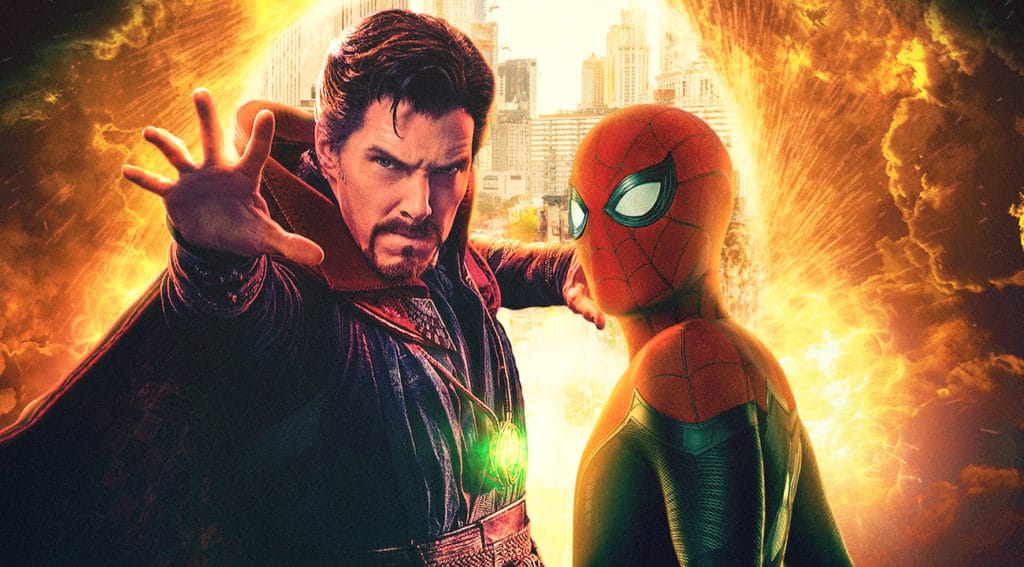 The greatest reveal was the return of Maguire and Garfield's respective Spider-Men. No Way Home was indeed a loving Christmas gift to fans and audiences across the globe, as it gave us something to really cheer about during this holiday season.
As of now, No Way Home just recently grossed more than $800 million worldwide. That's impressive amid concerns of the Omicron COVID variant, but that's not stopping the film's trajectory of possibly making a billion dollars this Christmas weekend.
As an extra gift to fans, Sony Pictures just recently released a new behind-the-scenes featurette of No Way Home.
In the short special feature trailer, we see on set interviews from the films stars Jaime Foxx and Benedict Cumberbatch talking about their amazing time filming No Way Home at Atlanta's Tritlith Studio. We also see on set interviews from Marvel Studios President Kevin Feige, Sony Producer Amy Pascal, and Co-Producer Mitch Bell – and also the producers confirm that they had a wonderful experience filming at the studio. They even call it a second home to them.
We are then shown sets of the opening scene where Holland's Spider-Man in swinging with MJ across New York City and away from the paparazzi, which was actually filmed in blue screen. We are also then shown the set of Dr. Strange's underground dungeon where they keep the Spidey villains in the film contained. We then shown a street in Georgia where they add in fake snow, one of the last scenes in the film where Holland's Spidey meets Zendaya at a doughnut for one final time.
Then we are shown the hallway in Happy Hogan's fancy apartment condo. where Holland's Spider-Man fights Dafoe's Green Goblin which is also shot in Blue Screen. We then are shown shots of the iconic bridge scene where Holland's Spider-Man fights Doc Ock and where we also first see Green Goblin in the film. We are also a set piece of the final battle that was set in the renovated Statue Of Liberty.
The rest of the special feature just then show more action clips and stunts that was shown in the film, and with the cast all complimenting that filming at Georgia helped shooting run smoothly during the early months of the Covid-19 Pandemic. Overall this short special feature was really and short sweet, and it does it's job in showing some of the hard work the cast and crew did while filming Spider-Man: No Way Home.
SPIDER-MAN: NO WAY HOME OFFICIAL SYNOPSIS
For the first time in the cinematic history of Spider-Man, our friendly neighborhood hero's identity is revealed, bringing his superhero responsibilities into conflict with his normal life and putting those he cares about most at risk.
When he enlists Doctor Strange's help to restore his secret, the spell tears a hole in their world, releasing the most powerful villains who've ever fought a Spider-Man in any universe. Now, Peter will have to overcome his greatest challenge yet, which will not only forever alter his own future but the future of the Multiverse.
Spider-Man: No Way Home is officially out now in theaters worldwide. The film stars Tom Holland, Zendaya, Benedict Cumberbatch, Jacob Batalon, Marisa Tomei, J.B. Smoove, Benedict Wong, Alfred Molina, and Jamie Foxx. The film is written by Chris McKenna and Erik Sommers, along with cinematography by Mauro Flore and music by Michael Giacchino. No Way Home is produced by Kevin Feige and Amy Pascal and directed by Jon Watts.
What did you think of Spider-Man: No Way Home? Do you think any movie coming out in the near future can top its records? How long do you think No Way Home will be #1 at the box office? Let us know in the comments below and share all your Spidey and MCU fan theories with us on Twitter.
KEEP READING: MARVEL DROPS DOCTOR STRANGE IN THE MULTIVERSE OF MADNESS TEASER FROM ANOTHER DIMENSION