Shang-Chi and the Legend of the Ten Rings has been widely regarded as the best MCU project of 2021, with the only project coming close to competing being Spider-Man: No Way Home. That being said, fans clearly want to see more of Simu Liu's Shang-Chi, Awkwafina's Katy, Meng'er Zhang's Xialing, and and Tony Leung's Wenwu.
Fan theories have been off the charts on social media, with some speculating that Ta Lo will be the new Avengers HQ, or that Shang-Chi will appear in any project from Moon Knight to The Marvels. Possible futures for Katy have been discussed amongst fans, with hardcore comic readers believing that Katy will become an Avenger.
RELATED: DID SPIDER-MAN: NO WAY HOME PUT A MAJOR DENT IN THE HERO'S FAMOUS ROGUE'S GALLERY?
A Shang-Chi sequel has already been greenlit at Marvel Studios, with a spinoff series confirmed for Disney+. Both will be directed by Destin Daniel Cretton, who directed Shang-Chi. The spinoff series has been rumored to be focused on the new Ten Rings, organized by Xialing in the second post-credit scene.
In the first post-credit scene, Shang-Chi and Katy were made aware by Wong that a beacon had been sent off by the Ten Rings at somepoint during the battle at Ta Lo. Captain Marvel and Hulk were also featured in the scene briefly. At the end, Wong says that their lives will be never be the same. Wong was briefly seen in Spider-Man: No Way Home, but Liu and Awkwafina were nowhere to be found. That led to some fans wondering if they would return in the sequel to Doctor Strange. Now, Simu Liu has spoken on these reports.
Simu Liu Won't Say If Shang-Chi Is In Doctor Strange 2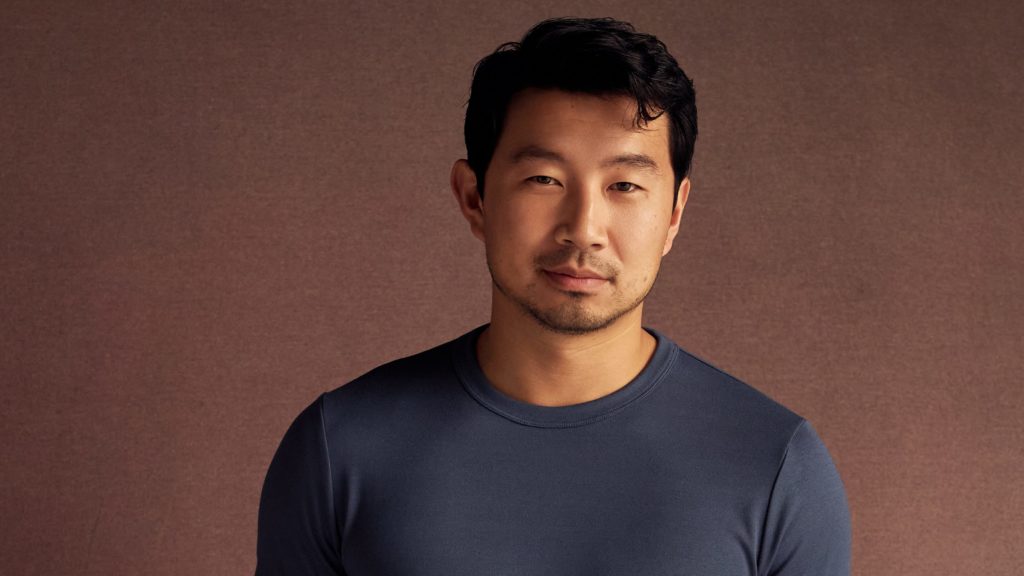 In a recent Instagram post, Simu Liu spoke on his rumored appearance in Doctor Strange 2. Here's what he had to say:
To the most incredible year of my life.

Let's do it all over again in 2022.

Also please stop asking me if I'll be in [Doctor Strange 2], I honestly do not know how much more clear I can be.

I love you guys though. Best fans ever.

Simu Liu on his rumored appearance in Doctor Strange in the Multiverse of Madness
The full post can also be viewed below: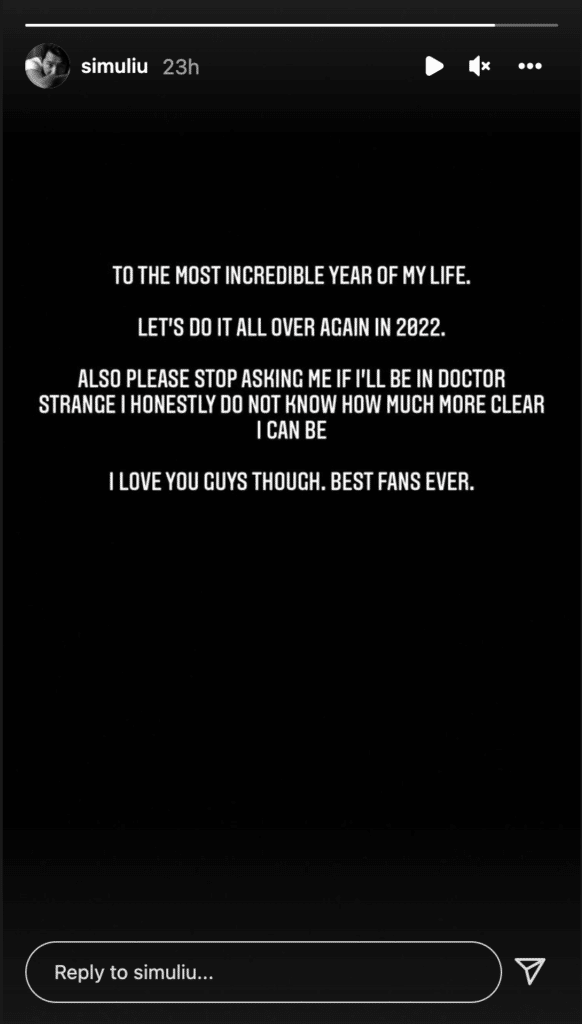 While it's not unusual for fans to ask questions about this sort of thing, it is surprising that Simu Liu decided to post on social media about it. Actors in the MCU are generally told to keep quiet about rumors of their appearances in the MCU, whether the rumors have basis to them or not. However, this may be a more special case. As with Andrew Garfield on his theorized appearance in Spider-Man: No Way Home (which later turned out to be true), fans and journalists alike have been asking questions about appearances. The actors cannot answer anything because of their NDAs, even if they might want to, so it puts them in a tricky place.
You can imagine that Simu and Andrew got tired of this after awhile, which is why they issued public statements asking people to stop pestering them for information which they cannot give. Another reason why these rumors may false was recently brought up: while it may make sense in the short run to put Shang-Chi and Katy in Doctor Strange 2, Marvel Studios is known for playing the long game, so it makes more sense that they would place them in a project farther down the stretch rather than in a film 8 months after the first film's release.
What did you think of this news? Do you think that Simu Liu will appear as Shang-Chi in Doctor Strange 2? Let us know by mentioning @The_Illuminerdi on Twitter, and don't miss Doctor Strange in the Multiverse of Madness when it premieres exclusively in theaters on May 6, 2022. Until then, you can catch Shang-Chi's first MCU outing in Shang-Chi and the Legend of the Ten Rings, now on Disney+.
KEEP READING: SPIDER-MAN 3: NO WAY HOME VERY NEARLY FEATURED POST-CREDITS SCENES WITH [SPOILER] AND [SPOILER]
Source: Instagram