Ben Affleck shines in Amazon Prime Video's new crowd pleaser The Tender Bar, a kind family drama based on autobiographical memoirs. Read more in our review below:
George Clooney is a versatile actor and over the last decade has also established himself as a versatile director, tackling different genres. After 2020's Netflix film The Midnight Sky, the director is back with The Tender Bar, this time at Amazon Prime Video.
RELATED: WILL PETER DINKLAGE REPRISE HIS ROLE AS EITRI THE DWARF?
Tender Bar tells the story of J.R. (Sheridan), a fatherless boy growing up in the glow of a bar where the bartender, his Uncle Charlie (Affleck), is the sharpest and most colorful of an assortment of quirky and demonstrative father figures. As the boy's determined mother (Rabe) struggles to provide her son with opportunities denied to her — and leave the dilapidated home of her outrageous if begrudgingly supportive father (Christopher Lloyd) — J.R. begins to gamely, if not always gracefully, pursue his romantic and professional dreams — with one foot persistently placed in Uncle Charlie's bar.
The Tender Bar Is A Showcase For Ben Affleck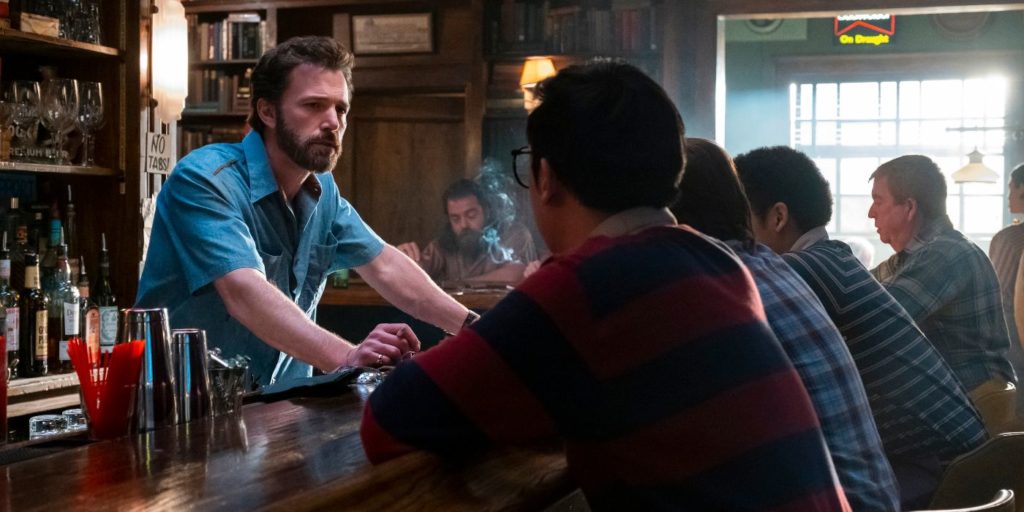 The film follows young J.R as he navigates his life around his dreams, his family's dreams for him and the absence of his father. When all that is too much, he always finds a safe place at Uncle Charlie's (Ben Affleck) bar.
The highlight of The Tender Bar is Ben Affleck's delightful performance. He is the films scene stealer, through his witty and kind performance. Newcomer Daniel Ranieri also stands his ground in a stacked cast like this.
The film is a crowd pleaser. It juggles a lot of drama, as well as comedy with a lot of empathy and succeeds at that. The films tells its stories over multiple decades as we start to follow young J.R. (Daniel Ranieri) and his family, as well as his life as a young adult (Tyler Sheridan), where he learns to struggle jobs, love and dreams.
This sounds like something that we've already seen before and it sure doesn't reinvent the wheel, but it is an solidly filmed and written crowd pleaser, that will entertain audiences around the world.
A great Ben Affleck shines in a crowdpleasing dramedy about growing up and the power of family. With a stacked cast, who puts out heartelt performance there really is no reason to not visit Uncle Charlies Bar.
3/5
The Tender Bar is in select theatres and on Amazon Prime Video January 7, 2022.
It is written by William Monaham and directed by George Clooney. It stars: Tyler Sheridan, Lily Rabe Ben Affleck, Christopher Lloyd, Briana Middleton and introduces Daniel Ranieri.
What do you guys think? Are you planning to watch it? Have you seen it already, if so how did you like it? Let's discuss everything in the comments down below and on our Twitter.