One of gaming's best all-time action-adventure franchises, Uncharted will be finally making its epic big-screen debut in theaters early next month. Sony Pictures's upcoming adventure flick starring Tom Holland, Mark Wahlberg, Sophia Ali and Antonio Banderas has longtime fans of the game excited for Nathan Drake's first adventure on the big screen.
As an early New Years' gift. Sony Pictures has released a new exclusive clip of their upcoming action-adventure film at CES 2022. The exclusive clip features the high-flying airplane action fight sequence that was featured in Sony's previous trailers for the film. For fans who have played the games, they may recognize this scene from Uncharted 3: Drake's Deception. In Drake's Deception, there was also a sequence in which Nathan Drake had to fight bad guys in the air while dangling over a pair of flying crates or boxes. In the video game version, however, it was over a desert in Yemen while in the film it looks like over an ocean near Spain.
Uncharted Exclusive Scene- Plate Fight
We first see in the exclusive clip Holland's Nathan Drake, Wahlberg's Victor Sullivan (Sully) and Ali's Chloe Frazer fighting against, what I'm assuming is, Banderas' Moncada's henchmen led by a female general. The fight scene is taking place in a cargo plane and we see Sully hilariously get blown off the plane with him wearing a parachute. The scene also shows several cargo boxes have been attached with parachutes. We can assume that Drake, Sully, and Frazer's plan was to smuggle these cargo boxes or keep them out of Moncada's hands.
RELATED: Uncharted Trailer #2 Doubles Down On Tom Holland and Gripping Action
The scene then shows Drake and Frazer trying to stop Mancado's henchmen. This leads to Drake, and some of Moncada's men, also getting blown out of the cargo plane. Luckily, Drake's foot gets trapped on one of the cargo boxes keeping him from plummeting to the ocean floor. The clip then goes back inside the plane where we see the bad guys have taken Chloe hostage. But, as fans of the games know, Chloe is no damsel in distress, and it looks like Ali's version pays respect to her video game counterpart. The scene then shows Chloe breaking free, shooting Moncada's men and fighting his female general.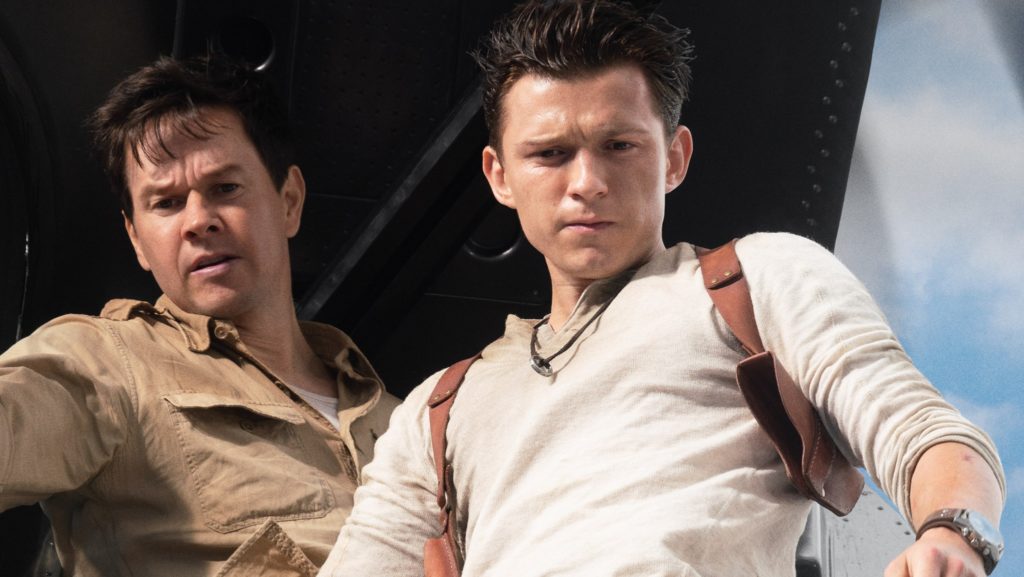 The clip then goes back to Drake dangling in the air for his life and trying to get back inside the plane. Just like in Drake's Deception, Drake jumps from one cargo box to another while hilariously fighting bad guys in order to get to safety inside the plane. Drake manages to successfully get inside the plane and with all the cargo boxes parachuted away to safety. However, while Chloe was fighting the bad guys, she ignites the engine of a vintage red car and it also gets blown off the plane with Drake being dragged along with it. The clip then ends with Drake hilariously plummeting in the air.
RELATED: Uncharted Director Explains How Video Game Movies Go Wrong
This clip was indeed a gift from Sony to longtime fans of the franchise who are excited about the upcoming film. Even though the filmmakers acknowledged that the film is getting inspiration from the fourth Uncharted game A Thief's End, it's good to know they are also including elements of past games. Hopefully, the film will honor the iconic video game adventure franchise.
OFFICIAL PLOT SYNOPSIS
Based on one of the best-selling, most critically acclaimed video game series of all time, Uncharted introduces audiences to the young street-smart Nathan Drake (Tom Holland) and showcases his first treasure hunting adventure with wisecracking partner Victor "Sully" Sullivan (Mark Wahlberg). In an action-adventure epic that spans the globe, the two go in dangerous pursuit of "the greatest treasure never found" while also tracking clues that may lead to Nathan's long-lost brother.— Sony Pictures Releasing
Uncharted is scheduled to premiere on February 11th, 2022 in the United Kingdom and February 18th, 2022 in the United States and Worldwide. Uncharted stars Tom Holland, Mark Wahlberg, Antonio Banderas, Sophia Ali, and Tati Gabrielle. The film will be produced by Rafe Judkins, Art Marcum, and Matt Holloway. The film will be produced by Charles Roven, Avi Arad, and Alex Gartner. Screenplay will be done by Rafe Judkins, Art Marcum, and Matt Halloway. Chung-Hoon Chung will do the film's Cinematography. Richard Pearson will do the film's editing. Then finally the film will be directed by Richard Pearson. Sony Pictures will distribute the film
Source: Sony Pictures
KEEP READING: Morbius Flies to New April 2022 Release Date Amidst Omnicron Concerns