Andrew Garfield has a lot of love to give, as this story will prove.
It's been a long road to Spider-Man: No Way Home. From the announcement of the film in Fall 2019 to the release of the film in Winter 2021, there have been countless important moments in the film's production history – not only for the cast and crew, but also for the fans who have waited years upon years to see 3 Spider-Men team up all together. This film is a celebration of three generations of Spider-Man, and every single category of people, cast, crew, fans, critics and even complete strangers to the MCU appreciate the fan service that's delivered in the film.
RELATED: SPIDER-MAN: ACROSS THE SPIDER-VERSE WILL "PUSH THE ANIMATION MEDIUM EVEN FURTHER" ACCORDING TO PRODUCER
For a LONG time, Andrew Garfield had to lie like a sociopath. He repeatedly denied any knowledge of what was happening in Spider-Man: No Way Home, and denied that he was in it. Garfield said that an alleged BTS video of him on-set was a "photoshop." It wasn't. He said that he wasn't in No Way Home. He was. After what feels like an eternity of waiting and waiting and waiting, Andrew Garfield is finally ready to talk sincerely about Spider-Man: No Way Home. And fans couldn't be happier.
Andrew Garfield Improvised His "I Love You" Line In Spider-Man: No Way Home
In a recent interview with Variety, Andrew Garfield spoke about his experience appearing in Spider-Man: No Way Home, and his most memorable moments filming the movie. Garfield touched on one of the best lines in the film, his "I love you" to the other Spider-Men. Now, he's revealed that the line wasn't in the script at all, and was completely improvised. Here's what Garfield said:
There's a line I improvised in the movie, looking at [Maguire and Holland] and I tell them I love them. That was just me loving them.

Andrew Garfield when asked about his experience filming Spider-Man: No Way Home
That wasn't what we were expecting. To hear that arguably the best line, in the whole film, was IMPROVISED??????? Wow. To a normal person, improvising that would've been impossible. But it's not a normal person, it's Andrew Garfield. Garfield somehow elevates the entire cast and, in the mix of it all, still comes out a shining star. He improvised on a split second decision, and huddled up again and said, "I love you." That takes skill. Some have suggested that Garfield deserves an Academy Award for his work in No Way Home. What do you think?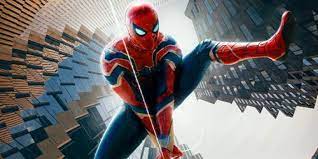 What did you think of this news? Did you like Andrew Garfield's performance in Spider-Man: No Way Home? Let us know by mentioning @The_Illuminerdi on Twitter, and don't miss Spider-Man: No Way Home, which is swinging into your local theater right now. The Amazing Spider-Man and The Amazing Spider-Man 2 are both now available on PVOD.
KEEP READING: ANDREW GARFIELD IS "DEFINITELY OPEN" TO RETURNING TO PLAY THE HERO SPIDER-MAN
Source: Variety