The Philippines has a rich and historical culture, especially in music, and All That Glitters Is Bronze perfectly showcases that.
The country is known to have a variety of cultural instruments. Such examples of known iconic Filipino instruments include the Kamboo Gano (Bamboo organ), Subing (Bamboo Jaw Harp), Dabakan (single-headed Philippine Drum), Kudyapi (Philippine Two-Stringed, Fretted Boat-Lute), and many more. There is however an instrument that has become forgotten in today's Filipino culture. That instrument is called the Kulintang. The award-winning Filipino American short documentary All That Glitters Is Bronze focuses on the Kulintang's history and its importance in Philippine culture.
RELATED: DISNEY AND PIXAR'S TURNING RED TO RELEASE EXCLUSIVELY ON DISNEY+ ON MARCH 11
A Kulintang is an instrumental form of ancient melodic music that consists of horizontally laid gongs. The gongs of a Kulintang can function harmoniously with larger gongs and work with other instruments such as drums. One theory is that the current Philippine Kulintang tradition originated from a native signaling system that people used for non-recreational purposes, in order to transmit messages to one another. But this form of music and its instrumental form was nearly wiped out during the Colonial times in the Philippines.
Sadly, the Kulintang is becoming less known in today's current Filipino culture. Luckily there have been many Filipino musicians or bands trying to keep the Kulintang's music alive. An example of one of those bands is showcased in All That Glitters Is Bronze.
All That Glitters Is Bronze Explanation And Trailer Breakdown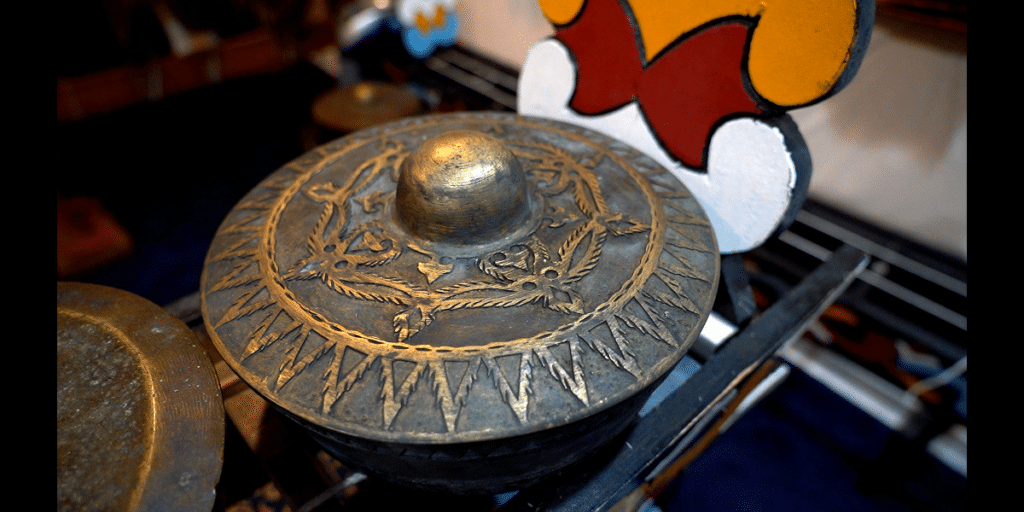 All That Glitters Is Bronze is a short documentary film directed by rising Fil-Am director Angelique "Jinji" Sayson. The short documentary focuses on a local band in the bay area called Kulintang Dialect. The band's mission is to keep the Kulintang's music and tradition alive. Sayson's short documentary includes interviews from the band.
These interviews include the Kulintang's history, meaning, music, and message to Filipino Culture. Including how these forms of cultural harmonious music came to the United States. Sayson gave us The Illuminerdi a special opportunity in giving a sneak peek of her award-winning short film.
The teaser trailer begins with all of the awards All That Glitters Is Bronze has recently won. The trailer then takes us to a peaceful park where we see four members of Kulintang Dialect next to a Kulintang set. These four members then play the Kulintang and we hear the instruments' melodious and peaceful music. We are then taken to an open rooftop gathering where multiple Filipinos are dancing to the music of a Kulintang playing. It's shown that Kulintang Dialect is the one playing and hosting the gathering.
Then the trailer takes us to a studio where the Kulintang Dialect is rehearsing. The trailer then takes us back to that same rooftop, where we see more people dancing. Finally the final shot of the teaser shows Sayson playing the Kulintang herself.
Overall the short trailer of All That Glitters Is Bronze is short and sweet. The teaser introduces us to the Kulintang Dialect band and its members. What's also special about this teaser is that we got to see them play the Kulintang. What is also unique is that this trailer has a narrative text translation explaining Kulintang's music. It's like this form of ancient music is telling us a story. An example is through the text saying "persistent beating of drums collapsing timelines of the past, present, and future".
Its message could mean that this ancient form of music could be telling us a story of legacy. That is our duty to keep the legacy of this wonderful form of music alive and well for future generations. Especially in Filipino culture.
OFFICIAL PLOT SYNOPSIS
All That Glitters Bronze is a love letter to the Philippine tradition of Kulintang, which was once nearly wiped out by colonization. Around the Bay Area in California, a local band called Kulintang Dialect is keeping the tradition alive. This short documentary offers a brief glimpse of the cosmos through clips of performances interspersed with interviews from the band.
All That Glitters Is Bronze will be premiering online free through CineAsian Films, a film curation site "dedicated to discovering the best short films by Asian filmmakers around the world", you can stay updated on the film's journey at Linktr.ee/ATGIB
KEEP READING: SNOWPIERCER SEASON 3 TRAILER REVEALS A WORLD BEYOND THE TRAIN