Iman Vellani returns to finish filming Ms. Marvel, and we're holding our breath for the final result.
Marvel Studios is building an incredibly diverse Phase Four, and not just in one way. Sure, you have a diverse lineup of actors and actresses for the projects, but what about the filmmakers behind the camera? What about the type of projects they're making? And what about the projects themselves? There is a drastic difference between a film like Eternals, vs a film like Black Widow. In fact, Phase Four is so diverse, some critics are calling it too diverse. And they could be right.
RELATED: SPECTACULAR COMPLETE SPIDER-MAN 8-MOVIE COLLECTION RELEASED BY SONY
Marvel is overextending itself to the point where not all projects are even well-received anymore. Before this, you could expect a solid outing from Marvel Studios every time you went to the theater, but Eternals received a 48% on Rotten Tomatoes, the only Rotten film in the MCU. What If…? was also critically trashed, as were The Falcon and the Winter Soldier and Venom: Let There Be Carnage. Meanwhile, Hawkeye and Black Widow received mixed responses. It's interesting to see how Marvel will manage Phase Four going forward, if they can.
Ms. Marvel is one of those TV series that everyone is talking about, and not necessarily in a good way. While fans were originally very excited, especially after the casting on Iman Vellani, the series has now been trending on Twitter for days following the announcement that the cast and crew of the series were returning to Atlanta for 4 weeks of reshoots.
This has been followed by multiple reports coming from all angles: some saying the reshoots are indeed extensive, some are saying they're a bit more than usual, some are saying it's the usual amount, and the other reports are the regular psychos who say things like, "Ms. Marvel is cancelled", or "Iman Vellani has been arrested." Now, we have official confirmation of the reshoots, as Ms. Marvel herself has arrived in Atlanta.
Ms. Marvel Reshoots Commence As Iman Vellani Arrives In Atlanta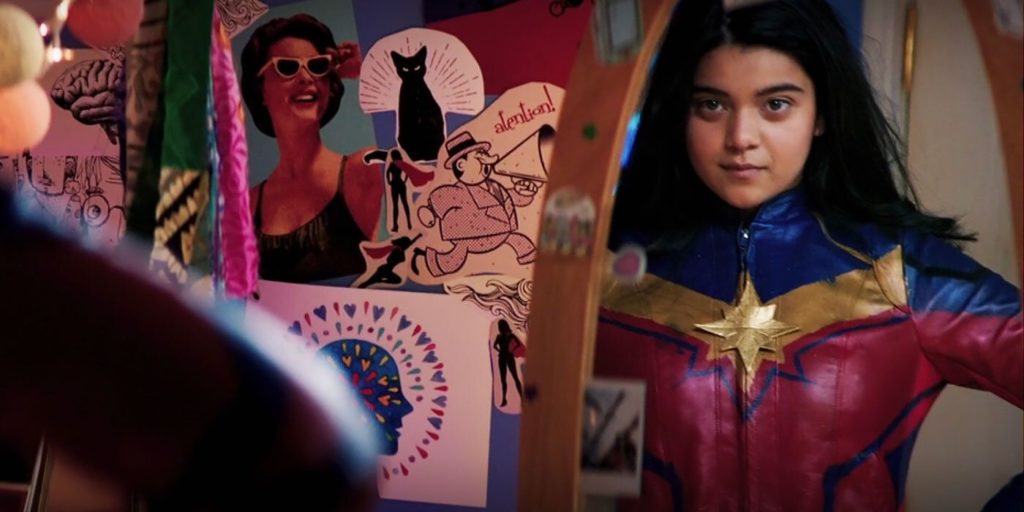 In a new post from user @epik_ink2020 on Instagram, an image is shown with the caption "MS Marvel". The image is shown with the user posing with Iman Vellani, who plays Kamala Khan in the MCU. Behind them is a digitally-edited background with the Ms. Marvel logo. The post can be located below:
In addition to that IG post, Twitter user @AtlantaFilming tweeted that Iman Vellani landed in Atlanta. Here's what he said in his full post:
Ms. Marvel just landed. She brought with her…rain. A lot of rain.

AtlantaFilming on Iman Vellani's appearance in Atlanta, Georgia
See the full tweet below:
It's interesting to see that Ms. Marvel will be commencing reshoots in Atlanta. That by itself would not be a surprise, but multiple reports in the industry have stated that reshoots are planned to take place for 4 WEEKS, which would take away another month from the post-production process. The series is aiming for a June or July 2022 release on Disney+, and if there are truly 4 weeks of reshoots, then it'll be a tight window to fit in Ms. Marvel, as February – June is just 18 weeks of post-production.
As for the reshoots themselves, however, multiple insiders have discussed on social media that Marvel Studios could be using this extensive reshoot time to redo Kamala Khan's power set, following negative reactions on social media in response to her power set. That development came after leaked images showing her power set were released to the world. But t's more likely that Marvel is using the time to fix other issues with the series, likely whatever plot issues exist. They're probably redoing some scenes, which is common in the Marvel Studios realm.
What did you think of this news? Are you excited to see Iman Vellani in the final version of Ms. Marvel? Let us know by mentioning @The_Illuminerdi on Twitter, and don't miss Ms. Marvel when it premieres on Disney+ in Summer 2022. Catch Kamala Khan's next adventure shortly after that in The Marvels, currently premiering in theaters on February 17, 2023.
KEEP READING: BATGIRL BREAKING NEWS: NEW LEAKED SET PHOTOS INDICATE ROBIN MAY APPEAR IN 2022 HBO MAX FILM
Source: Instagram