Bruce Willis has spent much of his action career playing the heroes we love to root for, but based on the trailer for Apex, he'll become a supposedly unstoppable adversary for Neal McDonough (Arrow).
Willis and McDonough have spent years as Hollywood mainstays, with the former starting on the popular '80s show Moonlighting before transitioning to the big screen with the genre-defining Die Hard in 1989 and the latter having hopped between film and television whenever called upon.
Apex Official Trailer
Check out the hot new trailer for Apex below:
McDonough is one of those "That Guy" actors who you've seen in a million bit parts, but can never remember the name of, but has gained more prominence in recent years with appearances in the CW's Arrowverse franchise and recently appeared in Paramount's Sonic the Hedgehog film. He also appeared in Captain America: The First Avenger as "Dum Dum" Dugan and reprised the role for an episode of their What If… DisneyPlus series. Bottom line is, check McDonough's IMDB page and you're sure to find at least one film you've seen on it.
However, it's not just McDonough and Willis on display here. In Apex, it appears Willis will be going up against a team of highly-trained mercenaries in a Hunger Games-style sci-fi battle. While a super kill-field is nothing we haven't seen before, the action looks fun, varied, and full of awesome gunfights that are sure to leave fans happy.
RELATED: MOONFALL DELIVERS AN EXPLOSIVE TRAILER FOR FEBRUARY 4 THEATRICAL RELEASE
Following an uneven career trajectory in the 2000s-mid 2010s, Willis has spent the better part the last few years starring in direct-to-streaming action fare with the occasional appearance in a higher-profile film (2019's Glass was one of the few intended blockbusters Willis was involved in in recent years). However, there's still clearly an audience for Willis whenever he stars in a film, as proven by the success of movies like Hard Kill, Breech, Out Of Death, The Prince, and Midnight in the Switchgrass (the latter of which co-starred Megan Fox, who is in the middle of a career comeback with the horror film Till Death and the upcoming action 4thquel The Expendables 4).
In any case, Willis has proven himself capable of doing well outside the action genre with films like Unbreakable, The Sixth Sense, Death Becomes Her, The Kid, and even more, though he seems to have found both comfort and career longevity sticking to the action genre as of late.
RELATED: THE LEGEND OF VOX MACHINA: WATCH THE 1ST ACTION PACKED RED BAND TRAILER OFFER FANS AN EXCITING LOOK AT NEW ANIMATED SERIES
With Apex though, it will again be nice to see him in a different kind of role than usual and see him potentially stretch again as a villain. The last time I saw him play a somewhat villainous character was in the erotic thriller, Perfect Stranger, which co-starred Halle Berry and Giovanni Ribisi. He played a shady advertisement exec with a tendency for violent outbursts; he did fine all things considered. Could Apex show Willis' sinister side off once again, or will he be more a brute force a la Michael Myers in the newer Halloween movies? Either way, we're sure to get some good ol' gun-toting Bruce action to tide us over in between major blockbusters, and there's nothing wrong with that.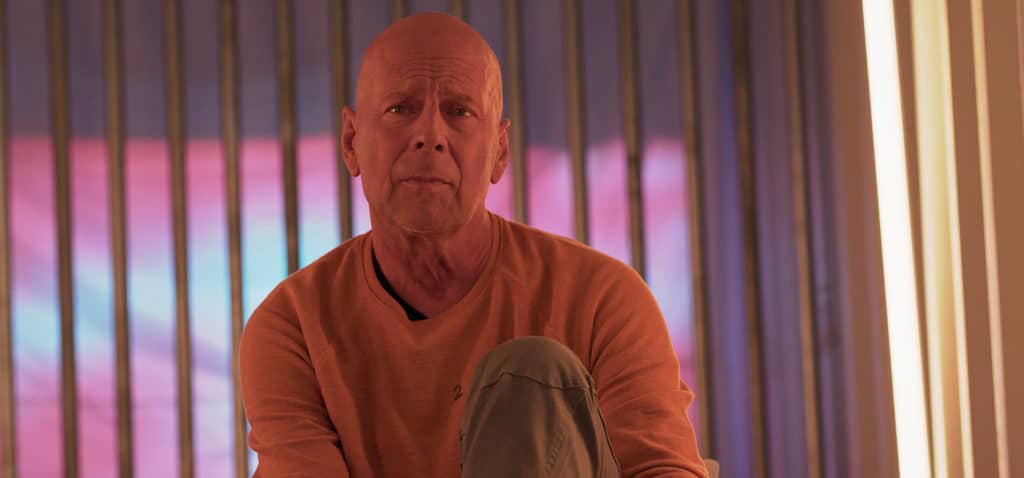 Apex Official Synopsis
In APEX, serving a life sentence for a crime he didn't commit, ex-cop Thomas Malone is offered a chance at freedom if he can survive a deadly game of Apex. Six hunters pay for the pleasure of hunting another human on a remote island, but once Malone arrives all hell breaks loose. Laying traps and playing mind games, Malone tries to turn the tables and fight for his life and his future.
Apex will be available on Blu-Ray and DVD on February 8th, 2022. What are your thoughts on the trailer for Apex? Are you excited to see Bruce Willis portray a villain again after all these years? Did you enjoy Neal McDonough's time in the Arrowverse? What are your favorite performances from Bruce Willis and Neal McDonough? Let us know in the comments below and on our Twitter.
KEEP READING: LURE: NEW ROBERT DOWNEY JR. PRODUCED CRIME SERIES INTERESTED IN WILLEM DAFOE AND DAVID HARBOUR TO STAR: EXCLUSIVE
Source: RLJE Film