Sony has released a new special featurette of behind-the-scenes clips of Tom Holland's stunt scenes on Uncharted.
The excitement of Uncharted is at an all-time high, as Sony Pictures' upcoming action-adventure film premieres in a few weeks. Uncharted is based on a series of successful video games created by the video game company Naughty Dog, all of which focused on treasure hunter Nathan Drake and his many dangerous adventures.
RELATED: NEW POSTER FOR UNCHARTED REVEALS MORE DANGEROUS TOM HOLLAND ACTION
The games featured Drake hunting legendary treasures of ancient cities such as The Golden City Of El Dorado, The Cintamani Stone of Shambala, The Lost City Of Iram Of The Pillars, and Pirate Henry Avery's Legendary Treasure. When Tom Holland got cast as Nathan Drake, excitement for the upcoming film magnified.
Sony Shares More Uncharted Secrets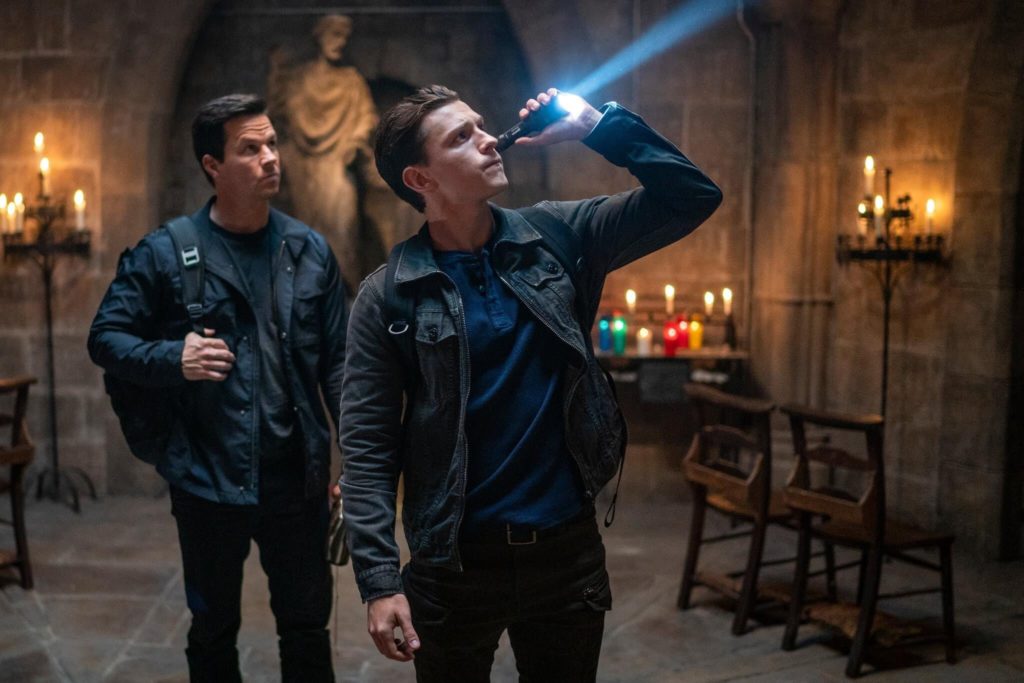 Sony Pictures released a new unique and hilarious featurette that features Holland and his brother Harry showcasing his talents. The clip features Harry giving a what-to-do list for Tom on a day filming Uncharted. The list involves all of the many stunts that Tom got asked to do and did while filming.
The featurette shows multiple clips of Holland doing his actions for specific scenes. Those clips include Tom fighting villains on a pirate ship alongside Mark Wahlberg's Sully, a shot where he gets thrown off a table, a bar scene where he smashes a bad guy's face with a bottle, the plane scene where Tom gets hit by a car, and where he jumps and swings from a chandelier.
Overall this special featurette shows that Holland's casting as Drake was an ideal choice mainly because of his skills in stuntwork and acrobatics. Nathan Drake's relatability with players made him a beloved character in the original video game series. Even though Drake was a wisecracking treasure hunter, he had a heart and a moral code of honor. But also because of his incredible action sequences in the video games. Fans hope they can see those action sequences honored and performed by Tom in the upcoming Uncharted film.
OFFICIAL UNCHARTED PLOT SYNOPSIS:
Street-smart thief Nathan Drake (Tom Holland) is recruited by seasoned treasure hunter Victor 'Sully' Sullivan (Mark Wahlberg) to recover a fortune lost by Ferdinand Magellan 500 years ago. What starts as a heist job for the duo becomes a globe-trotting, white-knuckle race to reach the prize before the ruthless Moncada (Antonio Banderas), who believes he and his family are the rightful heirs. If Nate and Sully can decipher the clues and solve one of the world's oldest mysteries, they stand to find $5 billion in treasure and perhaps even Nate's long-lost brother…but only if they can learn to work together.
Based on one of the best-selling, critically-acclaimed video game series, Uncharted introduces audiences to the young street-smart Nathan Drake (Tom Holland) and showcases his first treasure hunting adventure with wisecracking partner and mentor Victor "Sully" Sullivan (Mark Wahlberg). In this action-adventure epic that spans the globe, the duo are in dangerous pursuit of "the greatest treasure never found" while also tracking clues that may lead to Nathan's long-lost brother.
Uncharted is scheduled to premiere on February 11th, 2022 in the United Kingdom and February 18th, 2022 in the United States and Worldwide. Uncharted stars Tom Holland, Mark Wahlberg, Antonio Banderas, Sophia Ali, and Tati Gabrielle. The film will be produced by Rafe Judkins, Art Marcum, and Matt Holloway. The film will also be produced by Charles Roven, Avi Arad, and Alex Gartner. The screenplay is by Rafe Judkins, Art Marcum, and Matt Halloway. Cinematography by Chung-Hoon Chung. Editing by Richard Pearson. The film will be directed by Richard Pearson. Distribution by Sony Pictures.
KEEP READING: PETER DINKLAGE UNLEASHES HIS DISPLEASURE WITH NEW SNOW WHITE AND THE SEVEN DWARFS REMAKE