Just three days after a very successful weekend launch, Prime Video's Reacher is getting deployed for a second season.  
The action-packed series is receiving high praise from critics and fans. In its first weekend, Reacher was among Prime Video's highest-rated original series ever among Prime customers, averaging 4.7 out of 5 stars. Since premiering on February 4, the series has commanded a Jack Reacher-sized global audience, ranking among Prime Video's top five most-watched series ever in the U.S. and globally. The show is currently one of the most binged original series ever on Prime Video, with the majority of the audience burning through the first eight episodes in less than twenty-four hours. 
RELATED: MADAME WEB: DAKOTA JOHNSON'S MYSTERIOUS SOCIAL MEDIA POST SEEMINGLY CONFIRMS NEW ROLE
"The phenomenal debut of Reacher is a testament to Lee Child's creation of one of entertainment's most well-known heroes, Nick Santora's original approach to the storytelling, Alan's brilliant embodiment of the character, and the dedication of the talented people who worked tirelessly in front of and behind the camera to make such an undeniably bingeworthy series," said Jennifer Salke, head of Amazon Studios.  "The global impact makes it one of Prime Video's biggest series debuts, and we can't wait to bring fans the second season of their new favorite show."
"The entire Reacher team—cast, production, writers, etc.—is so happy with the wonderful reception the show has received," said Santora. "Amazon, Skydance, and Paramount have been such fantastic partners and everyone is excited to roll up their sleeves and get to work on what will be a great Season Two."
REACHER'S LEE CHILD IS PLEASED WITH AMAZON STUDIOS AND ALAN RITCHSON
"Partnering with Amazon Studios for season one of Reacher was a total delight – they had our backs every step of the way, and it really shows, in every line and every frame.  So I'm thrilled we'll be working together again, for season two," said creator Lee Child.  "This is very exciting news, and I can't wait to get started.  Reacher couldn't be in better hands."
In a recent interview, Lee spoke about how well lead actor Alan Ritchson fits the role of Jack Reacher and that he hopes he can play the character for a long time.
"He certainly is (the right guy). The screenwriting laid out the tone, and we did a lot of screen testing. It was done remotely by zoom, which actually, in the end, it worked out well for me because all that the viewer is ever gonna see is the guy stepping on the screen and that's all I could see as well" commented Child.
"The actor has to portray that complexity (of the character) and Alan brought that straight away. Literally, in two seconds I knew he was the guy". The actor has publicly talked about how much of a fan of the series he is. He read all twenty-six books to prepare for the role and packed on an additional 30lbs. Talk about commitment!
Based on the novels by Lee Child, who is an executive producer on the series, Reacher, starring Alan Ritchson (Titans, Smallville), is produced by Amazon Studios, Skydance Television, and Paramount TV Studios. Reacher is written for television by Emmy-nominated writer Nick Santora (Scorpion, Prison Break), who also executive produces and serves as showrunner.
SYNOPSIS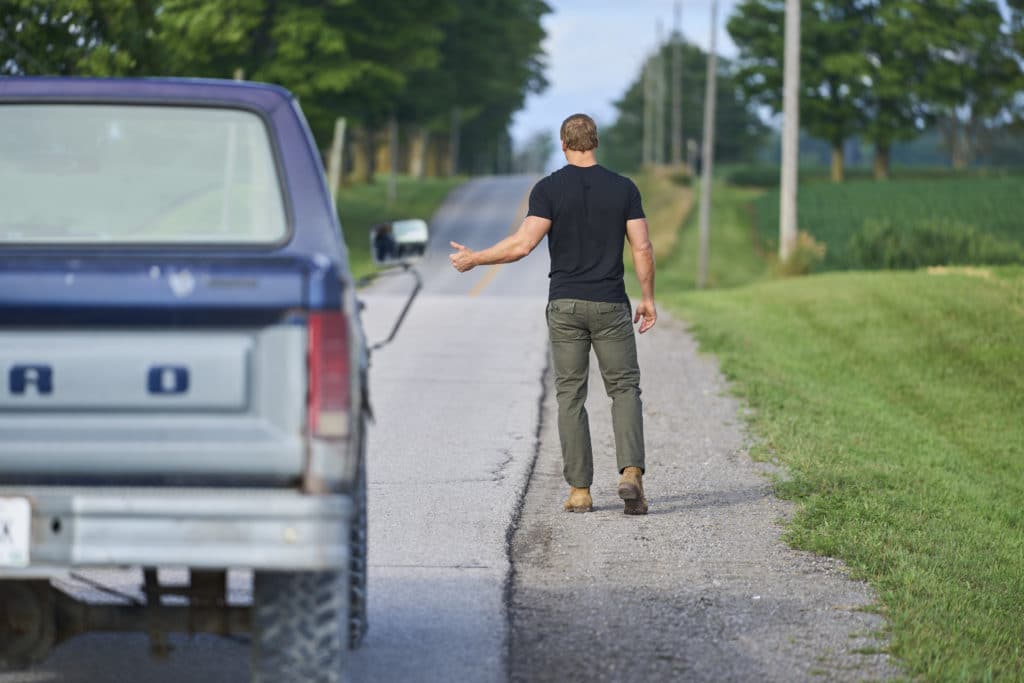 The first season of Reacher follows Jack Reacher, a veteran military police investigator who has just recently entered civilian life. Reacher is a drifter, carrying no phone and the barest of essentials as he travels the country and explores the nation he once served. When Reacher arrives in the small town of Margrave, Georgia, he finds a community grappling with its first homicide in 20 years.
The cops immediately arrest him and eyewitnesses claim to place Reacher at the scene of the crime. While he works to prove his innocence, a deep-seated conspiracy begins to emerge, one that will require Reacher's keen mind and hard-hitting fists to deal with. One thing above all is for sure: They picked the wrong guy to take the fall.
Season One of Reacher is based on Child's first Jack Reacher novel, Killing Floor.
Further cast includes Malcolm Goodwin (iZombie) as Oscar Finlay, Willa Fitzgerald (The Goldfinch) as Roscoe Conklin, Chris Webster (Most Dangerous Game) as KJ, Hugh Thompson (Blessed Stranger) as Baker, Maria Sten (Swamp Thing) as Frances Neagley, Harvey Guillén (What We Do in the Shadows) as Jasper, Kristin Kreuk (Smallville) as Charlie, Currie Graham (Murder in the First) as Kliner Sr., Marc Bendavid (Dark Matter) as Hubble, Willie C. Carpenter (Devious Maids) as Mosley, Maxwell Jenkins (Lost in Space) as Young Reacher, and Bruce McGill (My Cousin Vinny) as Mayor Teale.
In addition to Santora, the series is executive produced by Lee Child, Don Granger, and Scott Sullivan, with David Ellison, Dana Goldberg, and Bill Bost for Skydance.
What did you think of the first season of Reacher? Did you enjoy all the twists? Which book do you hope will be adapted next? Leave your comment down below and don't forget to hit that notification bell. We post a lot of exclusives. Who knows, we may even post a Reacher season 2 exclusive! Till next time.
KEEP READING: DAREDEVIL STAR CHARLIE COX REFLECTS ON NO WAY HOME AND HIS FUTURE IN THE MCU