After WWE's Royal Rumble, the news about Shane McMahon has not stopped.
Let's go over the timeline. Shane McMahon, who produced the 2020 and 2021 Rumbles, was picked by his father Vince to produce this year's Rumble as well. In doing so, it became about him. He entered as number 28 out of 30 entrants and lasted until the final three. He out struck former UFC fighter Matt Riddle, he eliminated Kevin Owens after no-selling a superkick, and the only person that could get him out was the Beast Brock Lesner.
RELATED: LIMITLESS KEITH LEE MAY BE GOING TO AEW SOON
Dave Meltzer reports that with Shane McMahon being a producer, he had an angle he was looking to play. In Shane's defense, the match was subject to constant chopping, changing and rearranging over the past couple of days leading up to it. Meltzer goes on to say that though the Rumble winners were made known to people inside the company, other people were told differently.
What's The Deal With Shane McMahon?
Due to Shane's performance, or what he booked his performance to be in the Rumble, he had a lot of heat backstage. In the report, it is mentioned that Shane is the 52-year-old son of a billionaire, which points to his lack of credibility. As a result of that and the actions and choices of Shane at the Rumble, which put his fanciful booking into question, it would seem that McMahon tried to book the Rumble around himself and bury fellow producer Jaime Noble. Shane McMahon was described as confrontational and gung-ho while still arguing to put himself over others, fighting with people along the way.
As a result of such a tumultuous return to the ring, he produced what some will call the worst Rumble since 2009 and the Bruno SanMartino debacle. (Which is why we don't talk about Bruno). The rumors would swirl stating that Shane was fired, and it seemed as though he was being courted by AEW – or at least AEW talent. Dax Harwood, who is one half of the AEW tag team FTR alongside Cash Wheeler, tweeted to Shane McMahon not long after multiple reports surfaced claiming he'd been released from WWE.
Harwood and Wheeler both worked with McMahon back when they were in the WWE as the tag-team called The Revival, and Harwood hinted strongly on Twitter that he's interested in getting a second chance with the trio at AEW.
So that rumor led to another that was reported by various outlets, stating that Vince McMahon's team in WWE are trying to prevent AEW from hiring Shane McMahon by spreading rumors about his ego. Though the report was based on anonymous sources, the circumstances surrounding the release combined with Shane McMahon's history work together as an attempt to smear Shane in order to prevent him from embarrassing WWE by joining up with their competition.
On the PW Torch podcast Wade Keller said:
"People in WWE are letting me know that someone should warn Tony Khan what he's in for if he brings Shane in, because the sense of entitlement, and I don't know if ego is the right word, that Shane would bring along with him in a company that isn't WWE would probably be amplified compared to how he was acting on Saturday, which was just basically out of control."
Even with this info being circulated through the dirt sheets it would seem that It's been reported that Shane was booked to wrestle at WWE Elimination Chamber and WrestleMania 38, and that he was scheduled to be a heel on the RAW brand.
An issue related to Shane McMahon's RAW creative is reportedly what put him in a bad place with his father. Shane reportedly had issues with what was planned for RAW, and with how he was going to be framed as he was going to be added to the WWE Title Elimination Chamber match. Shane reportedly pushed back on those plans and that was where Vince finally had enough, leading him to canceling all plans with Shane.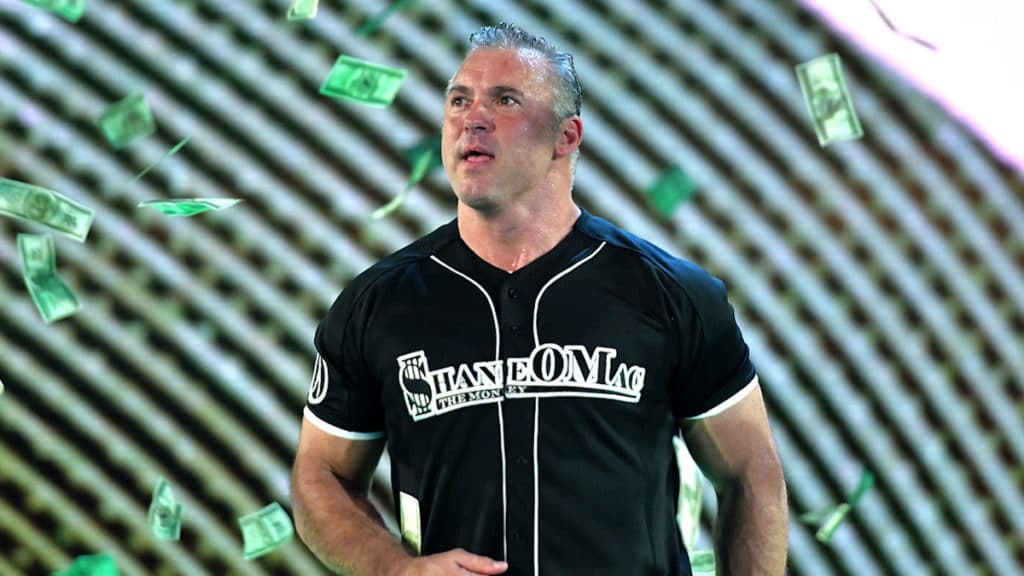 The WWE Title match has champion Bobby Lashley defending against Lesnar, Riddle, Austin Theory, AJ Styles and Seth Rollins. There's no confirmation that Theory ended up with Shane's spot, but we do know that Shane wanted to wrestle Theory at WrestleMania 38. The Shave vs Theory feud and subsequent match was speculated to be born from Vince McMahon's recent interest in the superstar and Shane being jealous and figuratively fighting for his fathers affection.
It's been reported that at one point there were plans for a Shane vs. Rollins feud, and a Lashley vs. Shane feud had also been discussed at one point before Rumble plans were finalized. It was also noted that it's not clear if Shane has been released from a talent contract or if he was just sent home and removed from all plans, but it's believed among some that Shane will not be involved with WWE for the foreseeable future.
What are your thoughts with the fate of Shane? Where will he go, what will he do? Is this all a work? Tell us what you think is happening in the comments below.
KEEP READING: SHANE "THE BEST IN THE WORLD" MCMAHON QUIETLY RELEASED BY WWE
Source: F4W Online