Netflix's Beef is Lee Sung Jin's dark comedy that centers around road rage, drawing on Jin's personal experiences to explore the theme of rage, catharsis, and unconditional love. The show follows Danny (Steven Yeun), a struggling contractor with a grudge, and Amy (Ali Wong), both dealing with major life changes, whose feud over a road rage incident spirals out of control, impacting their relationships and lives.
What's a Mindfulness Retreat?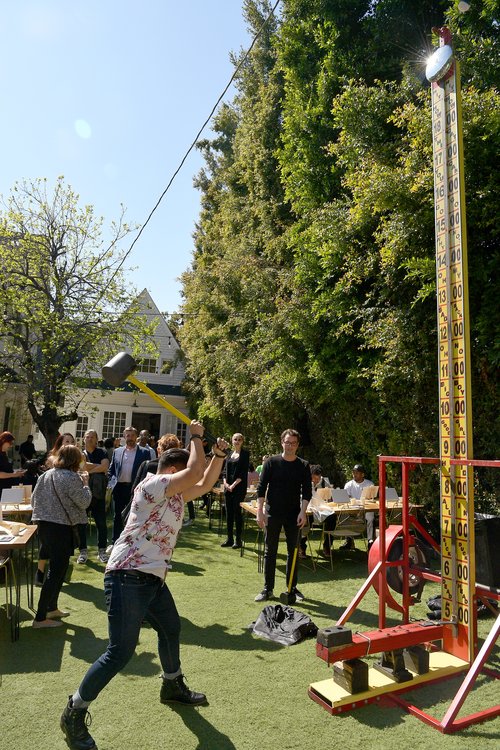 Netflix's Beef organized strictly invite-only "Release Your Rage" Mindfulness Retreat events in Los Angeles and New York. In Los Angeles at Lombardi House Participants could engage in various activities on the grounds such as :
Releasing their rage with the carnival/circus strong person hi striker after a brief sit down in the "BEEF confessional booth", created by SharingBox.
RELATED: BEEF Review – When Rage is This Rare and Well Done It Is Delicious
Marsha Pacificar created a sage workshop with sage from her family's farm, in which they bundled sage to release their anger in a healthy way and promote eventual understanding and forgiveness. Followed by leading the breathwork and sound bath sessions.
They painted the face of their rage with Mary Harris, who is licensed in marriage, family, and art therapy that offered insights into how art can be utilized as a therapeutic medium.
A Therapeutic gardening workshop led by Silvia Yoshimizu-Yee, Danae Horst potting plants, naming them, and acknowledging that you are capable of caring for more than yourself. All culminating in Health-Ade kombucha, and creative catering by RiceBox which included dishes featuring sauces from Fly by Jing Essentially everything you needed to feel the subtle Hint for the average socialite
Netflix's Beef is more than an issue
The event featured a conversation with an iconic keynote speaker, the retired celebrity stylist and judge on Legendary, Law Roach, who spoke candidly about his burnout and challenges navigating rage and healing in the fashion industry. At the Los Angeles "Beef" event, Roach and GLAAD's Anthony Allen Ramos discussed clips from the show, sharing insights on rage and burnout, and the importance of healing, self-care, and happiness.
"I think that we're conditioned to look at working all the time as a badge of honor. Right? And it's just like, that's not anything to be proud of! I think we need to change our mindset on that … Like it's American. Like if you're not overextending yourself, if you're not working yourself to the bone, if you're not barely making it, if you're not sick, if you're not annoyed, you feel like you really aren't being successful. 'This whole time I've been suffering for success.' And at that moment I realized that I didn't want to suffer anymore. You know, I want my success, and I want my success to be linked to my happiness, not my unhappiness"

Law Roach
Beef is a mindfulness doggy bag
Usually, the takeaway from these events is a few bits of swag and doggy bags. Oh, don't get me wrong I got to leave my rage in a confessional booth, made a painting entitled The Black Man's Eternal Internalized Rage, got two potted plants named Jon Bauptiste & Jon Bauptise 2 (as in the sequel, because they may be the second but they are their own individual plant), and a full belly that Rice Noodle also catered.
RELATED: Netflix Serves Up Some Delicious Beef with Official Trailer and 1st Look Clip
I had a takeaway that would give more than it takes. A show; or at least a show idea. It's more an act of therapy than it being anything else. Anyway, it's a show, one about me, one that is me. One with a different look on modern love, life, and our insecurities. Complete with themes of trauma, empowerment, and the slow but necessary path to learning, growing, and ultimately… healing. That is "Daniel". That is my life. That is my takeaway from the "Beef" Release Your Rage event.
Beef is currently available to stream exclusively on Netflix
About Beef
Premiere Date: April 6, 2023
Format: 10 eps x 30-min Dark Comedy
Creator/Showrunner/Executive Producer: Lee Sung Jin (Dave, Silicon Valley)
Star/Executive Producer: Steven Yeun (Minari, Nope, Burning) producing through his company Universal Remote
Star/Executive Producer: Ali Wong (Always Be My Maybe, Baby Cobra, Hard Knock Wife, Tuca & Bertie; Author of the New York Times bestseller "Dear Girls")
Executive Producer/Director: Jake Schreier
Starring: Steven Yeun (Danny) & Ali Wong (Amy), Joseph Lee (George), Young Mazino (Paul), David Choe (Isaac), Patti Yasutake (Fumi)
Recurring Cast: Maria Bello (Jordan Forster), Ashley Park (Naomi), Justin H. Min, Mia Serafino, Remy Holt (Junie)
Directors: Jake Schreier (102, 103, 106, 107, 108, 109), HIKARI (101, 104, 105), Lee Sung Jin (110)
Studio: A24
Synopsis:
BEEF follows the aftermath of a road rage incident between two strangers. Danny Cho (Steven Yeun), a failing contractor with a chip on his shoulder, goes head-to-head with Amy Lau (Ali Wong), a self-made entrepreneur with a picturesque life. The increasing stakes of their feud unravel their lives and relationships in this darkly comedic and deeply moving series
Could you use a Mindfulness Retreat? Which activities would you Let us know your thoughts about the series on social media!
KEEP READING: THE MOTHER REVIEW: JENNIFER LOPEZ GOES HUNTING FOR HER ESTRANGED CHILD IN ANOTHER FORGETTABLE ACTION-THRILLER