Uncharted star Tom Holland reveals that he would love to see a live-action adaptation of Jak and Dexter.
Sony Pictures' upcoming action-adventure film Uncharted is only one week away from its worldwide premiere. Based on the popular video game series created by Naughty Dog, Uncharted is looking to be one of this year's most exciting films. The film will star Tom Holland, who will play treasure hunter and adventurer Nathan Drake.
RELATED: AMERICAN BORN CHINESE ANNOUNCE 8 CAST MEMBERS FOR THE BOLD NEW DISNEY+ ORIGINAL SERIES
The movie will also star Mark Wahlberg, Sophia Ali, Tati Gabrielle, and Antonio Banderas. The release of Uncharted will mark the first time Holland stars in a film adaptation of a popular video game series. However, it looks like the Uncharted star wants to make more video game-related films. Holland revealed what video game series he hopes to get a film adaptation while promoting Uncharted in a recent interview.
Holland's Pitch For A Jak And Daxter Live-Action Film Adaptation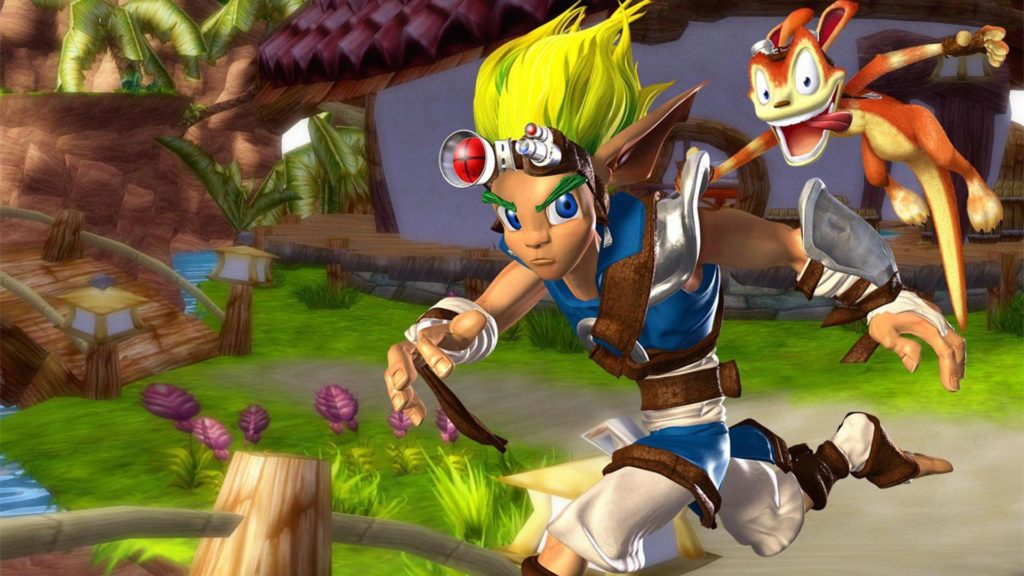 In a recent interview, Holland was asked what video game series he would like to get a live-action film adaptation. He gave a surprising answer and revealed that he wishes Jak and Daxter could get the live-action movie treatment. For those who don't know, Jak and Dexter is a video game franchise developed by Naughty Dog and owned by Sony Interactive Entertainment. The Jak and Daxter series are story-based platforming games that include other gameplay elements, such as a mixture of puzzle-solving, racing, and action.
During his press junket interview with GameSpot, Holland also shared that that he would love to star as Jak and would let A24 make the movie because he would like a potential live-action Jak and Dexter film to be dark and weird.
Holland explained that:
"I would like to make a Jak and Daxter movie, and I would play Jak,"… "But I would make it at A24, so it was really weird and like dark. I would do like a really weird, live-action version of Jak and Daxter."

GameSpot
Now it's probably not a coincidence that Holland wishes for a film adaptation of Jak and Daxter. It's because Naughty Dog developed both Jak and Daxter and Uncharted. Holland picking Jak and Dexter is also a surprise because the last mainline game of the series Jak 3 got released in 2004. Now the series did have some spin-offs and even remastered a collection, but other than that, nothing new. But hopefully, in the future, we will get a film adaptation of Jak and Dexter with Holland potentially as the lead star. Tickets for Uncharted are available now.
OFFICIAL UNCHARTED PLOT SYNOPSIS:
Street-smart thief Nathan Drake (Tom Holland) is recruited by seasoned treasure hunter Victor 'Sully' Sullivan (Mark Wahlberg) to recover a fortune lost by Ferdinand Magellan 500 years ago. What starts as a heist job for the duo becomes a globe-trotting, white-knuckle race to reach the prize before the ruthless Moncada (Antonio Banderas), who believes he and his family are the rightful heirs. If Nate and Sully can decipher the clues and solve one of the world's oldest mysteries, they stand to find $5 billion in treasure and perhaps even Nate's long-lost brother…but only if they can learn to work together.

Based on one of the best-selling, critically-acclaimed video game series, Uncharted introduces audiences to the young street-smart Nathan Drake (Tom Holland) and showcases his first treasure hunting adventure with wisecracking partner and mentor Victor "Sully" Sullivan (Mark Wahlberg). In this action-adventure epic that spans the globe, the duo are in dangerous pursuit of "the greatest treasure never found" while also tracking clues that may lead to Nathan's long-lost brother.

Uncharted is scheduled to premiere on February 11th, 2022 in the United Kingdom and February 18th, 2022 in the United States and Worldwide. Uncharted stars Tom Holland, Mark Wahlberg, Antonio Banderas, Sophia Ali, and Tati Gabrielle. The film will be produced by Rafe Judkins, Art Marcum, and Matt Holloway. The film will also be produced by Charles Roven, Avi Arad, and Alex Gartner. The screenplay is by Rafe Judkins, Art Marcum, and Matt Halloway. Cinematography by Chung-Hoon Chung. Editing by Richard Pearson. The film will be directed by Richard Pearson. Distribution by Sony Pictures.
What would you like to see in a live-action film adaptation for Jak and Daxter? What is your favorite Jak and Daxter game? Can you see Tom Holland as Jak? Let us know what you think in the comments below or let us know on Twitter.
KEEP READING: NATIONAL TREASURE OFFICIALLY CASTS CATHERINE ZETA-JONES IN DISNEY+ SERIES
Source: GameSpot