Obi-Wan Kenobi is one of the most highly anticipated new Star Wars series coming to Disney Plus. It promises to bring fan favorite Ewan McGregor back for a new adventure set during a time that has yet to be fully explored on screen. Obi-Wan Kenobi is set about a decade after Revenge Of The Sith, but years before the animated series Star Wars: Rebels.
RELATED: STAR WARS REBELS' KEVIN MCKIDD WANTS TO REPRISE MENACING ROLE AS FENN RAU IN SEASON 3 OF THE MANDALORIAN
Fans are eagerly awaiting the new series especially with Hayden Christensen returning and the promise of "the rematch of the century." There have also been rumors of Inquisitors, force wielders who serve the Empire under Darth Vader, making the jump from animation to live-action in the new series. Now, it seems another character will be making their return in Obi-Wan Kenobi.
OBI-WAN KENOBI BRINGS JIMMY SMITS BACK TO A GALAXY FAR, FAR AWAY
Making Star Wars has reported that Jimmy Smits will be reprising his role as Bail Organa a member of the Galactic Senate, leader in the Rebel Alliance, and adoptive father of Leia Organa. Smits has previously played Bail Organa in Attack Of The Clones, Revenge Of The Jedi, and Rogue One. Making Star Wars has also reported that Bail Organa's wife Queen Breha Organa will appear in the series, although it is unclear whether or not Rebecca Jackson Mendoza will return.
RELATED: OBI-WAN KENOBI: RUPERT FRIEND REPORTEDLY PLAYING THE VILLAINOUS GRAND INQUISITOR IN NEW STAR WARS SERIES
Bail Organa is an integral part of the Skywalker saga and the Skywalkers themselves. He was a trusted ally of Padme Amidala, with their relationship being further fleshed out in Star Wars: The Clone Wars and one of the few to know about her children's survival, adopting her daughter Leia. Organa also proved himself to be an important ally for Obi-Wan Kenobi and Yoda helping both to safety and keeping their secrets.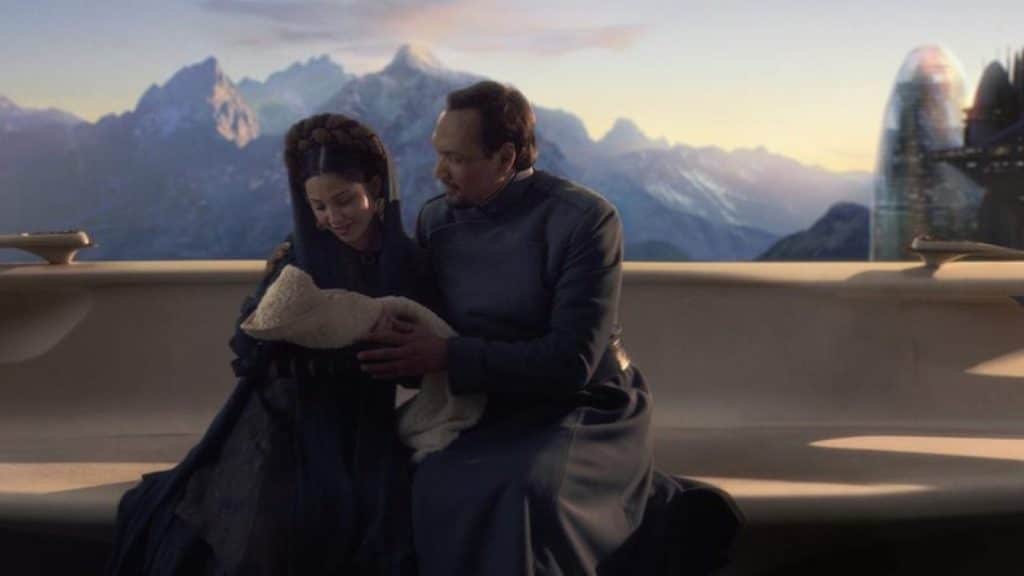 He was an important part of the Rebel Alliance, as shown in both Star Wars: Rebels and Rogue One, already growing suspicious of Palpatine even before he made his true intentions known. It will be exciting to see Smits bring the character to life on screen again as audiences hopefully learn more about Organa, Alderaan, and potentially Leia's childhood. How he plays into Obi-Wan Kenobi is still a mystery, although if he and Queen Breha Organa appear it seems likely that this will be connected to Leia in some way.
Last year Cinelinx reported that Vivien Lyra Blair had been cast as a young Leia Organa with the young princess being an important part of the upcoming series. If Cinelinx and Making Star Wars reports prove to be true it would appear the entire Organa family will be a part of the new series. This could give fans their first glimpse into Leia's life with her adoptive parents on Alderaan, something that has never before been explored on screen.
RELATED: OBI-WAN KENOBI: INTRIGUING NEW DETAILS ABOUT DARTH VADER FLASHBACKS AND PREMIERE RELEASE DATE UNCOVERED
Obi-Wan Kenobi could potentially connect the prequel era and the original trilogy era in a way that no other series truly has at this point. Obi-Wan's time in hiding is still largely a mystery and many fans are hoping that the new series will finally offer some answers. With Obi-Wan Kenobi on Tatooine, keeping a close eye on Luke and staying off the Empire's radar, it will be exciting to see what draws him into a new adventure and how Bail Organa and Darth Vader play into it.
Obi-Wan Kenobi premieres on Disney Plus May 25, 2022. Are you excited to see Bail Organa again? Do you want to see more of Alderaan? How do you think Bail Organa will play into Obi-Wan Kenobi's story? Leave your thoughts in the comments below or on our social media and check back with The Illuminerdi for more Star Wars and Obi-Wan Kenobi.
Source: Making Star Wars
KEEP READING: NEW CASTING DETAILS ABOUT MYSTERY STAR WARS DISNEY PLUS SERIES: EXCLUSIVE