To start Episode 12, Chrissy is understandably upset that Ben turned on Croc by voting him out the night before. She vows that she will get revenge and avenge Croc. At the red tribe, Mark finds an idol from a clue that he found at a previous reward challenge. He planned to keep it to himself, however, Jordie reveals that he saw him find the clue, so Mark ropes him in.
At the immunity challenge, it is revealed that it will be the first individual immunity challenge and that both tribes will be voting someone out. For the blue tribe, it comes down to Khahn and Sam who strike a deal for Khahn to give Sam the idol if Khanh wins. Khahn does win and holds his end of the bargain. A scary moment happens after Sam steps down when she passes out and has medics rush to her attention. Thankfully she was able to recover and continue in the game. For the red tribe, it was between Jordie and Shay. Shay ends up winning which is good for her as she was more than likely going to be the next target.
RELATED: AUSTRALIAN SURVIVOR: BLOOD V WATER EPISODE 7 – SWITCHING THINGS UP
At the blue tribe, Chrissy strikes up a plan with Sam, Jesse, and Khahn to take out Ben. Meanwhile Ben wants to split the votes between Chrissy and Khahn to flush Khahn's idol and send Chrissy home. Meanwhile, on the red tribe, the boys decided to split the votes between Mel and KJ with the majority going on Mel.
At Tribal Council, the red tribe is successful in voting out Mel while the blue tribe goes with Chrissy's plan to vote out Ben. However, Jonathan reveals that there will be a fire-making challenge between the two, and one of them will make it back into the game. It was a close battle, however, Mel is victorious making Ben the 11th person eliminated.
EPISODES 10-12 HIGHLIGHT PLAYERS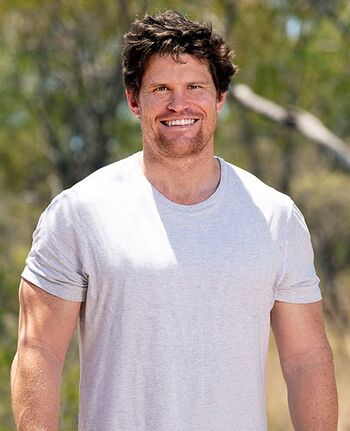 In this section of the review, we will take a chance to take a look at some of the highlight players in this week's episodes of Australian Survivor. Those players are Mark, Ben, Chrissy, and Jesse.
Starting with Mark, it was nice to finally see him find a hidden immunity idol after the edit seemed to have been teasing it for a while. It's a shame that Jordie saw him find it as Mark probably could have done some massive damage if it was just kept between himself and Sam. I think he handled the situation fairly well, however. At the moment it doesn't seem like Jordie wants to start targeting him.
RELATED: SURVIVOR 42 CAST REVEALED
Next is Ben, and while his move to take out Croc may have looked like a dumb move, I actually thought it was fairly smart. Yes, Croc was trying to save him, but Jesse's alliance was going to have the numbers to take out Ben anyway. Especially since Chrissy ended up flipping. While he was voted out the next episode, it gave him some more time to at least attempt to get himself into a better place on the tribe.
Chrissy came back with a vengeance after Croc was voted off and proved to be a force to be reckoned with. She has been playing a really strong social game up until this point and I think that really helped her with the Ben vote. It will be interesting to see how her gameplay shifts as they move into the merge.
Lastly is the star of this week's episodes, Jesse. Jesse came out of nowhere this week and pretty much took over the blue tribe. He was the one who orchestrated the first Ben blindside and was also involved with the Croc blindside and the second Ben blindside. Now that he will be reunited with his brother, who has also proved to be a decent player, they may become an unstoppable force.
Final Thoughts on Australian Survivor: Blood V Water Episodes 10-12

Overall these were three decent episodes of Australian Survivor. While some of the gameplay was questionable at times, there was also a bunch of pieces of masterful gameplay by the other contestants that was able to balance it out. Next week is the merge, so that means things can only ramp up from here!
What are your thoughts on these episodes of Australian Survivor: Blood V Water? Let us know in the comments below! Also, be sure to follow The Illuminerdi on social media to be notified of more Survivor content like this in the future!
KEEP READING: 4 THINGS SURVIVOR FANS CAN LOOK FORWARD TO IN 2022