The Avengers and Justice League are meeting once again in the re-release of JLA/Avengers.
Words are colliding again in the comics. Many times, readers have seen their favorite heroes, heroines and characters taking an adventure to a new world that is completely different from theirs. DC comics have had quite a history of crossing dimensions, of course, one famous storyline is "Crisis on Infinite Earths," where all the heroes of DC must come together and defeat a giant villain.
Another big crossover that comic fans were hyped and excited to see was the crossover of DC Comics and Marvel Comics. The two publishing houses brought their heroes together in different crossover scenarios such as The Amazing Spider-Man and Superman meeting up to stop Doctor Octopus and Lex Luthor or when The Batman had to deal with The Incredible Hulk.
DC is Re-Releasing JLA/AVENGERS
Now DC is set to re-release the crossover JLA/Avengers which was written by Kurt Busiek and art from legendary comic artist, George Pérez. The news of the new release comes after the sad news of Pérez was diagnosed with stage III pancreatic cancer. Pérez has done amazing work in comics like The New Teen Titans, Crisis on Infinite Earths and Marvel's Infinity Gauntlet. The story will have some amazing moments like Batman face off with Captain America, Speedsters Flash and Quicksilver racing one another and many more.
RELATED: The Last Ronin NECA Figures Unveiled at Toy Fair 2022
The new release of JLA/Avengers, which will only sell seven thousand copies, is honored by Hero Initiative which helps comic creators who may need a aid dealing with medical issues or financial issues. Pérez is a founding part of this safety net as well. The comic will also reprint the introductions written by Stan Lee and Julius Schwartz, who were both respectively the editors working on both teams at the time. The new edition will also have Kurt Busiek provide an afterward as well.
JLA/Avengers will be an excellent read for all comic book lovers of both houses and will no doubt continue the legacies for both DC and Marvel. The comic will be release to comic book shops in March for a price tag of $29.99.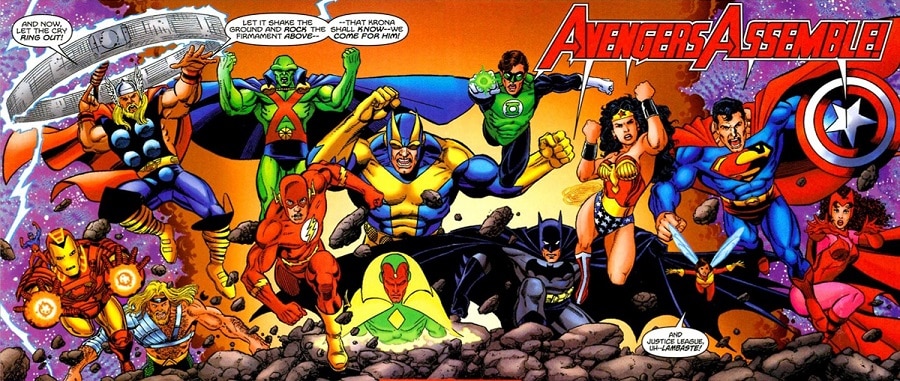 What heroes are you looking to see team or battle it out in this comic? Is there another crossover comic you want to see re-release? Make sure you comment below and on our social media channels and stay subscribed to The Illuminerdi for more news and content.
Source: Comic Book Movie
KEEP READING: Rogue Sun #1 Review: Ryan Parrott's New Superhero Series Opens With Explosive Flare