Wrestling star Samoa Joe voiced his thoughts on current NXT 2.0 wrestlers and one he wished he had been able to work with.
Samoa Joe was recently a guest on Busted Open Radio and talked about his experiences with the young talent while at the Performance Center.
"Being in the PC [Performance Center] at the time with a lot of young talent, working with guys who are there now," Joe said. "I want to put over a few NXT talent here, I think The Creed Brothers are going to be amazing. I think you know, Solo Sikoa. He has the family behind him, I think he's going to be an amazing cat. I could go on and on."

– H/T To Wrestling Inc. For Transcription –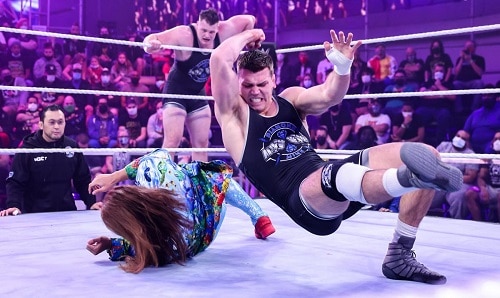 A Hard Hitting Team And A Royal Wrestling Family
The Creed Brothers have shown NXT their dominant style with suplexes and lariats and are a team to look out for. They have also drawn comparisons to popular '80 and '90s teams like Road Warriors and the Steiner Brothers.
The family Samoa Joe is referring to with Solo Sikoa is the Anoa'i family. This family consists of big names like The Rock and Rikishi. It also includes his cousins and current champions, Roman Reigns and The Usos. Be on the lookout for him to join them on the main roster some time in the future.
Samoa Joe was surprisingly released from WWE in January which marked the second time he was released in less than a year's time. He had last wrestled in NXT in August 2021, but suffered an injury during the match. The rebranded NXT 2.0 debuted the next month. Therefore we unfortunately didn't get to see great feuds between Joe and some of the great young talents.
RELATED: SHAWN MICHAELS REVEALS WHO FROM NXT 2.0 HAS IMPRESSED HIM
Joe called out a young star who has taken over the NXT 2.0 show and a lot of veteran wrestlers like Shawn Michaels have given a lot of praise to. The one wrestler Samoa Joe wished he could have been able to wrestle was Bron Breakker.
"I think the world of a lot of the NXT 2.0 talent over there, I think young Bron Breakker is going to be amazing. I was disappointed I didn't get to work with him a little bit more before he's going to make his eventual rise to the top. Because, once again, it's in the genes, and he knows what's up."
Breakker Breaking Opponents Just Like Dad
Breakker is a descendant of one of those hard hitting tag teams I mentioned earlier. He is the son of Rick Steiner and nephew of Scott Steiner of the Steiner Brothers. He is also the current NXT champion.
Samoa Joe and Breakker both have a hard-hitting style which would have led to a brutal feud. Joe is a little more technical with his locks and holds as compared to Breakker's power suplexes. It would have been interesting to see which style would have had the upper hand.
RELATED: VINCE MCMAHON HAS BIG PLANS FOR CODY RHODES IN WWE AFTER LEAVING AEW
Samoa Joe made it clear that his future still includes wrestling and isn't looking at retirement yet:
"For my future, we are training, we are ready," Joe said. "Honestly, I am not on paper with anybody anywhere. We haven't signed anything, we are just kind of exploring our options. I am taking a little time personally just to be with the family and sure up some things home side."
Joe is still in his 90-day non-compete period so we won't see him in any promotion anytime soon. His non-compete ends early next month so keep your eyes open for Joe in April and the months to follow.
Samoa Joe has wrestled previously in IMPACT and made his name there. Do you think he will return there? Does AEW need someone like him on their roster especially after losing Cody Rhodes? Do you think Joe will get re-signed to WWE yet again? Let us know in the comments and on social media who else on NXT 2.0 you would have liked to see Joe wrestle.
KEEP READING: DETAILS ON AJ STYLES' NEW WWE CONTRACT REVEALED
Sources: Wrestling Inc., Busted Open Radio