The tribes merge in this week's episodes Australian Survivor! Warning, this article will contain spoilers for Australian Survivor: Blood V Water Episodes 13-14, so if you have not yet seen these episodes, you have been warned.
To start the episode, the tribes reflect on the craziness that was last night's Tribal Council. They then go to the reward challenge where it is revealed that the two tribes will finally merge, making one tribe. They go on to do the reward challenge where it is a cash prize totaling over $60,000. Khahn wins the challenge and the new tribe proceeds to go to their merge feast.
Back at camp family members reunite and new tribe members meet for the first time. Jordie talks to Sam about Mark and accidentally reveals to her that Mark has an idol before he decided to tell her. Sam was understandably upset about this, confronting Mark about the issue. He says that he was planning to tell her, but didn't get the chance.
At the immunity challenge, Jesse wins after a valiant effort from KJ, making him immune at tonight's tribal council. Back at camp the boys alliance wants to get out Khahn because of his idol and massive social game. Athlthough Sam wants to take out Shay because she is a massive physical threat. Mark and Sam have disagreement on who to vote out and Sam feels like she isn't being listed to. Khahn is one of her strongest allies so it wouldn't make sense for her to send her home.
Ultimatly, Sam oblidges with Mark and the boy's plan to take out Khahn in a 7-4-2 vote. He was voted out with an idol in his pocket and made the first member of the jury.
To start episode 14 the tribe reflects on losing Khahn at last night's Tribal Council. Sam is still upset that Shay didn't go home, however she hopes that things will calm down with her and Mark now that this vote is done.
RELATED: AUSTRALIAN SURVIVOR BLOOD V WATER EPISODES 10-12 REVIEW: THE MERGE IS NEAR
At the immunity challenge Shay wins, as predicted by Sam, making her immune at the next Tribal Council. Sam tells Mark that she wants Josh to go home as he is the leader of the boys alliance. Mark tells her that he doesn't want him to go yet as he is a good meat shield for him. The boys alliance decided that they want to split the votes between Mel and Michele with most of the votes going on Mel.
Mel and Michele gather the girls in an attempt to create an all girls alliance to take out Josh. However, the girls decide it's too risky and Mel becomes the second member of the jury in a 6-4-1-1 vote.
EPISODES 13-14 HIGHLIGHT PLAYERS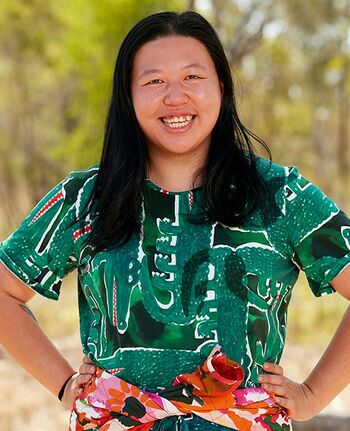 In this section of the review, we will take a chance to take a look at some of the highlight players in this week's episodes of Australian Survivor. Those players are Mel, Mark, and Sam.
Starting with Mel, she made a valiant effort to stay, however, she just did;=n't have the numbers to pull it off. These two episodes are really the first time that we really here anything from Mel so it's a shame that she goes home just as she was starting to get screentime. Hopefully the women will be able to pull something off next week to stop the boys alliance or else they will be picked off one by one.
Next is Mark and Sam and while they seem to be playing opposite games from each other, they both are playing their own games and want to do what's best for themselves. Unfortunetly what is best for one isn't nessisarily best for the other. It will be interesting to see who will prevail in the end as the edit seems to be making it fairly clear that either Mark or Sam will be the winner of this season.
FINAL THOUGHTS ON AUSTRALIAN SURVIVOR: BLOOD V WATER EPISODES 13-14

Overall, these episodes were fairly frustrating. Mark seem to be completely ignoring the wishes Sam while she does everything he wants to keep the boy alliance in tact. While I don't expect for Mark to throw his game it is odd to see him almost ridicule Sam for wanting to do something other than his plan. Hopefully the two can come to some sort of agreement in the following episodes.
What are your thoughts on these episodes of Australian Survivor: Blood V Water? Let us know in the comments below! Also, be sure to follow The Illuminerdi on social media to be notified of more Survivor content like this in the future!
KEEP READING: SURVIVOR 42 CAST REVEALED