Radiant Red #1 is the first installment in a new miniseries from the creative team of Cherish Chen, David LaFuente & Miguel Muerto, spinning out of the Radiant Black universe. 
Now, before getting into this review, I should make it clear that I am only loosely familiar with the Radiant Black main comic book series, and the expanded universe of comics in general. To the best of my understanding, this interconnected franchise of Image comics includes Rogue Sun, Radiant Black and Radiant Red. There may be dozens more, and I may be confused on the placement of Rogue Sun within this greater universe. Journalistic integrity and transparency doesn't get much better than that, does it?
RELATED: BLOODY ORANGES REVIEW: BIZARRE CONCOCTION HAS DARK ENDINGS
Now on with the review!
RADIANT RED #1 REVIEW: FOLLOW US DOWN THE RADIANT BLACK RABBITHOLE
Now, before I continue to dig myself into a deeper hole by convincing you, the reader, that I, the journalist, know very little about the subject matter which I am discussing, let me clear two things up. The first is that this is a first issue comic book, and in my opinion, if a big "#1" is printed on the cover, that story should be accessible to anyone who picks it up.
The second is that having now read the first issues of Radiant Black, Radiant Red, & Rogue Sun, I am absolutely invested in this universe. The next step in my journey with this franchise is to dive into the back issues as to fully and totally understand the incredible stories unfolding before me, in all of their nuance and connection. 
All of that being said, I did not feel as though there was a single thing I missed while reading Radiant Red #1 as a result of not being caught up on the latest issues of Radiant Black. This is a simple story, elegantly told by Cherish Chen, and beautifully illustrated by Miguel Muerto and David Lafuente. Satomi is a Japanese-American middle school teacher by day, and an occasional matter-absorbing supervillain (sometimes hero, maybe?) known as "Radiant Red".
RADIANT RED: A SUPERHERO HEIST STORY FOR THE AGES IS IN THE MAKING
In her past, she robbed a number of banks, but now neither she nor her husband can touch the millions of unclean, stolen money within the walls of their homes. It's not totally clear what would drive her to rob banks right now, other than her own admission of "I did it to help us, because things we're really hard…". What affliction Satomi and her partner were going through at the time is unclear, but the threads of the past are certain to be unraveled in the remaining four issues of this gorgeous miniseries.
The primary conflict of this story is not a robbery (though it does feature some wonderfully paneled scenes of exactly that, don't fret), but an unknown criminal blackmailing Radiant Red/Satomi into doing a job. The conversation she has with this thug leaves us with more questions than answers, but when the questions are this juicy, it's hard to complain. I don't want to spoil to much of this miniseries, so I'll leave you with this quick thought.
DON'T MISS OUT ON THE NEW RADIANT RED MINISERIES!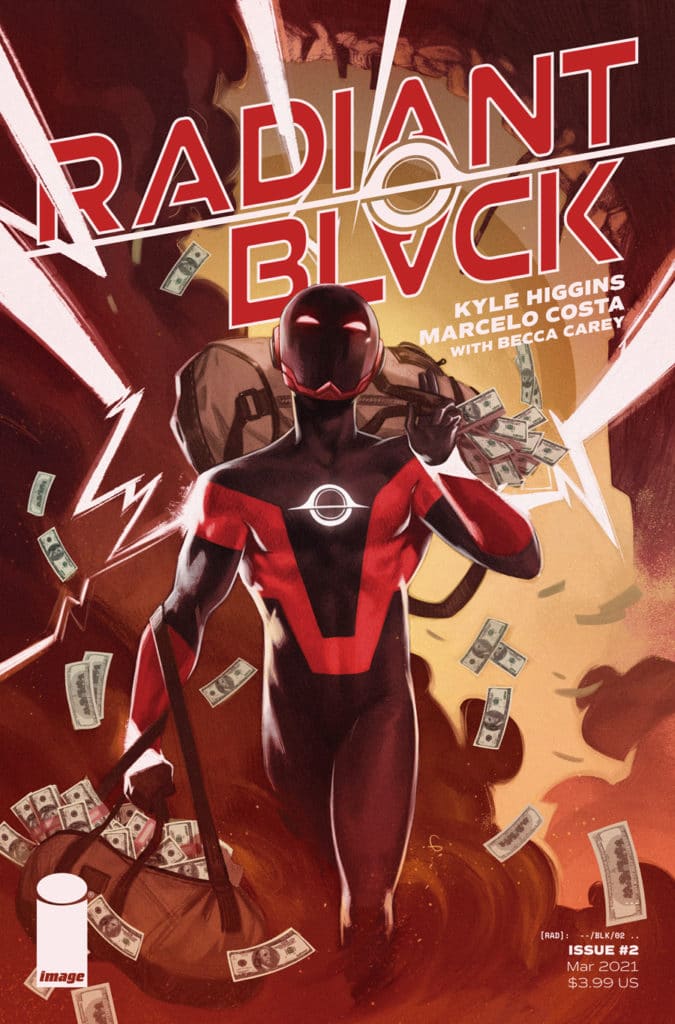 Enter Radiant Red, a new comic book, set within a greater universe (a-la Marvel or DC), starring a Japanese-American bank robbing superhuman school teacher, who's just been blackmailed into returning to her life of crime. If that doesn't sound like one hell of a story to you, there's not much my review can do for you. 
Radiant Red #1 is available digitally and at your local comic book shop today. Radiant Red #2 hits shelves on April 6, 2022. Let us know what you think of Radiant Red #1 in the comments below, or on our social media!
KEEP READING: PACHINKO REVIEW: BELOVED STORY TOLD BEAUTIFULLY AND WITH APLOMB