In our recent interview, Carmella shared a very important aspect of appearing on television as oneself.
I was like, 'Okay, I'm going to give this another chance. I promise I can be more myself'. That's when we opened up about our relationship and really got to be a little bit more of myself. But even still, it didn't feel really true, authentic Carmella, who I am.
That's WWE Superstar Carmella. She's currently in a program as one half of the women's tag team champions. She's come a long way from the fabled WWE women's revolution we experienced a few years ago. Back then before the revolution the women's division was seen as something of just a ratings grab. Most would say that women are simply on a wrestling card to look good and gain ratings.
RELATED: UNDERTAKER BELIEVES VINCE PRANKING HIM DURING HOF CEREMONY IS A REAL POSSIBILITY
It was the consensus concerning Carmella back during the pre-revolution days. But things started to change when WWE Divas come into existence. Diva's was indeed a reality show but it gave a certain insight to the female superstars. While we got to sit down with the couple of the new youtube series, Cory & Carmella. We got to peer into their view of reality tv and see where they see it now vs what it was when they were first introduced to it with Total Divas.
WWE's Carmella Explains What Total Divas Taught Her For Corey & Carmella
Check out our interview with Carmella and Corey below!
The Illuminerdi: On that podcast we can sometimes even forget you guys are WWE superstars because it's just regular relationship problems, which again, we applaud you guys for. Carmella you're a reality show vet with two seasons of Total Divas under your belt. What did you learn from that experience that helped you prepare for Corey and Carmella?
Carmella: "When I go back and watch Total Divas, especially, I think it was season seven, my first season on, I did not know how to act, I didn't know what to do; I was so worried about people not liking me, so I was just really playing it safe. I watched that back, I'm like, "who is that person?" I have no idea. That's the reason why I was not back on season eight, because I didn't bring it in season seven because I was just playing it safe."
Returning back to reality TV in this way can make it tough and be approached with some level of fear. Some individuals wonder what can they do differently, to be received in a better light. That type of thinking can force people to present themselves in an inflated view and make them be disingenuous and over the top. But not Carmella.
"I was like, 'okay, I'm going to give this another chance. I promise I can be more myself'. That's when we opened up about our relationship and really got to be a little bit more of myself. But even still, it didn't feel really true, authentic Carmella, who I am."
Carmella wanted to present her shared life in an unfettered version of themselves. With their podcast they address relationship issues that actual people experience they don't sugar coat the answers but are able to address people without the stress and worry of what is considered "best practice" or even practice and standards. They get to help people by being honest and true to their fans. Whether they be watchers of the reality show or listeners of the podcast.
"I really wanted to make sure that I didn't do that when we were doing Corey and Carmella. I wanted to just lay it all out there, be who we are, and not apologize for it and not care if people like me or they hate me, whatever, this is who I am and if you don't like it, that's okay, but I'm still going to be me. I'm not going to change who I am because you don't like how I act. And so I really think that comes across on our show because we are just truly ourselves."
Laying it out there is exactly what they do; they speak on many issues. Some personal that are not know to the public, and others that may be widespread. Namely because of what they freely discuss on the podcast.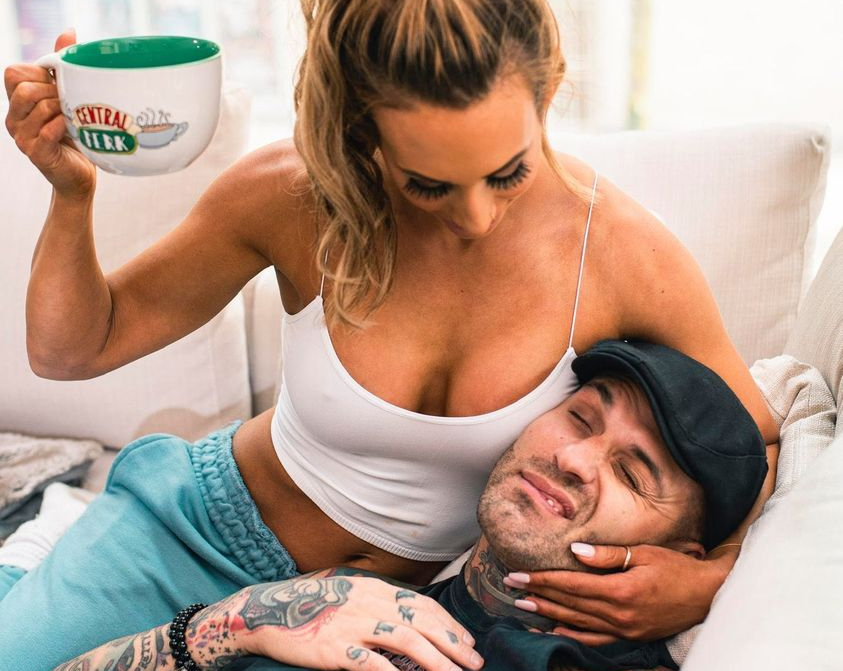 Corey Graves' struggle with sex in the pandemic is what lead to 'Bare With Us' Podcast.
The Illuminerdi: Corey, you guys shot this in 2020, it's almost like a snapshot of your guys' life in the pandemic. Carmella, much like myself, you enjoy your alone time. In the pandemic when we were so trapped with our significant other. Between patience, communication, and sex, which is something you guys talk about a lot on your podcast, which is the one that you guys struggled with the most during the pandemic,
Corey Graves: "The sex, I think that's how Bare With Us came to be. Because on one of our Instagram lives one morning, I admitted to just not exactly having any sort of drive at that instance, which she took offense to at the moment. Understandably so, but it was nothing personal. It was truly like, 'it's not you it's me'. I was locked up. I used the comparison of a panda bear, that are notoriously difficult to breed because pandas only breed once in a blue moon when they're into it.
I made that joke and social media caught fire. Next thing I know it's in the New York Post, and that was kind of when we went, we might be onto something here. Me putting my foot in my mouth, which, if you listen to the podcast, know is a recurring theme, that showed 'hey, maybe we have something fun here we can share with people'. And it's been off and running ever since."
It's the reality that is brought forth and presented with honesty that makes their relationship so fascinating. It is what makes 388K+ fans tune into the youtube show or the 889k+ downloads they receive on the podcast. They've figured out the formula to being interesting and that is being genuine. Having a want to share and help as much as they can.
You can listen to "Bare with Us" anywhere you listen to podcasts and watch "Corey & Carmella" on youtube with new episodes every Monday on the WWE youtube channel.
KEEP READING: WILLIAM REGAL REVEALS HOW HE WAS SAVED FROM TWO LIFE-THREATING ILLNESSES