We all know our favorite Wookiee, Chewbacca, like the back of our hand by now. But did you know he was originally inspired not by the Sasquatch, but by a rather different creature? George Lucas' Alaskan Malamute named Indiana, AKA the mutt behind Indiana Jones as well.
Despite this more canine connection, fans and experts alike have not been able to help tying Chewbacca to Big Foot and his ilk. One such expert is Haden Blackman, writer and "The Force Unleashed" project leader, who wrote a short comic in 2004 called Into The Great Unknown that merged the Star Wars and Indiana Jones universes into an origin story for Bigfoot in the form of Chewbacca.
RELATED: OBI-WAN KENOBI DIRECTOR REVEALS DARTH VADER'S INTRIGUING DEVELOPMENT IN UPCOMING STAR WARS SERIES
Without a doubt, he has always been one of the most striking characters everyone noticed. He resembled a mix between a huge bear and a very shaggy dog, walking on two legs. We know he loves to speak with his howls and grunts but he always had shiny eyes that could light up a room. No wonder he has remained in the collective consciousness ever since Star Wars first premiered.
Chewbacca's Reality and Bigfoot's Legend Combine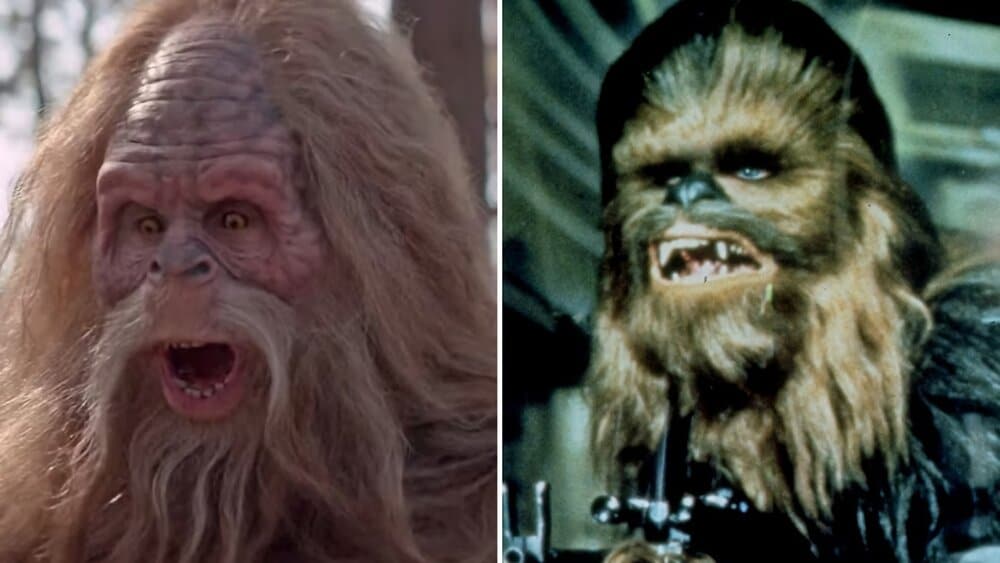 Throughout Into The Great Unknown, Blackman shows us the Millennium Falcon crashing down on the planet Earth, and Chewy was stranded roaming the forests by himself. Previously, we know that Solo was tragically killed by the indigenous people cause Chewbacca to be stranded. Eventually, a certain professor arrived on the scene of where the ruins of the Falcon and bones of Solo were discovered. It seems like a sad origin story compared to Bigfoot.
And Bigfoot is where it all leads back to, because Peter Mayhew the Chewbacca actor had plenty of company when they were filming Return of the Jedi precisely due to Chewbacca's resemblance to him. Imagine walking in the forest and seeing Mayhew in fill costume. You'd be scared to death but luckily Mayhew had a couple guys in brightly colored vests following him around so he wouldn't get mistaken for Bigfoot.
We will miss Peter Mayhew in his part as Chewbacca due to his passing on 2019. We thank him for braving the possibility of hunters and maybe some animals could have attacked him! Fans still love this beloved monster as if he was an actual human.
As longtime costar and friend Harrison Ford said of the legendary actor, "He knew how important fans of the franchise were to its continued success and he was devoted to them, I and millions of others will never forget Peter and what he gave us all." And we won't forget either, that's for sure.
RELATED: GODZILLA VS KONG 2 STARTING PRODUCTION IN AUSTRALIA LATER THIS YEAR
Back in 2019, fans were re-sharing a behind the scenes moment of Mayhew on set with Harrison Ford where he says one of Chewy's lines "That old man's mad," in English. The clip came from the documentary. "Star Wars: Deleted Magic," by a fan named Garret Gilchrist. He gather together clips and deleted scenes with making-of footage from the original trilogy. Fans pointed how they never realized they had to add context when they talked to Chewy because of they wanted those interactions with his fellow characters to work.
What would be your reaction to someone trying to attack you for being a scary manlike creature? What is your favorite scene with Chewbacca? Let us know in the comments below or on our social media!
KEEP READING: MOON KNIGHT REVIEW: AN EXCITING TAKE ON A NEW KIND OF MARVEL SUPERHERO
Source: SlashFilm