Sony Pictures has announced the premiere dates of the digital and physical copies of their adventure film Uncharted.
Tom Holland's Nathan Drake will finally be available in the comfort of your living room! Or, of course, your tablet, laptop, or phone. Sony Pictures announced that the digital Copy of Uncharted will premiere on April 26. Then, the physical 4K Ultra HD, Blu-Ray, and DVD copies will release on May 10. 
RELATED: MARGARET CHO JOINS DISNEY+'S TEEN ROM-COM MOVIE "PROM PACT"
Based on the popular video game series created by Naughty Dog, Uncharted was a box office success. The movie has currently grossed more than 133 million dollars. While its performance overseas garnered around 223 million. With the domestic and overseas grossing combined, the current box office total of Uncharted to $357 million worldwide. The film also received positive reviews from fans and audiences, with Holland's performance as Drake in particular praised. 
Uncharted Waters In Your Own Home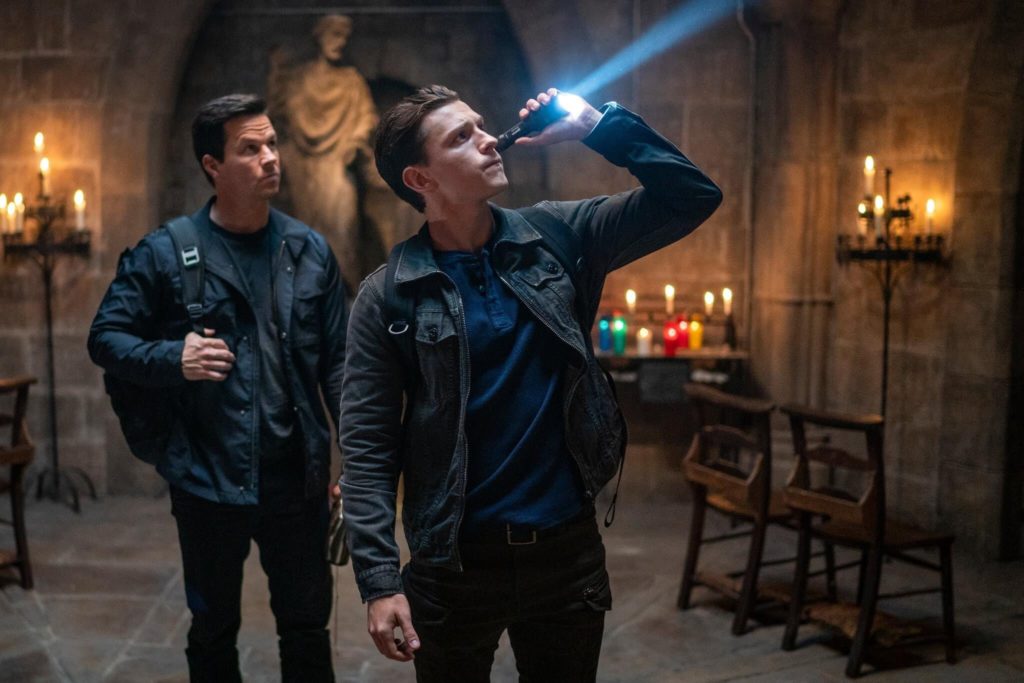 Uncharted focuses on a young Nathan Drake who is recruited by veteran treasure hunter Victor "Sully" Sullivan. Joining them is another young treasure hunter Chloe Frazer. Their goal is to find the lost treasure of explorer Ferdinand Magellan. But a relentless collector and his treacherous mercenaries also want to find Magellan's lost treasure. This means the trio of Nathan, Sully, and Chloe globe-trot to find the treasure first.
However, Drake finding the treasure, also potentially finds his long-lost brother Sam, who was also searching for the mentioned treasure. Fans can soon relieve the film's memorable moments in the comfort of their homes or devices. 
 Uncharted Comes To The Comfort Of Your Hands
When the physical and digital copies of Uncharted releasing, fans can re-watch the film's memorable moments repeatedly. The Digital, 4K Ultra HD, and Blu-ray versions of the film will include an hour of special features. Those special features include behind-the-scenes footage, deleted scenes, director commentary, etc. One of those notable features is Tom Holland's preparation for becoming Nathan Drake. 
RELATED: OBI-WAN KENOBI DIRECTOR REVEALS DARTH VADER'S INTRIGUING DEVELOPMENT IN UPCOMING STAR WARS SERIES
As a massive fan of the Uncharted franchise, I am very excited to have a physical Blu-Ray or 4K Ultra Copy of this film. I loved the Uncharted movie, and Holland's performance as Nathan Drake was superb. Yes, I know the digital version will release early and have special features. But I prefer having a physical copy because I am an avid movie collector and can even say old-fashioned. Also, either the Blu-Ray or 4K Copy will look nice next to my Uncharted video games.
Official Uncharted Digital 4K Ultra HD, Blu-Ray, and DVD Press Release
STARRING TOM HOLLAND AND MARK WAHLBERG
EXPERIENCE THE EPIC FUN ADVENTURE
AVAILABLE ON DIGITAL APRIL 26
ON 4K ULTRA HD™, BLU-RAY™ and DVD MAY 10
DISCOVER AN HOUR OF BONUS FEATURES, INCLUDING DELETED AND EXTENDED SCENES, MAKING OF THE AMAZING ACTION, DIRECTOR AUDIO COMMENTARY, PLUS MORE WITH THE CAST.
BONUS MATERIALS
4K ULTRA HD, BLU-RAY and DIGITAL
Deleted and Extended Scenes
Behind the Scenes Featurettes

Becoming Nathan Drake
Big Action Breakdown: C-17 Globemaster
Charting the Course: On Set with Ruben Fleischer
Never a Dull Moment: Stunts & Action
The Buddy System
Villains, Backstabbers & Accomplices

Commentary with Director Ruben Fleischer
DVD
SPECS
Run Time: Approx. 116 mins.
Rating: PG-13 for violence/action and language
4K Ultra HD™: 2160p Ultra High Definition 2.39:1 | Audio: English Dolby Atmos (Dolby TrueHD 7.1 compatible) / French 5.1 DTS-HD MA, Spanish, English Audio Description 5.1 Dolby Digital
Blu-ray™: 1080p High Definition 2.39:1 | Audio: English, French 5.1 DTS-HD MA, Spanish, English – Audio Description Track 5.1 Dolby Digital
DVD: 2.39:1 Anamorphic Widescreen | Audio: English, French, Spanish, English Audio Description 5.1 Dolby Digital
About Uncharted
Synopsis: Street-smart thief Nathan Drake (Tom Holland) is recruited by seasoned treasure hunter Victor "Sully" Sullivan (Mark Wahlberg) to recover a fortune lost by Ferdinand Magellan 500 years ago. What starts as a heist job for the duo becomes a globe-trotting, white-knuckle race to reach the prize before the ruthless Moncada (Antonio Banderas), who believes he and his family are the rightful heirs. If Nate and Sully can decipher the clues and solve one of the world's oldest mysteries, they stand to find $5 billion in treasure and perhaps even Nate's long-lost brother…but only if they can learn to work together.
Directed By: Ruben Fleischer
Produced By: Charles Roven, Avi Arad, Alex Gartner, Ari Arad
Screenplay By: Rafe Lee Judkins and Art Marcum & Matt Holloway
Executive Producers: Ruben Fleischer, Robert J. Dohrmann, David Bernad, Tom Holland, Asad Qizilbash, Carter Swan, Neil Druckmann, Evan Wells, Art Marcum, Matt Holloway
Cast: Tom Holland, Mark Wahlberg, Sophia Ali, Tati Gabrielle, Antonio Banderas
Will you purchase a digital or physical copy of Uncharted? Did you enjoy the film? Were you a fan of the Uncharted video games?  Let us know what you think in the comments below, or let us know on Twitter.
KEEP READING: MOON KNIGHT REVIEW: AN EXCITING TAKE ON A NEW KIND OF MARVEL SUPERHERO
Source: Sony Pictures