Whether you like it or not, Attack on Titan is nearing its explosive conclusion. The Rumbling has begun, tensions are at an all time high, and people are divided on whether they're a Yeagerists or not.
Crunchyroll has released a special new trailer to prepare for the Attack on Titan finale this coming Sunday, April 3, 2022 and it already has audiences jumping with joy.
RELATED: HOUSE OF THE DRAGON: HBO ANNOUNCES PREMIERE DATE FOR NEW EPIC FANTASY SERIES
Attack on Titan (Shingeki No Kyoujin) has really been dominating in the weeb community for years, and we are finally at the end (so to speak…). Naturally, there are many emotions to go around. For people like myself who have been there since the beginning, it's truly a bittersweet time. I know what you're thinking: it's just an anime series. You're right, of course, but there's something about this series that strikes a special chord.
Attack On Titan Brings Its Threads Together
Many years ago, humanity was forced to retreat behind the towering walls of a fortified city to escape the massive, man-eating Titans that lurked outside their fortress. Only the heroic members of the Scout Regiment dared to stray behind the safety of the walls –but even those brave warriors seldom returned alive.
Eren Jaeger, a boy with deliciously dangerous determination (try saying that fast five times) to exterminate the Titans after his mother was eaten alive, joins the Scouts and quickly discovers secrets about himself that he could never have fathomed. Finally having become a strong enough fighter he sets out with his friends and higher ranking officers to reclaim his homeland from the Titans that destroyed it, only to uncover even darker secrets that opened Pandora's Box.
RELATED: POUPELLE OF CHIMNEY TOWN REVIEW: A HEARTFELT FILM THAT REMINDS VIEWERS TO NEVER GIVE UP ON THEIR DREAMS
The finale season of Attack on Titan really threw us some curveballs (pun maybe intended) with part one especially. Five or so years into the future, after season three ended, we find ourselves with meeting new faces in a land called Marley. Eren has…changed. We finally get to meet Zeke, Eren's half brother, and we soon learn just exactly who he is and what he's planning to do.
After finding out all the secrets of the past (and future), Eren changes gears unexpectedly, seemingly betraying his friends and setting off on his own (or Zeke's!) agenda. The war for Paradis zeroes in on Shiganshina, Eren's hometown, just as Jaegerists have seized control. After taking a huge blow from a surprise attack led by Eren, Marley swiftly acts to return the favor. With Zeke's true plan revealed and a military forced under new rule, this battle might be fought on two fronts as Attack on Titan brings its story to a climax. Does Eren intend on fulfilling his half-brother's wishes or does he have a plan of his own?
With the lyric video for "The Rumbling" by SiM released a few days ago, the anticipation is killing me. I've been waiting for the finale so that I could properly bring out my Scout Regiment gear and dress the part. I will be recording another reaction video and going all out!
As a disclaimer, I didn't read the manga (I know, ugh) so I have no idea what's about to happen! The trailer that Crunchyroll put out is a fantastic recapping of the finale season so far with scintillating highlights of part one as well as part two. The finale episode will be entitled "The Dawn of Humanity" (goosebumps!) and I am so (not) ready.
Check it out here:
What are you excited about the most from the highly anticipated finale? Whose side will you be on? Let us know in the comments and on Twitter and be sure to catch the finale episode of Attack on Titan this Sunday, April 3rd at 3:45 pm CT/ 1:45 pm PT on Crunchyroll and Funimation.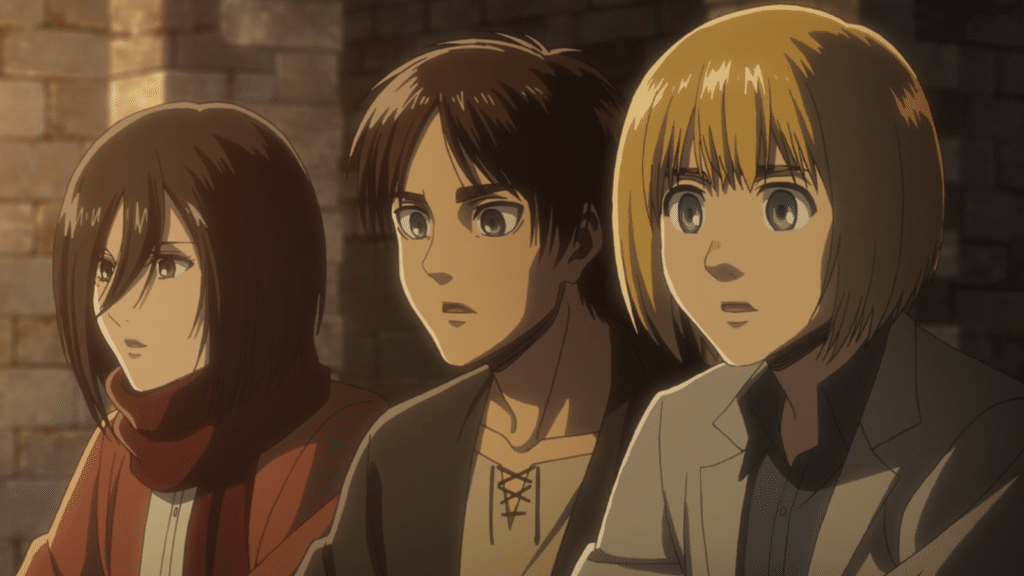 KEEP READING: ATTACK ON TITAN: EREN'S JOURNEY FROM WILLFUL HERO TO HIS WORST FEAR
Source: Crunchyroll