The final battle and series finale of the hit Anime Series Attack On Titan is almost upon us. With the first episode of Part 2 of the series Final Season, fans are hyped and excited about the final adventures of its beloved characters that were introduced to us back in 2013, when the anime first premiered. One of the features that Attack On Titan (Shingeki no Kyojin) focuses on is the perspective of the series main protagonist, Eren Yaeger.
Eren Yaeger was created by Attack On Titan author Hajime Isayama and is one of Anime's most popular and complex characters. Due to the show's popularity, Eren has become one of the most recognizable characters in today's modern media. The character also featured in many other related media, which included spin-offs of animes, merchandise, and video games. What makes Eren unique, and magnifies his complexity, is his characterization of having big dreams and fears that were relatable. This would often clash with his dark side that slowly manifested over time.
RELATED: NEW ONE PIECE SET PHOTOS LEAK ONLINE WITH 1ST LOOK AT ALVIDA'S SHIP
Now critics and fan reception of Eren originally was highly polarized, which was mainly due to his highly antagonistic, rash, erratic, and very harsh outlook – especially during the arcs when Eren was a teenager. However, he started getting positive reception once the series became more focused on his ideals, his powers as a titan, and his character arc when he became more ambiguous instead of heroic. Now for die-hard fans of the popular anime and manga, they all know that Eren's heroic journey takes a sharp dark turn once the series progresses, especially as we will see in this upcoming Part 2 of this Final Season.
The following may contain *spoilers* for the Attack On Titan Series, so make sure you have caught up before proceeding.
Comparison Of Eren
The journey of Eren Yaeger is rather a tragic story and in return became a fallen hero. Some can say this character's journey throughout the series is comparable to well-known fictitious protagonists in western pop culture who have fallen to their darker side. Examples of comparable characters are Anakin Skywalker (Darth Vader: Star Wars), Harvey Dent (Two-Face: Batman), Saruman The White (Lord Of The Rings), John Conner (Terminator Genesis), Michael Corleone (The Godfather), and many more.
Additionally, there are also notable Anime Protagonists that also turned into their respective series Antagonists.
Examples of those anime protagonists turned villains include some of the following.
Ken Kaneki (Tokyo Ghoul)
Jaden Yuki (Yu-Gi-Oh! GX)
Lelouch Lamperouge (Code Geass)
Irene Belserion (Fairy Tale)
Light Yagami (Death Note)
Shiro (Deadman Wonderland)
Griffith (Berserk)
Unfortunately, during the start and progression of the series Final Season Part 1, Eren goes through that Tragic transformation.
Eren's Ascension to Hero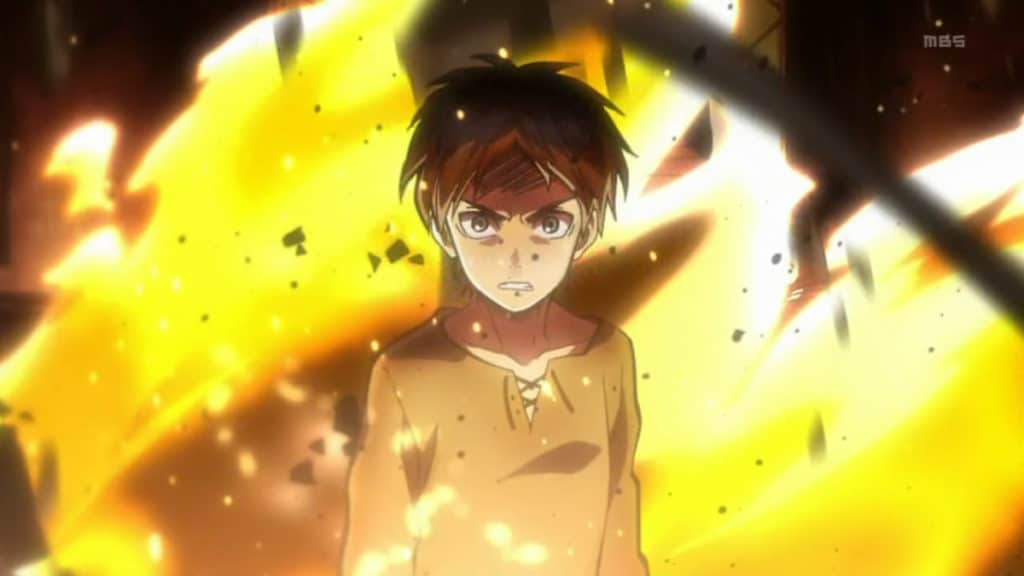 At the beginning of Attack On Titan Season one, Eren is this young 10-year-old who lives in the town of Shiganshina. We also find out that Shiganshina is part of a civilization surrounded by three walls. These massive walls keep giant the humanoid cannibalistic creatures, called Titans, from entering. Even with the dangers of Titans lurking outside, he still has dreams of seeing the world outside of the walls.
More specifically, he has dreams of seeing what the ocean looks like, only reading it in books given to him by one of his best friends Armin Arlert. To achieve his desires, Eren wants to enlist in the Survey Corps. The Survey Corps is a military faction whose sole purpose and mission are to liberate the world from Titans. Also, they are the only Military Faction that can go outside the walls.
However, a day turned horrific as the walls of Shiganshina were breached by the Colossal and Armored Titans, allowing other Titans to invade. During the invasion, Eren does not just look at his home being defiled but witnessed his mother getting eaten and killed by a Titan. This tragic event causes Eren to experience Trauma, Anger, Sadness, and, importantly, rage that defines his early character arc. This aftermath, in turn, made Eren obsessed with hatred for the Titans and vowed he would "Wipe Them Out From Humanity". This caused his decision to join the Survey Corps, since they were the only symbol of resistance.
For more on Eren's journey in Attack On Titan, check out page 2: