The Quarry asks: do you have what it takes to survive your last day of Summer Camp?
The Quarry is a new horror narrative game that invites players to play nine camp counselors in this exciting cinematic tale. But you must be careful what you choose, because every decision will determine who gets to live and who will meet a bloody end before sunrise.
RELATED: ONE PIECE IS NOW THE BEST SELLING MANGA OF ALL-TIME WITH OVER 500 MILLION SALES
Developed by Supermassive Games and published by 2K, this new game made a huge splash when it dropped the official announcement trailer two weeks ago.
Check it out below:
See If You Can Join The Quarry
We weren't kidding when we called it a cinematic tale. This game is filled with Hollywood names voicing the variety of characters. Including David Arquette (Scream), Ariel Winter (Modern Family, Justice Smith (Jurassic World), Brenda Song (Dollface), Lance Henriksen (Aliens) Lin Shaye (A Nightmare on Elm Street), and more.
But it isn't just the long list of actors that make this game a cinematic experience. Cutting edge facial capture and filmic lighting techniques, bring this horror story to life. Including the fact that if you would rather watch than play, there is an option for that. The Movie Mode lets you enjoy The Quarry as a blockbuster thriller.
Here is a quick synopsis of the game:
"On the last day of summer camp, the teenage counselors of Hackett's Quarry throw a party to celebrate. No kids. No adults. No rules. Things quickly take a turn for the worse. Hunted by blood-drenched locals and something far more sinister, the teens' party plans unravel into an unpredictable night of horror."
RELATED: ATTACK ON TITAN: NEW SPECIAL TRAILER DELIGHTS FANS BEFORE APRIL 3 FINALE
With The Quarry being created by the same masterminds behind Until Dawn, fans are already excited for the release which is scheduled for June 10. It will be available on PC, PS4, PS5, XboxOne, and Xbox Series X/S. It is also available now for pre-order which comes with a bonus, the Horror History Visual Filter Pack. This is an absolutely must for horror fans everywhere. Players who have this will be able to choose from three cinematic visual filters that replicate a different horror style. These are Indie Horror, '80s Horror, and Black-and-White Classic Horror.
There is something so addicting about games adapting the choose your own adventure game style. But what really sets The Quarry aside from most games is the ability that any character has the chance to be the main star or just a fading memory. It's your story, your fate, and a wide range of possibilities.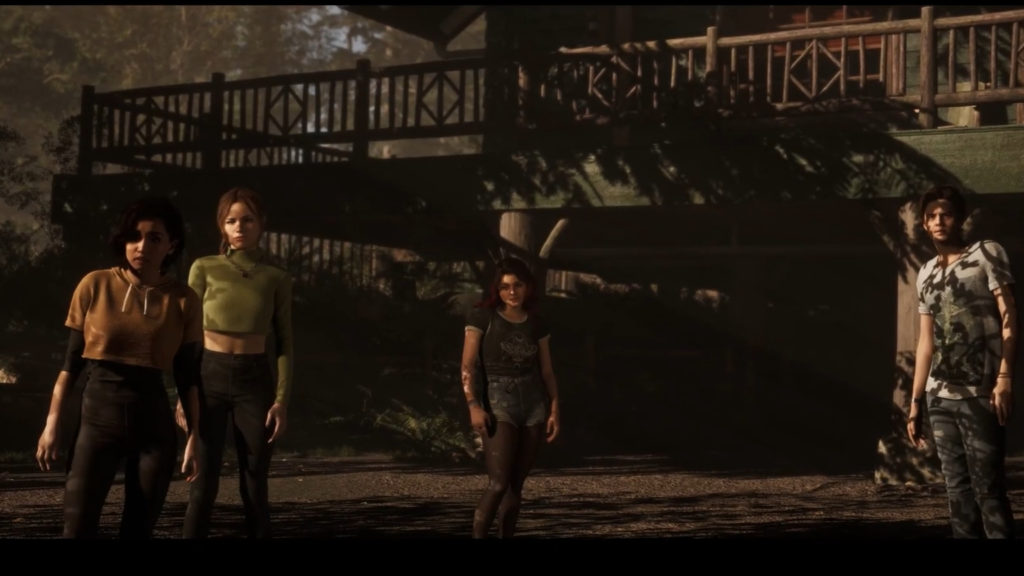 And thank goodness you don't have to do this alone. One of the game features is that you can experience this together with up to 7 friends in online play. Invite players to watch along and vote on key decisions, adding just another option to the endless possibilities as the story unfolds. Or play together as co-op allows each player to pick a counselor and control their actions.
While Playstation 5 and Xbox Series X/S will have the option of physical or digital formats, it seems the Deluxe Edition will be available in digital format only for consoles and PC. This edition will include the full game, Horror History Visual Filter Pack, Gorefest Option in Movie Mode, Instant Access to Death Rewind System, and '80s themes character outfits.
The Gorefest option in Movie Mode is perfect for fans of grindhouse grotesqueries. This option allows players to press play and indulge in the most gruesome, gory, splatter filled version of The Quarry. And don't worry if you face a bloody end. Because with the Death Rewind System, players will have three opportunities to reverse a playable character's death. This allows the player a chance to save the character, while altering the fate of the game. However, this mode won't unlock until after the first completion.
Supermassive Games has a good formula with their games and it looks like The Quarry is no different. You are not going to want to miss this horror filled and bloody adventure, so pre-order the game now, here. And if you haven't already, try your hand at Until Dawn if you think you have what it takes to survive.
KEEP READING: DOCTOR STRANGE IN THE MULTIVERSE OF MADNESS RUNTIME MIGHT HAVE JUST BEEN REVEALED